I like to walk in a park, find a nice café and sit down, have a cup of coffee, maybe a cake, maybe even a hot meal. If you have a café in a park, you're sitting on a goldmine. Effectively, there's no competition. Customers generally don't have anywhere else to go. Even if there's another café somewhere else in the park, or on a neighbouring street, the customer has to walk there. Easier to go to the park café.
In prosperous areas of South West London, and, I daresay, elsewhere, good or adequate park cafés are great social places for 'types' to congregate. Lonely 'yummy mummies', dogwalkers, pensioners can meet up with similar people to talk about what they have in common. Other people can break off their walks and enjoy the fare on offer. Couples can go for an escape from the rat-race.
On Saturday we went to the café by the Windmill in Wimbledon. We should have seen warning signs. A huge place, but no one was sitting down indoors. Most outside tables were unoccupied. The dog walkers sat alone with their dog, not in groups of regulars. It did not seem familiar territory to the small children demanding ice-creams.
An appalling place, that really should be ashamed of itself. We'd walked quite a way, and this was the first eating place we had passed in an hour and a half. We went in. I decided I would have a cup of tea, and, ooh, why not, a scone!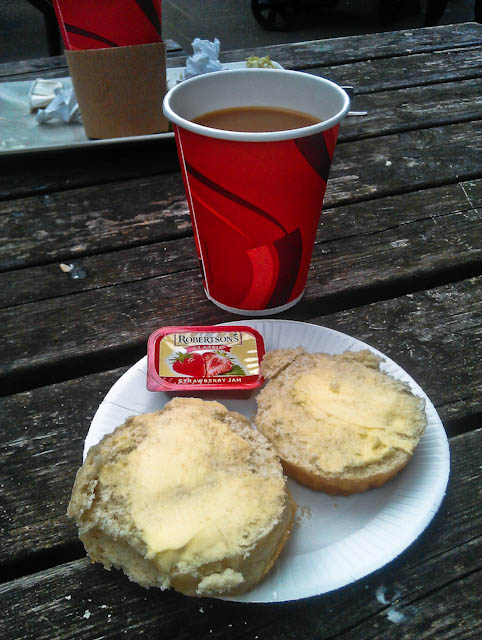 The manager - straight out of Jennifer Saunders or Victoria Wood - asked if I wanted a fruit scone. Ooh yes, I said. We then had to move along and instruct one of 'the girls' what we had ordered, whilst the sit-com woman instructed 'no more than one girl on each thing' (filter coffee machine, teapot, microwave) - she was having to micro-manage schoolchildren. The cup of tea was pushed at me, with a mere mention of milk. No oppotunity for topping it up with further milk. And the scone, butter and jam were presented on a paper plate.
Note the lack of fruit in the fruit scone. Note also the plastic pack of strawberry 'jam' - jelly with seeds, never seen a bloody strawberry.
What this photo can't show you is stale saltiness of the cheap scone, mass produced in a factory. Or that the tea was stewed. It's not really too much to ask, is it, to have a cup of tea made properly, to be able to add my own milk without being under suspicion of wanting to steal it. And a scone that was made this month? Last time I had tea and scone, the tea came in a pot. The crockery was crockery: cup and saucer, plate, milk jug. The scone was big, bobbly, rustic and fresh. The jam had pieces of fruit in it, and along with the clotted cream, was served in a little ramekin. Apparently we can't expect such luxuries in Wimbledon.
It is entirely possible that tourists might come to Wimbledon. A town that is famous around the world for its tennis and its Wombles, an Olympic town. Disgusting.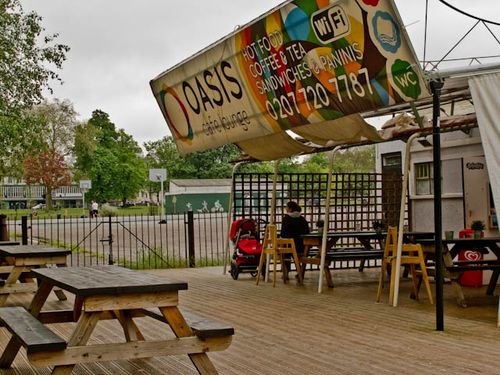 On Clapham Common is a café called Oasis. Someone sat down one day and thoughtfully designed a chilled place. Inside, cushions on benches round a central table. Outside, picnic tables on decking. We should have been alerted on arrival by how empty the decking was - this photo was taken as we left, this woman's man had just gone inside. Don't know if they stayed.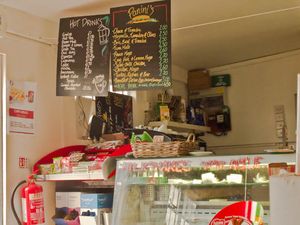 An attractive-looking menu, with mint tea and green tea, with paninis filled with crayfish or mozzarella and tomato. 
The amiable but dim server tried to charge immediately after we (two people) had ordered just one drink. Neither Jimmy's espresso or my latte actually tasted of coffee. Several Clapham types came, took one look, and walked away. They seemed to be doing a roaring trade in selling chips and fizzy drinks to the kids in the new, nearby skate park. Which, by the way, is great. The kids looked happy, and occupied, and I'd hate to see a café that turned kids away for being, well, kids.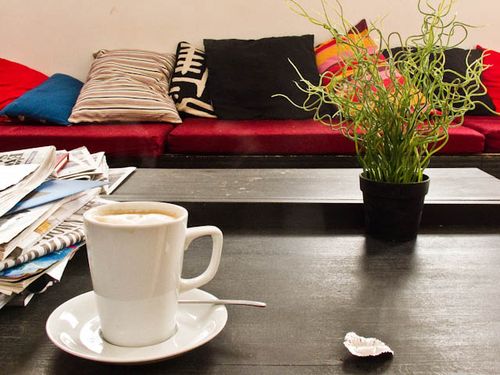 The cushions smelled.
What a waste of a great location and a good concept. We didn't dare eat, didn't have confidence that the current management knew the first thing aboout food hygiene - no certificates on display. Would you buy a crayfish panini in a café that smells as if someone's been sleeping there?
It's increasingly an irritation to me. How do these people get away with it? How have they got the franchise or lease to run these places? There are so many people with a passion, the drive to make a success out of business, understanding of customers, who could make these places a destination, but are denied that opportunity by these complacent dullards who are happy to serve up crap from te 70s, or  who mess up a good idea and drive people away?
Reviews by others:
Windmill Tea Rooms by Wimbledon People
This place provides the sort of customer experience which I thought had disappeared along with Communism!...A cup of coffee and a rather overcooked flap-jack came to over £4...Overall, a disappointing experience which I won't be paying to repeat.
Windmill Café & Tea Room - Virtual Tourist
She had pre-warned me that she hadn't had very good experiences there in the past, so I wasn't expecting much.