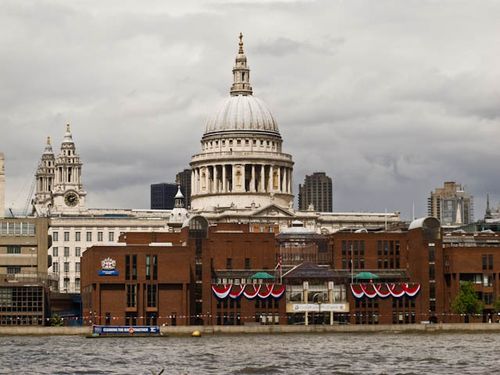 The Diamond Jubilee happened. In parenthesis I am an ardent Republican. However, given that UK currently has a monarch, who's been in post 60 years I had no great objection to there being some events to mark this. I had an enormous objection to the accompanying media sycophancy, lies and propaganda that suggested, despite contradictory evidence, that everybody in the entire country was utterly delighted at these events and the specialness of the entire Extended Royal Family.
On the Sunday was a pageant on the Thames. About a million people attended. The same number that attends the annual Notting Hill Carnival which has a fraction of the publicity budget.
It was one of those ideas which seemed inspired to begin with, but should have been workshopped some more to identify that it would be a non-event, admittedly not helped by the torrential rain and general darkness of the day. The BBC's TV coverage was appallingly bad, hosted by far too many vacuous presenters famous only for being presenters (I exclude Clare Balding from criticism). The TV viewer was told that the Thames has lots of history, and is lined by famous buildings. And then they couldn't be bothered to to mention the history. Hour upon hour of boats progressing down the Thames in often heavy rain, and mind-numbingly dull interviews with idiotic members of the public. I particularly remember one offensive posh man who declared that, queuing for half an hour to get into Battersea Park, they  displayed the Dunkirk Spirit. Well, apart from not having to wade into the water and wait shoulder-deep for rescue while under enemy fire from the air, with tens of thousands dying. I detest this ignorant type of self-styled patriot.
 The following day was a Bank Holiday and the weather forecast was not too bad ie rain was not imminent and not forecast to be heavy or prolonged. I wasn't feeling great (still on sick leave) but needed to get out. We decided a walk along the Thames would be just the ticket. Plenty of opportunities to sit and rest, and plenty of opportunities to end the walk, close to public transport.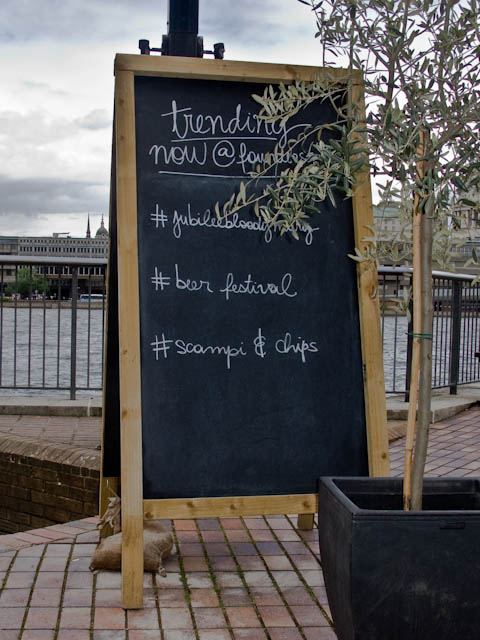 The Thames-side path was busier than I thought it would be. Perhaps people were inspired by the previous day's televised pageant, or perhaps they felt determined to get out for the Bank Holiday, but didn't wish to be stranded in a wilderness in a downpour.
The pubs were astonishingly ill-prepared; we walked out of two realising we would wait a long time to be served. Their low levels of staffing suggested they weren't expecting many customers on a Bank Holiday Monday during half term. Or maybe they were, and figured that the tourists would wait and wait to be served. We walked away. And laughed at a seriously naff A-board outside a seriously naff pub. We had a similar problem at the Mudlark - short staffed, not even acknowledging customers - before being served at The Globe, a mediocrely decent pub mostly famous for the fact that Bridget Jones's flat was above it in the films. In the book she lived in Notting Hill. I was rather sneery; if she could afford to rent a flat in Notting Hill (in a low-skill job) she should have bought a house somewhere that would later be up-and-coming. But no doubt, she thought you had to have a man to buy a house.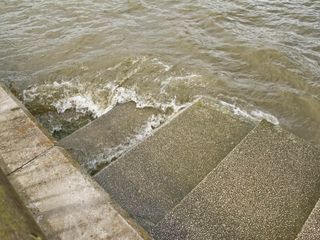 For the Jubilee Pageant, the Powers-that-Be had kept the Thames Barrier shut in order to trap in the high tide - unusually, because the Thames Barrier was built to protect London from high tides. I tried several times to get a decent photo of high choppy water lapping the shore; this was the best I could do.
We passed under the Millennium Bridge, and I tried to capture a quirky shot, not wholly successfully. Huw Edwards had referred to it as the Wobbly Bridge in the previous day's TV coverage, seemingly oblivious that it had been closed, the wobble remedied, and the bridge re-opened ten years ago.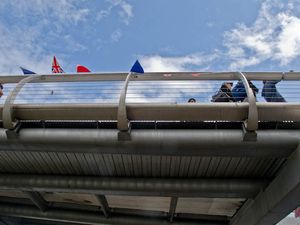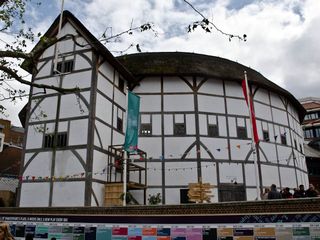 It was busy by the Globe Theatre, an obvious magnet for tourists, although I'm not entirely sure why. I suspect a fair proportion were no more enlightened than my dearly beloved who declared it to be "That Dickens Place". I suspect a vanishingly tiny proportion will have been to a Shakespeare Play, of their own volition, more than once.
Next was Southwark Bridge. If you go on a commentated riverboat cruise, the commentator invariably informs you of how little used this bridge is. I have only been over it on an open top bus, and just one scheduled route uses it. I believe it's popular with cyclists. Perhaps it should be shut to all vehicles except the existing bus route and given over to cyclists. As you walk under the bridge, you see a frieze depicting the Thames Frost Fairs. The frieze is poorly lit, and not very interesting. Besides, it's quite difficult to stop and take a look without blocking other people walking along a relatively narrow pathway.
We next encountered a ruin that I didn't know existed, Winchester Palace. This was the residence of the Bishop of Winchester, dating back to the 13th century and largely destroyed by fire in 1814. It's a listed Scheduled Monument managed by English Heritage, but, other than being 'old' I fail to see any great historical value. I could have taken better photos but was rather deterred by some out-of-towner who objected to me leaning on the railing. I was in no mood to fight.
The next stop was The Golden Hinde, as it bills itself. It takes quite a lot of looking to see that it isn't actually Francis Drake's Golden Hind; it's a replica that's actually younger than me. I can see the educational benefit of building a replica and inviting Primary School children to tour and learn physically, but it isn't the Golden Hind, despite how it's billed on its website or on Google Maps. There are sufficient caveats to escape Trading Standards or accusations of 'passing off' but I'm sure it must lure in plenty enough tourists who think they're on the actual Golden Hinde. Won't catch me handing over good money.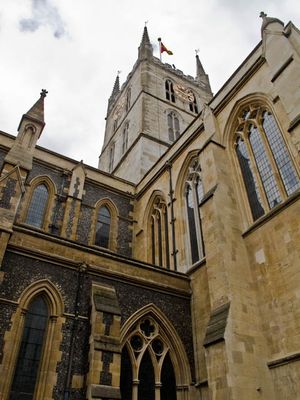 We strolled round the all-but-deserted Borough Market and the churchyard of Southwark Cathedral. We were not going to go in, because from the outside, although billed as a Cathedral, it looked a very ordinary Parish Church.  The present building is mainly Gothic, from 1220 to 1420, although the nave is a nineteenth-century reconstruction in a thirteenth-century style. Interestingly, the London Borough of Southwark actually contains three Cathedrals, but isn't a city.
In the churchyard we found one of the worst examples - in my opinion - of modern (ish) sculpture - a statue of the Holy Family by one Kenneth Hughes, seemingly from the 1970s. A brief trip around the internet suggests that others are as underwhelmed as I am, so full marks to Cisco 664 on Flickr who almost managed to obscure the statue in their picture.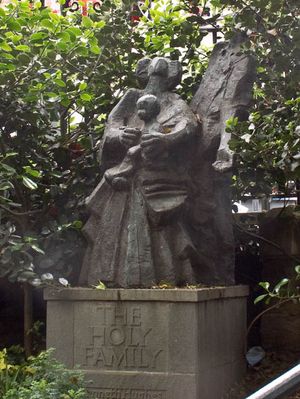 We had a look inside in the Cathedral. There was a notice up asking for no photography, which I initially complied with. I then noticed that several other people weren't complying, either. Doesn't make it right, but, nevertheless, I whipped the camera out and, checking to see the flash was firmly off, took some photos of some of the more interesting artwork in the church. Some further details are available at the Cathedral's own website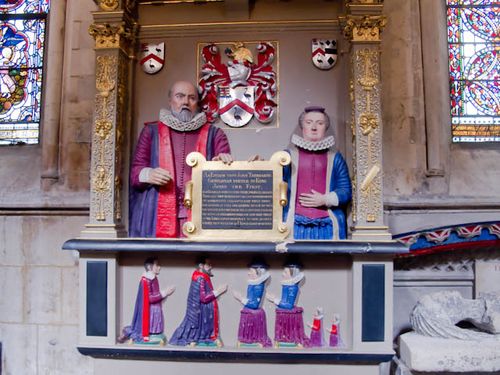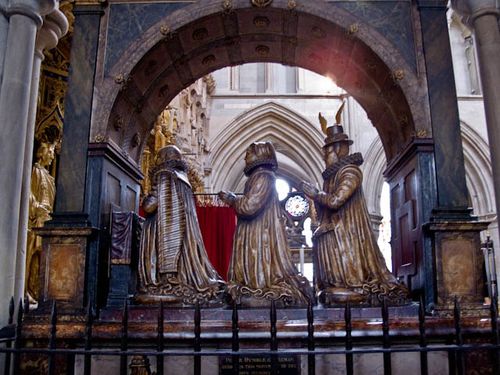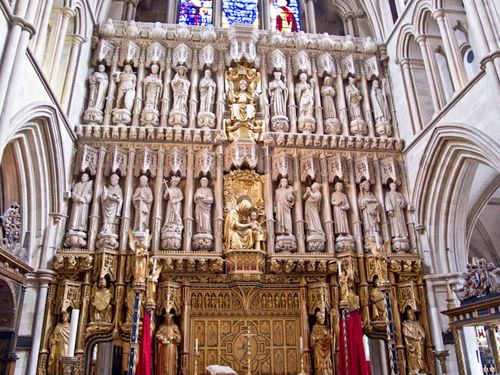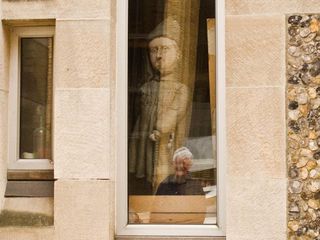 Outside the Cathedral, Jimmy spotted this little man through a window, so I took a photo. Unfortunately, I also got Jimmy's reflection, but, hey!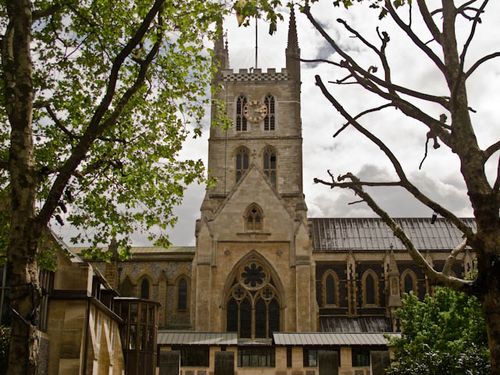 From there, we passed under London Bridge and strolled along the Southern Bank of the Pool of London, to some extent re-tracing our Northbank route of the previous week. But that is another blogpost!