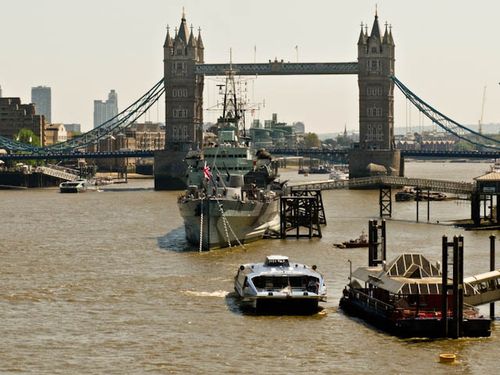 The Sunday following our Whitstable outing was stiflingly bakingly hot. We knew we wanted to get out. We wanted to be in the open air. We didn't want to expand too much energy. And we didn't want to be in a place where masses would be congregating to enjoy the heat and sunshine.
Writing that, I realise that walking, in Central London via a major Tourist attraction was pretty much a failure on all of these points, but at the time it didn't feel that way.
We walked from London Bridge to Wapping, along the North Bank of the River Thames. Hardly virgin territory for us, the internet or visitors to London. We had been on boat trips so many times and, in various ways, taken in so many of the sights, some of which form the core of a tourist trip to the city whose origins go back at least to Roman times.
I have been thinking how to write this post. In that short stretch we walked, there is so much history, so much to see. If I tried to research - however superficially - background to every landmark, it would be a book, not a blogpost.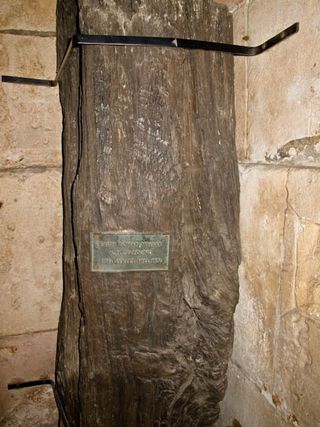 Part of the attraction of such a walk is spotting the small but meaningful artifacts, such as this wood from the Roman wharf. At the time of my walk and previously, I've always thought of London as a Roman city. Wikipedia says Although there is evidence of scattered Brythonic settlements in the area, the first major settlement was founded by the Romans in 43 AD. 
I subsequently watched a TV programme which revealed something to me:
Two recent discoveries indicate that London could be much older than previously thought. In 1999 the remains of a Bronze Age bridge were found on the foreshore north of Vauxhall Bridge. This bridge either crossed the Thames, or went to a (lost) island in the river. Dendrology dated the timbers to 1500BC.
I was actually poised to write that this information was entirely new to me, until I remembered that I was a Lambeth councillor in 1999 and I have a vague memory of this discovery being brought to my attention. It seems that I didn't fully absorb the significance of this. Of course, it doesn't alter the history of 'London' because throughout most of (written) history Vauxhall was not considered London, so I doubt it would have been 3500 years ago!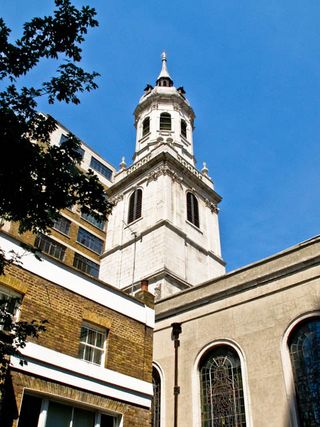 The City of London is known for its many churches often named after somewhat obscure saints. Orcadian St Magnus is perhaps less obscure than some, having a cathedral in Kirkwall named after him, and, I read, has a chamber opera, The Martyrdom of St Magnus,  written about him. Sunday Service was underway, so we didn't go in, and instead set out for a stroll against the Thames Path. St Magnus is one of the many 'Wren Churches' rebuilt after the Great Fire of London 1666
There is so much to stimulate the eye - Tower Bridge and HMS Belfast are never out of sight, nor is the most recent monstrosity, The Shard. I detest the Shard. I'm usually quite a fan of fancy tall buildings and innovative building designs, from bridges to ferris wheels, but The Shard, as seen from my vantage point on the top of Brixton Hill, is completely out of proportion to the rest of London. 
The path takes us in front of the Old Billingsgate, distinguishable by the fish in its weather-vane. Now used as a Conference Centre and otherwise entirely anonymous. There wa sa fascinating set of TV programmes about 3 major London markets, including New Billingsgate, where the fish market relocated (to the Isle of Dogs) in 1982. It's in decline; the supermarkets buy direct from producers, as do many smaller retailers.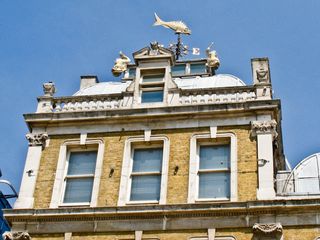 With the tide out, the beach was visible. We were clearly not the first to have been down there, but once we got down on the beach, it was part irritating part hilarious watching certain tourists waiting for us to make the next move so they could follow us. Incapable of using their eyes or their legs to explore, they needed to copy us.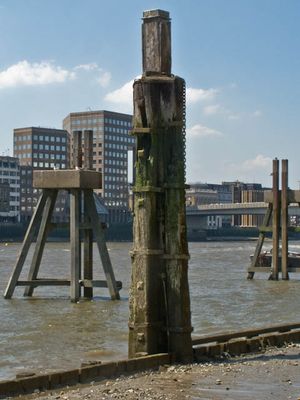 We walked past Custom House, but I failed to get a decent photo. I audited there many years ago, a rather wonderful place to visit. The Long Room is rather ornate and has an interesting acoustic affect which means quiet conversations can be heard the other end of a large hall. I believe it sometimes opens to the public on Open House day. Not the Queen's Warehouse, though.
Our walk took us directly to the Tower of London where my heart sunk. The place was swarming with tourists. However, and notwithstanding the usual quota of idiots, and a greater number of sheep with no respect for personal space, our visit was uneventful. We even had a look round the tourist tat shop. I was a little surprised about the focus on Henry VIII, especially the lack of context. Erm, he sent a lot of people to be murdered in the Tower. Not my first choice for a character cuddly teddy bear.
I took the obligatory photos of the Tower, of Tower Bridge, and of views upstream from there. It seemed a bit pointless. Professional photographers have taken so many over the years. On the other hand, I'm telling you a story: I walked past the Tower, and Tower Bridge. Here they are!
 On the beach below the Tower an archaeological dig was taking place, seemingly under the auspices of the The Museum of London Archaeology's Thames Discovery Programme, which allows members of the public to get involved.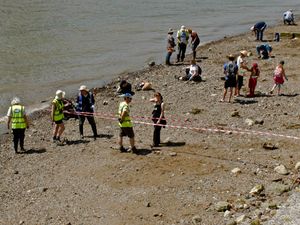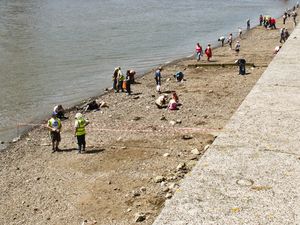 This woman seemed to be one of the leaders. She looked very cool. Maybe someone should write a children's TV programme about a Riverside Archaeologist!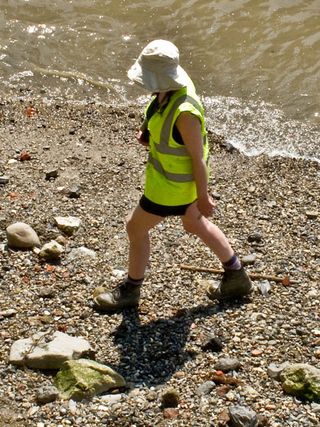 On the other hand, this family seemed entirely inappropriately dressed. You seriously wouldn't find me sloshing around in Thames mud in a pair of flip flops!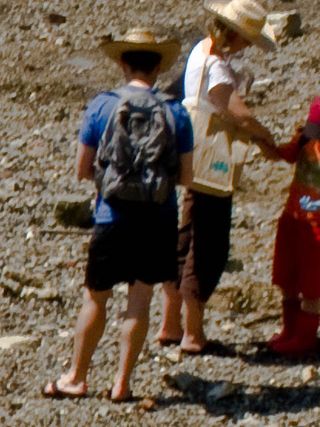 Under the bridge, and more opportunities to take photos of this famous landmark.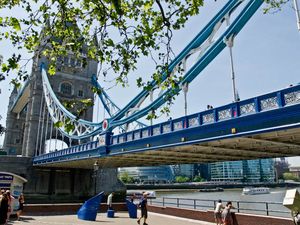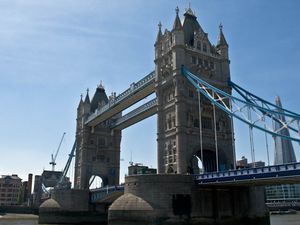 Startling how few tourists managed to walk the few extra metres to relative quiet east of Tower Bridge! Just a few steps further on and we were in St Katharine Docks, which I had always previously called 'St Katherine's'. It's one of the first examples of dockland redevelopment. It's years since I've been there, on a similarly hot day, and recall it being packed tight. I was surprised on this hot day - the hottest so far this year, I think, how quiet it was. Nice to wander round and look.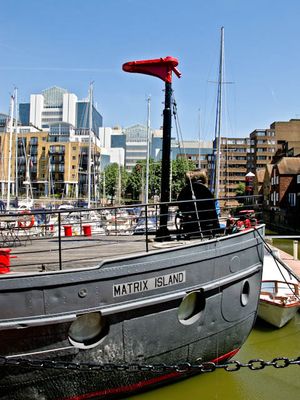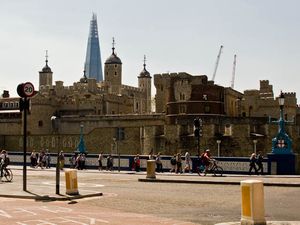 By this time I had walked far enough in the searing heat, so we retired to The Cape in Thomas More Square. I doubt it would be my scene on a weekday evening, but it was a welcome oasis. We both ate a decent plate of fish and chips, nicely cooked and attractively served. I stupidly shook the tomato ketchup bottle without checking the lid was on, and splattered its contents over my white skirt. Looked light the slaughter of the innocents. I rate highly the quality of the soap and the hand dryers in the Ladies!
So, all in all, a pleasant enough stroll in the heat. And, surprisingly not too bothered by daft tourists.