Last July, in that seemingly endless rainy season stretching from the Diamond Jubilee to the Olympics, we went on an excursion in East London. The first part, a ride on the cable car and walk along the Royal Docks is blogged at A pre-Olympic trip on The Dangleway. The second part required us to cross the intimidating A1020 North Woolwich Road, a frightening pedestrian (and cyclist) unfriendly urban freeway.
I was surprised to see a fleet of English National Opera lorries parked under the high level viaduct that carries the Docklands Light Railway to Pontoon Dock station.
Presumably, these are to transport scenery between workshop and theatre, theatre and storage. I guess they must do this frequently to justify a large fleet of lorries (rather than spot rental). It certainly isn't for touring, despite their inaccurate use of the name 'National'.
From the entrance to the park, I spotted this curious building. I can no longer remember its purpose or significance. Suggestions welcome in the blog comments!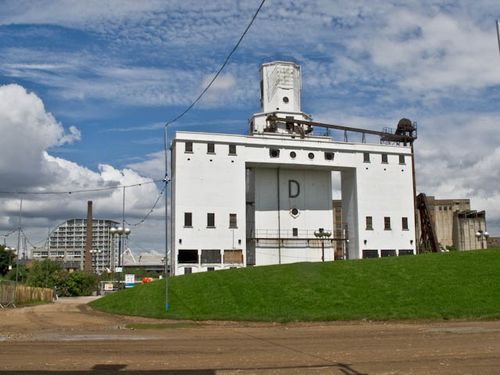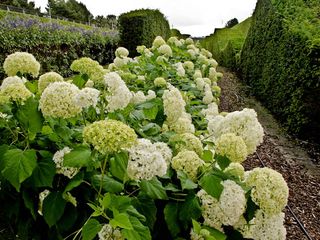 According to Wikipedia Thames Barrier Park exists  to aid the regeneration of the area by creating an attractive public space alongside residential and commercial developments.  A key characteristic is that it has a sunken garden you can walk through, or you can walk at ground level, looking down into the sunken garden. Garden Visit says The green trench running through the park was intended as a reminder of the site's dockland heritage. It provides a sheltered microclimate for a 'rainbow garden' - strips of coloured plants.
I like it as a park, and suspect that if I lived nearby I would go more often. I don't think there's enough there for it to count as a visitor attraction for people from other parts. However, I would recommend it as a suitable follow-up to a ride on the cable car and a walk down the dock.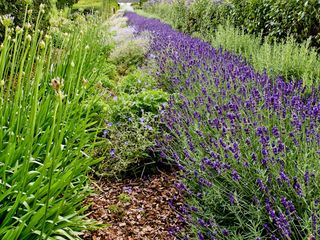 I have recently become aware of how lovely lavender looks in a mass-planting scheme. There was lavender growing in the garden when I was a child, but a typical suburban garden is limited in how expansive one can plant. I didn't like how the lavender attracted bees - we were all brought up that bees were 'nasties', to be avoided, rather than our friends, to be respected and nurtured. Much like spiders. We used to gather up the lavender, dry it, sew it into scraps of material and place them in drawers to give clothes a faint perfume. I don't suppose anyone does that nowadays!
I must also have liked the hydrangeas, given that I took photos at two different stages in our walk. The Pavilion in the background acts as a memorial to local people who died in World War II.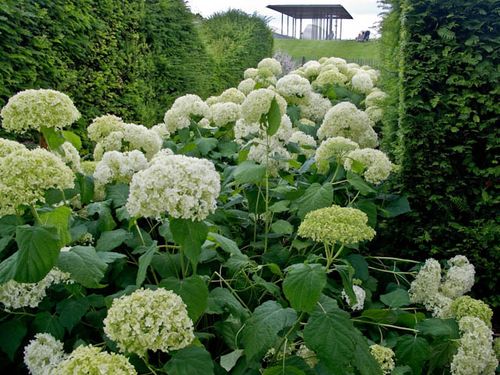 Next to the river are sculptures that remind you that you are next to the river, which has waves.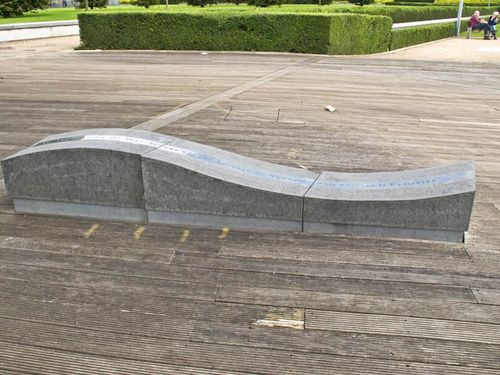 The Park fronts onto the River Thames, with views of Woolwich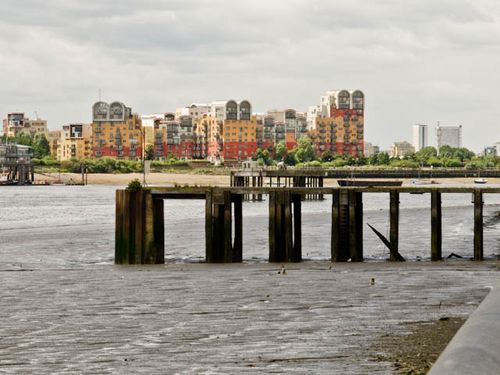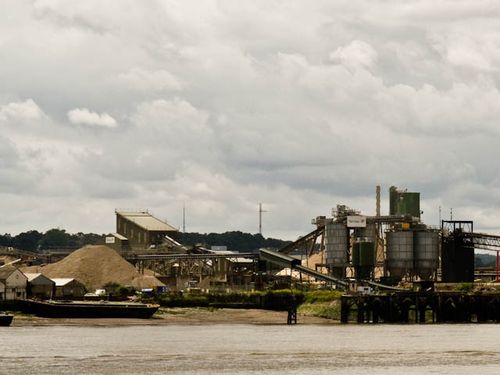 With the tide low, it was interesting to see just how much rubbish ends up in our urban rivers.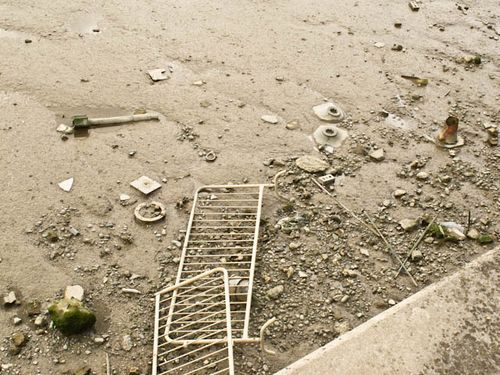 Also, you notice the tiny little streams, tributaries without a name, that flow into the great river.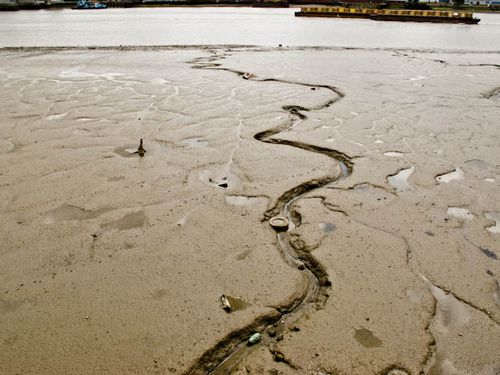 I can never resist a picture of a redundant and probably rotting jetty.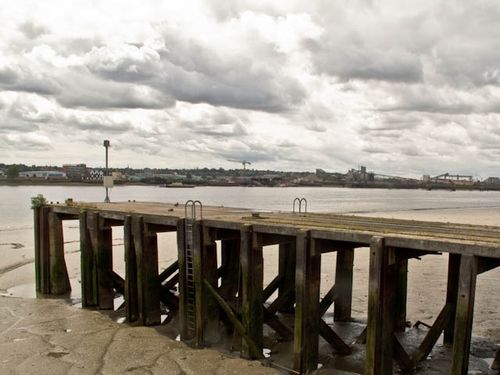 Oddly, the main reason I wanted to visit Thames Barrier Park was to see the Thames Barrier. It's amazing Civil engineering, and being so unusual in its design, you would think it presents superb photography opportunities. But actually, because it's so wide and relatively squat, it doesn't lend itself to the ratio, 4:3, that I use for photos, and I wasn't close enough to take interesting photos of detail.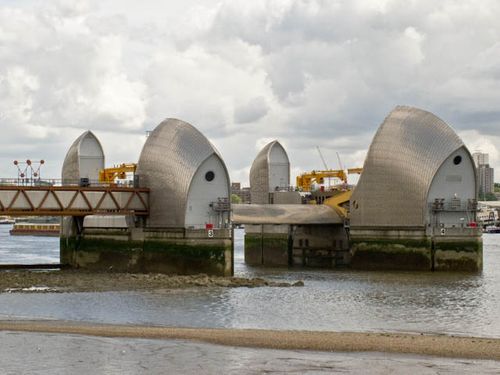 Looking back over the park affords a magnificent view of Millennium Mills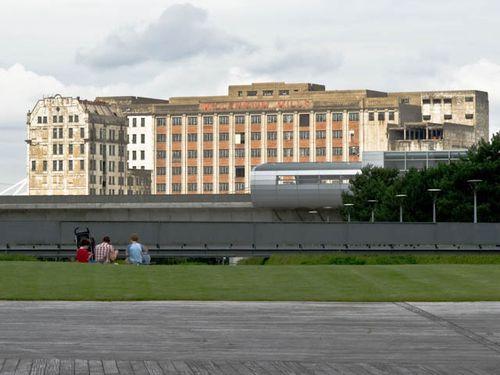 So close to City Airport, you are frequently aware of small jets flying over.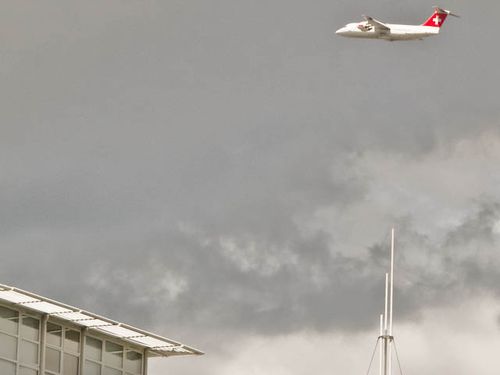 Next to the river and next to the park is a residential development. As far as I can gather, this is a Barratt Homes development, and therefore probably dating from no earlier than the 1980s. But it has an air about of it the 1930s, reminding me of Pullman Court in Streatham, or the De La Warr Pavilion in Bexhill-on-Sea, constructed in the International Modernist style (more commonly known as Art Deco).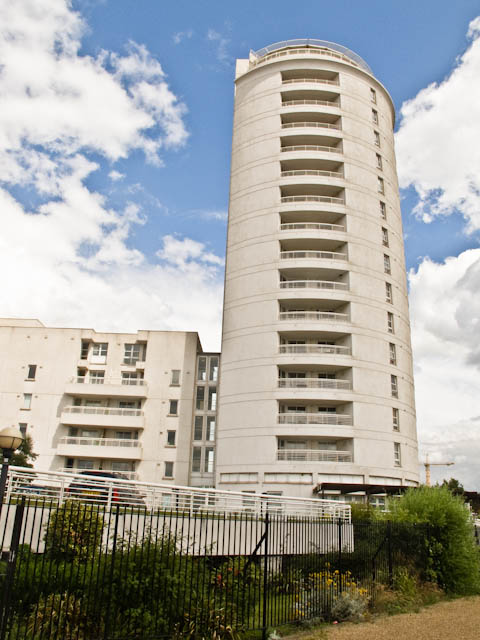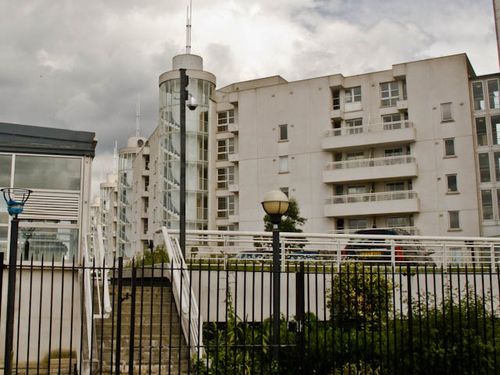 We walked back out through the park, and I took photos of the hedges sculpted to look like waves.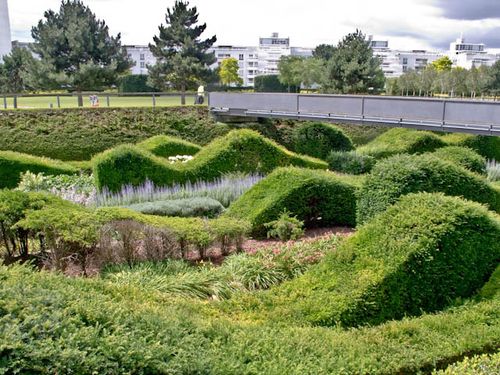 It was a nice diversion in the park, and we were lucky with the weather  - when we got back to Brixton the skies opened and we nearly got soaked just going to the market. It was also nice to see a class of Primary School children who had been taken to the park simply to enjoy it. I would imagine - albeit with no supporting evidence - that many of the kids don't get out much with their parents. My eyes were opened and my horizons broadened by seeing the river and the Thames Barrier, and the planted gardens; imagine the effect on children from cramped housing and impoverished homes. Just weeks after this, public discourse was about 'Olympic Legacy' and the need for more sport in schools with idiot ex-Etonian politicians banging on about organised chasing balls round fields. I believe fervently that everyone and especially children, should have more activity, and it is this sort of outing that is far more important, and more active,  than standing around on a hockey pitch hoping that someone might pass you a ball and you might get the chance to trot or waddle with it for a few seconds, until a bully nags at you to pass the ball to someone else.
We caught the DLR. I so wanted to sit at the front and pretend to be the driver but some awful studenty type had got to the right spot on the platform first, and he got to pretend to be driver. It was a bit of a downer on an otherwise enjoyable day.