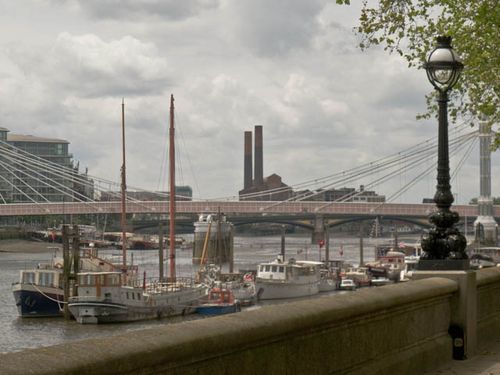 (This post makes several references to an earlier blogpost:
I got a nice little book Cycling Traffic-Free London - Sustrans do a series of them for various areas: we've also got the South East. Some brilliant suggestions that wouldn't have occurred to me, and some which are pretty obvious but it's actually quite nice to have a little guide.
We started from home and more or less free-wheeled to Battersea Park, which lies alongside the River Thames. First of many repeating arguments with Jimmy. He says "Let's cycle the most direct route". I say "Let's take slightly longer but avoid as much traffic as possible". Unfortunately, because of the criss-cross of railway lines you do end up on the sheer hell that is Queenstown Rd with all types of different road users fighting for very limited space.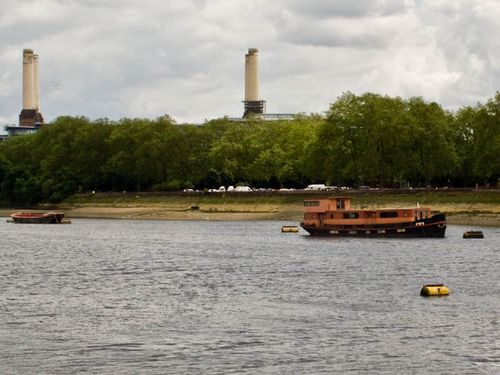 We had a nice cycle round Battersea Park. Afterwards, I realised that there are some lovely grounds around the lake, and because I'd been concentrating on riding, I hadn't taken any photos! We had a good laugh at a family out for a Saturday walk. Mum and Dad in their 30s, strolling along. And Grandma, approaching 60, running after a small boy loudly encouraging him to be brave to bicycle unaided. Brilliant!
Leaving the park, I was delighted at how cycle-friendly most of the rest of the ride was. Shared pavement across Chelsea Bridge and down through Chelsea. Wow! Someone did give me a 'look' but the signs were unambiguous, and there were many other cyclists enjoying the run. I felt an extraordinary sense of smugness as I looked at people hemmed into their slow-moving cars on a bright sunny day. I was on my bike, and free!
One of the many things I love about London is that although it is a super-busy and sometimes overcrowded city, it is so easy to get away from the crowds. According to Natural England:
Two thirds of London's land area is occupied by green spaces and water, of this about a third is private gardens, a third parks or in sports use and a third includes London's natural landscape features: woodlands, historic parklands, remnant grazing marsh, river valleys and downland.
and so very accessible!
I can't decide whether Chelsea Embankment is attractive. On the one hand, close to Ranelagh Gardens and Chelsea Physic Garden (on the 'to visit' list), with great river views. On the other hand, constant through traffic. Very expensive. Passing along there and Cheyne Walk, Jimmy commented he'd never delivered paraffin there. Kensington, yes, but not this part of Chelsea!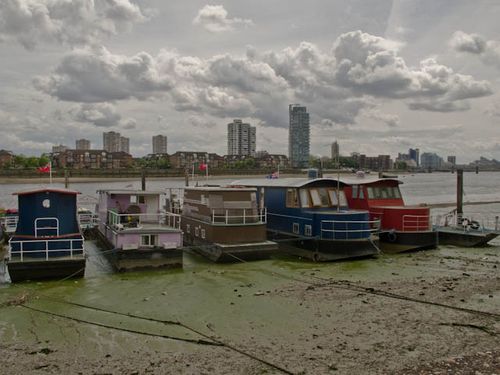 The mudflats of Chelsea are populated by houseboats. One has recently sold with an asking price of £429k, which may make you gulp, but, given the neighbourhood, is nothing. I hadn't thought of houseboats for years until Battersea in April, and then this ride. Just this summer, someone I know has bought a houseboat on one of the waterways outside London. I get the strong impression that affordability was a major factor. She swears not to be a hippy or boho; another acquaintance has friends with a narrowboat - they travel round but also have a fixed winter mooring. It appeals a bit to me, but if I did it, it would look copycat! 
Briefly, we had to leave dedicated cycle trail to hit the shared road. But the shared road was Lots Road. I was so excited I almost crashed my bike into the Power Station. Lots Road Power Station. Less talked about than Battersea, but just as evocative (several links in my Battersea post). I was extraordinarily jealous later in the day when a friend remarked on Twitter she had been on a guided tour just before it was decommissioned.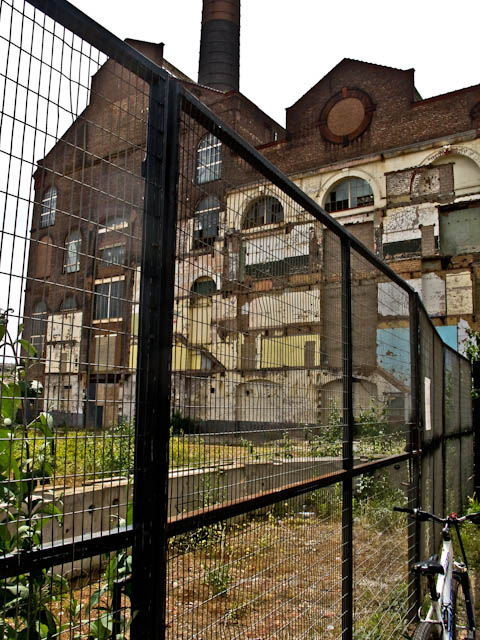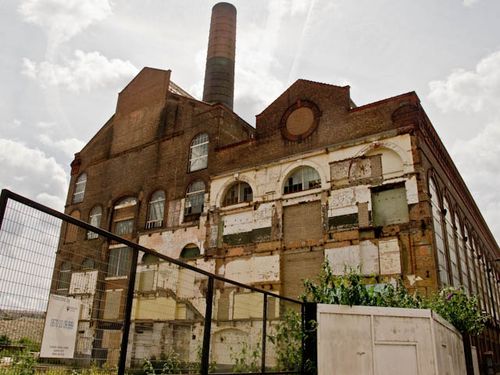 As we crossed Counter's Creek - or Chelsea Creek - we were able to see Battersea Power Station in the distance! 
I am assuming that this is the location of Chelsea Creek. It's prominent both physically and on a map and is precisely described in this article on the Kensington Canal but Wikipedia says that it flows into the Thames at Sands End, to the South of Chelsea Harbour, and the luxury development called Chelsea Creek also appears to be south of Chelsea Harbour. Re-writing Geography, I wonder.
And into Chelsea Harbour. In some ways, the epitome of modern luxurious living. According to Wikipedia  it is reputed to be the residence of a number of UK and international celebrities. Although the only ones I can think of are Frank Lampard and Piers Morgan. 
What an empty soulless place! When I saw it from across the river in Spring, on a gloriously hot day, I saw only one person, and she was carrying a camera. No busier today, just us and a handful of other tourists. A pokey little estate, nothing in the way of gardens. Waterside bars and restaurants deserted - unimaginable elsewhere in London. With one exception, the boats look unloved - status symbols, not beloved toys. I can appreciate a clean and tidy neighbourhood, but this just seemed bereft, how one imagines the empty cities in China to be.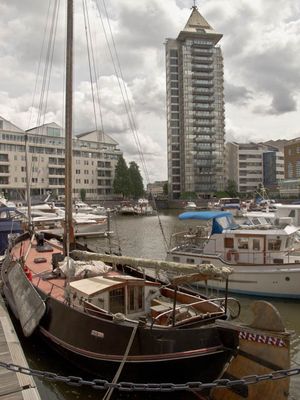 A couple of sights of some interest from the riverbank. I've called this one Kayaks under the BT Tower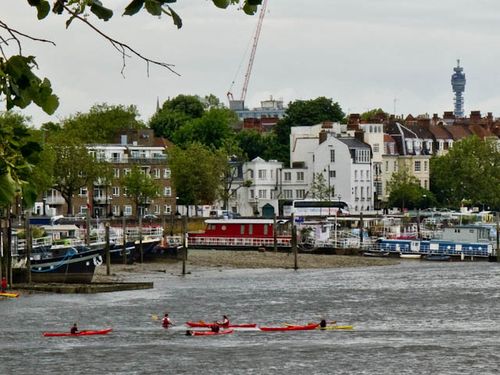 and this is the spirit of Chartwell, which had been done up all nice to transport the Queen along the Thames for the now notorious Diamond Jubilee Pageant.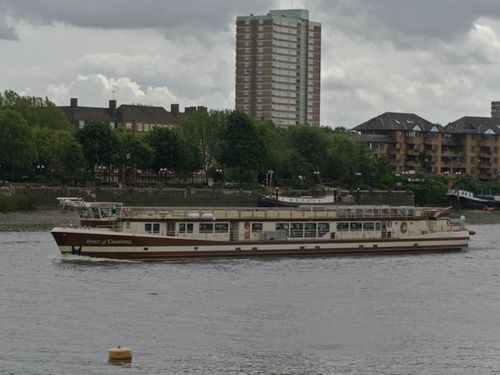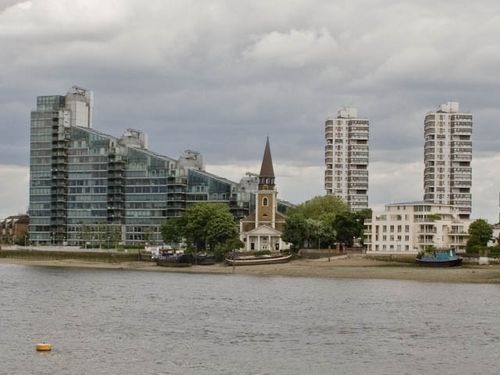 I more or less stopped taking photos after that, after we sped through Imperial Wharf and Sands End. Imperial Wharf is a strange place. All 'luxury apartments' and an immaculately landscaped garden with no soul or character. Deadly dull. I tried to calculate how many 'luxury apartments' there are in London, even just along the riverside. Not even considering the megarich ones, but ones selling for under a million. And who are all the people living in them? I'm not being judgemental, just trying to do the sums. Take away all the people who would choose to live in suburbia or beyond, for a garden and children. Add in people who've inherited the proceeds of the parental home. Acknowledging that wage statistics never properly reflect unearned and freelance/self-employed income. There seem to be a lot of riverside housing that doesn't by any definition include 'affordable housing'. A new sort of inner-city ghetto, perhaps.
Imperial Wharf is a new tube station, on the London Overground (orange) line. I have never paid it much attention previously, but it lit a lightbulb. Ask most Londoners to name the bridges over the Thames and very few will name Cremorne Bridge. It's almost invisible on Google maps - you have to know where to look and stare very hard. But, by linking Clapham Junction with Imperial Wharf and the line beyond to Willesden Junction, it's a way of getting from South West London to North West London and Hertfordshire without going Underground. Seemingly bike friendly, too. Clapham Junction to Imperial Wharf is a rail journey I must do.
Here, the Thames Path diverts through Sainsbury's car park and onto the main roads surrounding Wandsworth Bridge, no more appealing or cyclist/pedestrian-friendly than on the southern bank. We diverted onto New Kings Road to find a coffee shop or somesuch, but with no luck. I had looked forward to eating our sandwiches in one of the parks around Putney Bridge, but as it was beginning to drizzle, we went instead to a pub. Looking on a map, it seems to be called The Temperance, although I don't recall sniggering at this seemingly ironic name for a pub.
We emerged into even heavier rain, so decided to cross the river to Putney Station. However, the rain eased off and we thought we'd cycle home. We couldn't seem to avoid the A3, and we ended up getting the train from Wandsworth Town station. We saw enough to realise there's no benefit - other then completism - in doing the final stretch of the Wandle Way as it meets The Tideway. But it would probably have been easier to cycle  home via Earlsfield than faff around on trains. Still, I got to eat my home-prepared sandwiches on the trains!
I have updated my London photo album