It seems a very long time ago; indicating what a backlog of blog posts and photos I have to process!
Having occasional use of a car I opened Google Maps and searched for big patches of green not too far from home. I chose Blackheath and Greenwich Park. Not far to go, but, being by car, an unnecessarily long and tedious journey. I think it took us longer just to get through Peckham than it would have done to go by train!
Blackheath was a disappointment. I'm sure I went past it years ago and it seemed huge, but on this occasion it seemed a lot smaller, and even less interesting than Clapham Common. Which is hideously unfair of me. If you had asked me five minutes ago, I'd have given you this long spiel about how it's left desolate because it's a plague pit, eternally contaminated by the countless corpses of plague victims. But Wikipedia seems somewhat dismissive of this, mentioning in passing 
Virtually every part of London has a local tradition about plague pits
More interesting is Greenwich Park. I've been to Greenwich several times by boat, and wandered the streets of the town, and skirted round the Royal Naval College.
At first we strolled around a gated garden, beautifully planted, and designed, no doubt, for tranquil relaxation. That seemed to be the aim of all but one of the parties we encountered. Needless to say, there was one party which used the garden to shout very loudly at their children, ensuring that their voices echoed round the space. (As we left we noticed a sign with the usual 'no music, no cycling, no ball games, dogs on leads' and overheard one mother tell her children, no, we're no going in there, not with your scooters).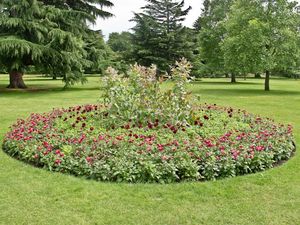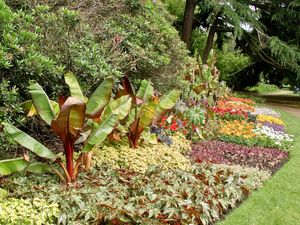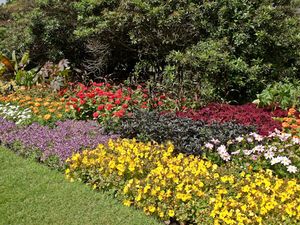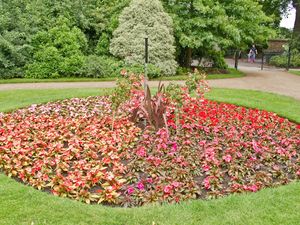 We strolled through the park and commented on how quiet it was. Hardly a soul around, although in the far distance there were crowds around the Royal Observatory.
We found ourselves at the top of a hill that fell away steeply below. Us, one woman and a dog (on a lead) and another couple and their bicycles. And no one else. I took photos!
The new cable-car from North Greenwich to the Royal Docks was not yet opened, although it was clearly undergoing trial runs.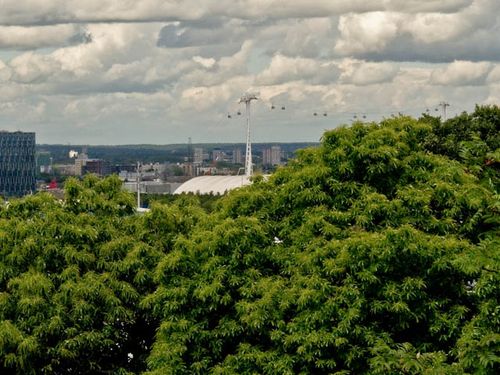 I was mildly intrigued by this building.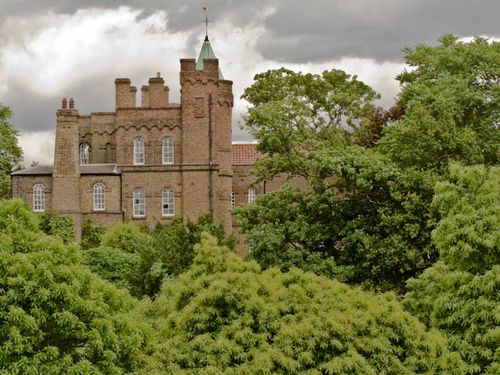 I later found out it was Vanbrugh Castle, perhaps a grander name than its history truly warrants.
The panoramic views from this surprisingly deserted spot were truly amazing.
Canary Wharf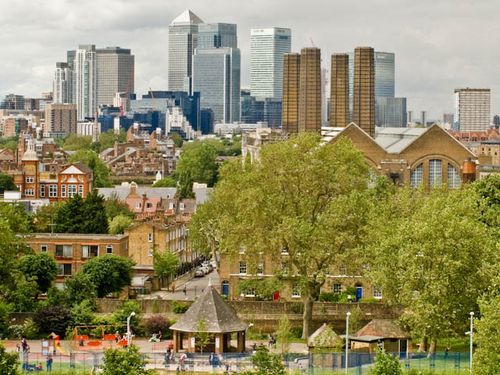 In the foreground Greenwich Power station, a stand-by back-up source for London Underground, and my third power station of the weekend!

We saw the former Millennium Dome, currently known as O2, although temporarily known as the North Greenwich Arena for the 2012 Games.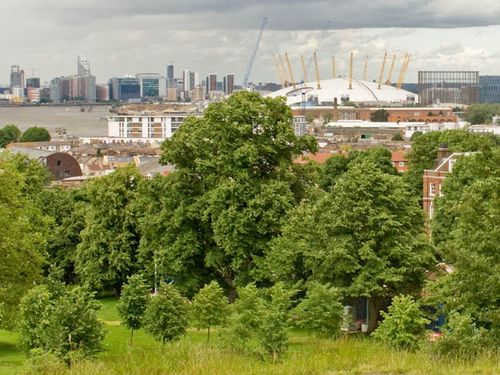 Views of the City of London and further afield
Closer at hand were The Old Royal Naval College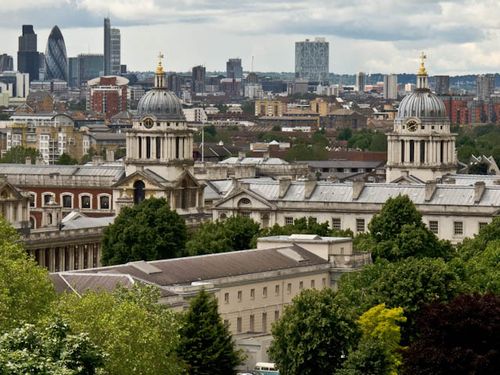 and the Greenwich Observatory, famous for being the 'home' of Greenwich Mean Time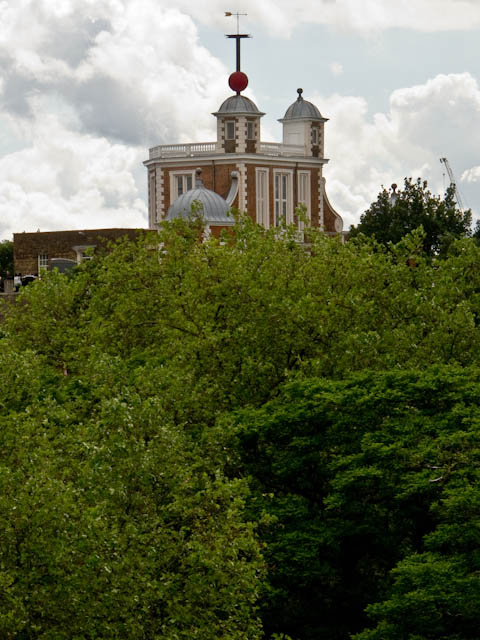 Below us, the Boating Lake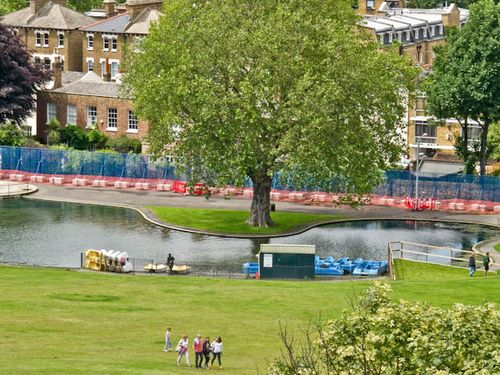 and an arena being built in preparation for Olympic and Paralympic Equestrianism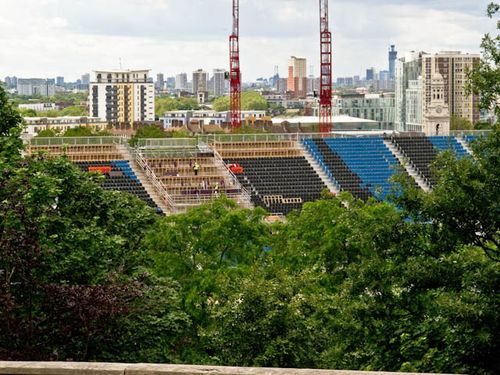 We continued our stroll through the park and encountered Queen Elizabeth's Oak. It dates to the 12th century, and died in the 19th, but remained standing until 1991. Queen Elizabeth I was said to have often taken refreshment whilst relaxing in its shade.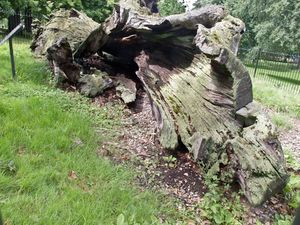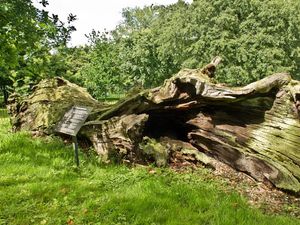 We arrived at the Observatory. The immediate surrounds were teeming with people, most of them there just to tick this off their sight-seeing list, few of them courageous enough to venture into the wider park, and many of them desperate to get the photos from this famous viewpoint on their phone cameras.
I basically took the same pictures as before, but from a slightly different angle!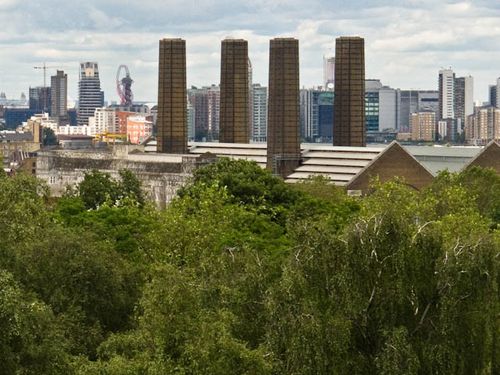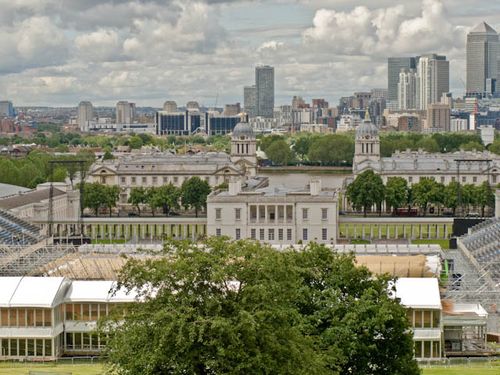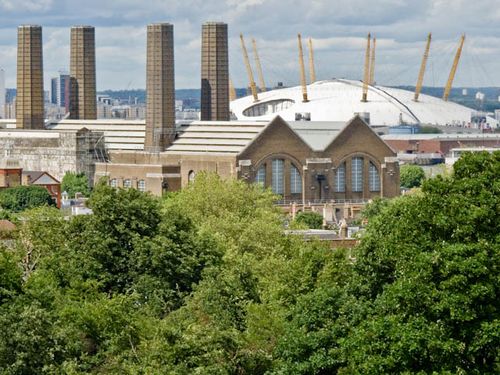 I had to laugh at one point, because I was stood on the stairway taking one particular view. It wasn't especially inspired on my part, just logical. Some woman, clearly a tourist, saw me, perhaps noticing that I had a camera that wasn't just a phone and stood right next to me, practically pushing me out of the way, as her face wore that expression of tourists the world over - basically, feeling information overload but scared of missing that one important photograph.
"Excuse me, personal space!" I exclaimed, in one of my more lame/pretentious moments. Nevertheless, she seemed to get the hint and moved away. Good thing, because otherwise I would have kicked her down the steps. Possibly.
It had been pleasant rambling through the park, but I found this area depressing. We walked back down to the Blackheath Gate. We had been hoping to see the Rose Gardens, but they appeared to be shut, in preparation for the Olymics and Paralympics.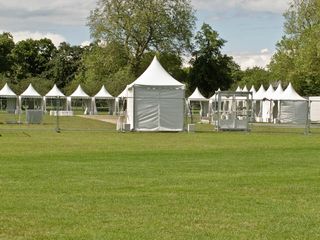 I also took a photo of this, which I assumed at the time was specifically horse-related, although I now know they were at most Olympic venues, for checking the ticket-holding public.
We had an interesting journey home, missing the entrance to the A2, driving into a small bus garage, and having to do a turnaround in Homebase. But eventually we got home, although the traffic was crawling bumper-to-bumper through New Cross and Peckham. We ended up with a much-needed pint in one of local, recently refurbished & modernised pubs. We had been meaning to go for ages, and also intending to go back; in fact, just this Friday we planned to call in on the way back from our local firework display. But it was packed tight!
More photos from this trip, and many more as well are in my London photo album