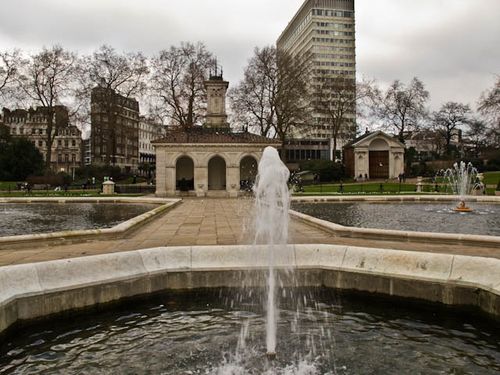 Determined to make the most of a decent, if not spectacular Winter's day, we set off an intrepid adventure. Sadly, I misread my guidebook and thought we were walking the entire length of the River Westbourne but subsequent research shows that it rises in the Hampstead foothills, not where we joined it at the Bayswater Road.
Our first mistake was to walk briskly away from Paddington Station. On reflection, we should have ventured into the mainline station to risk whichever chain coffee place, because there was a distinct lack of any, chain or independent, as we yomped down to Hyde Park via Sussex Gardens. Rather too many down-market chains of the Angus Steakhouse/KFC type. It was cold as we approached the fountains of the Italian Gardens, north of the Long Water!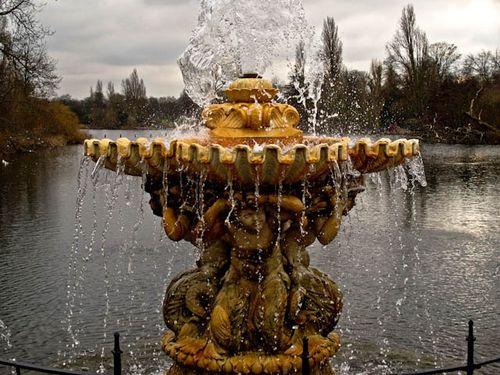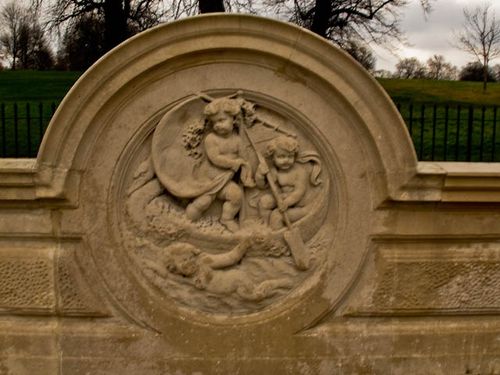 Too many of my photos have the sky shot-out. It can provide a brilliant contrast with the subject matter, but if it keeps occurring, it just looks like one big error. I could edit in sky from other photos, but I won't do that as a matter of morality. If I start adding in sky, what's to stop me adding all sorts of other lies, and prostituting my integrity?
I've tried different ways of fixing this honestly. One is to take several versions of the same photo at different exposures and blend them together in processing. Definitely a good idea if you think you have a 'money shot' but tedious for tourist snapshots. I've also used the ND filter (Neutral Density) built in to the camera. Not very satisfactory - it leads to a longer exposure time and less exposure of the subject, resulting in dark blurry photos. Maybe I should practice it some time when the pressure is off, the weather is warm-ish, and I'm not embarking on a strenuous walk.
The other option is to use flash. I don't especially like using flash outdoors - or indoors, if I can avoid it - because I think it gives an artificial warmth to the light. But I switched to using flash. It helped but didn't really solve my white-sky problem; fortunately, the light doesn't look too artificial.
A brisk stroll along the East bank of Long Water, with barely another soul around. It's quite overgrown here; in Spring and Summer it would probably be impossible to see the water. As we passed under the West Carriage Drive bridge, we were now alongside the Serpentine, a more managed urban environment. A broadly North to South walk increasingly became West to East, and as we progressed, we were joined by more and more park users. Most striking were those learning to ski, not daunted by the absence of snow.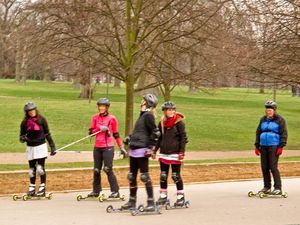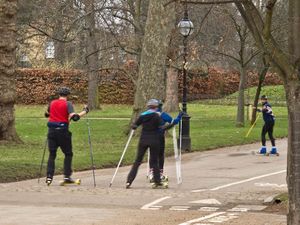 There didn't seem to be any hire boats out on the Serpentine, but the Boathouse was open for selling tourist tat. I was tempted to buy either a cuddly squirrel or a cuddly swan, but Jimmy wouldn't let me. Amongst his arguments was "Wagner (the doll) wouldn't like a swan..." Little does he know!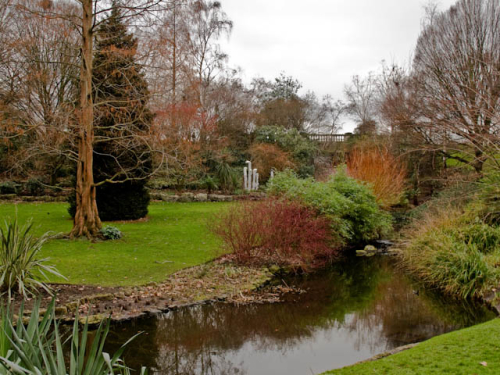 It became positively busy as we approached The Dell, and decided not to stop in the coffee shop, assuming that there would be an 'in park' premium. Years ago, when I worked at Kensington Town Hall, I sometimes walked up through the park to Hyde Park Corner, in order to get the bus home and avoid the dreaded District/Circle Line black-hole via High Street Ken. Those were the days...But I never noticed The Dell, a pleasant little cultivated garden just across Rotten Row from Albert Gate.
Coffee in the Knightsbridge café was fine, although subsequently reading the web reviews doesn't make me want to go back there again. Perhaps because we were so cold and thirsty, quality didn't matter. 
Back on our walk to meander round the route of the River Westbourne. We stopped at the Wilton Arms for a decent ale and a glimpse of the ultimately disappointing Liverpool v Manchester United FA Cup tie. A decent 3 star pub: not really doing anything wrong but nothing outstanding. Perhaps we should have walked along to the idiosyncratic Nag's Head further down the street.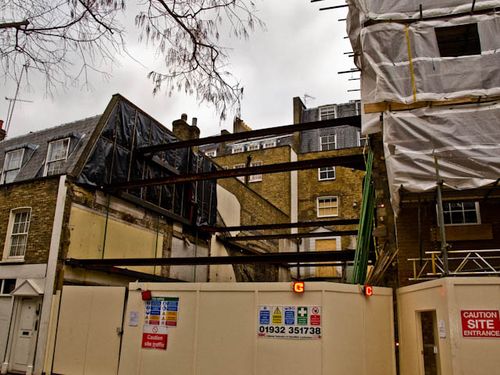 An estate agent's described Kinnerton Street as London's prettiest street. We laughed at that. Some bits were nice, but it's mostly a higgledy piggledy mess of building styles, some of them pretty enough, but some positively hideous. I think many of the roads around the North West of Brixton Hill are as pretty, and Trinity Gardens is much more so. I suspect most Inner London areas can boast similarly.
The only real interest were the private mews owned by the Grosvenor Estate, complete with signs warning about all sorts of activities that are prohibited. We poked around a few, but I'm hazy about the legal boundary between private and right-of-way, and carry an inbuilt guilt that I may be suspected of casing the joint.
We resisted temptation when confronted with Ottolenghi, Patisserie Valerie and Roccoco Chocolates cheek by jowl all on one street, and continued along the route of the Westbourne through the backstreets down to Sloane Square. Here more than anywhere were we aware of people with more money than taste. Shops selling absolute tat, with no prices displayed, no doubt on the basis of if you have to ask the price you can't afford it. We were reminded of the shop in the comedy sketch I Saw You Coming. Either that or it's a cover for an elaborate money laundering scheme.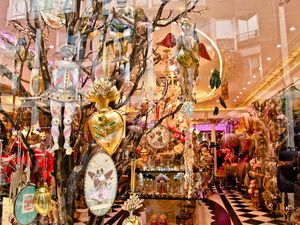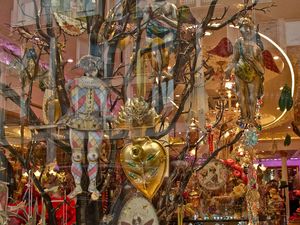 (Obviously, taking snapshots into shop windows does tend also to capture reflections off the glass).
There are very few statues of women in London, so I definitely had mixed feelings of these two women near Sloane Street, especially when I discover via the internet that this is just to advertise a company that does dry-cleaning with 'discreet and attentive service'. So, women not even shopping but just picking up the dry cleaning. 
We passed some momentarily interesting buildings on our way.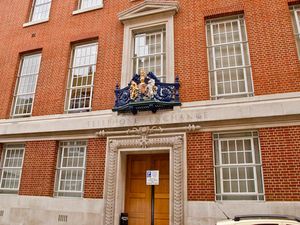 I really liked this mini. Especially since it had been cleaned with such loving care and attention. By the owner, or a servant, I don't know.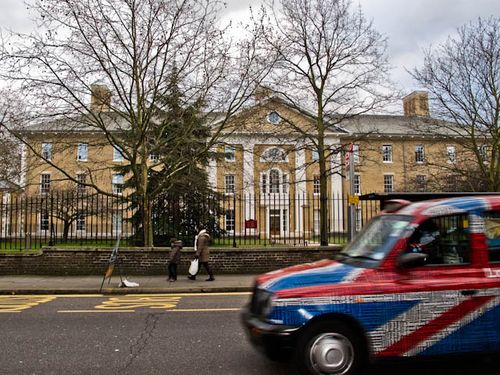 We could have inspected the River Westbourne as it passes through a pipe at Sloane Square Underground station, but decided instead to walk onto the Royal Hospital at Chelsea. An amusing incident as we waited to cross a side road off Royal Hospital Road. A large 4x4 turned in. Unable properly to drive the car properly, the driver turned a wide circle and tried to  drive down the wrong side; surprised to find oncoming traffic, the driver was forced to reverse and attempt the turn a second time, properly - although not entirely successfully - tightly and driving on the left. A couple were standing next to us. He said "Chelsea tractors" with more contempt in his voice than I could ever muster. Of course, the driver was entirely oblivious to four pedestrians waiting patiently to cross.
Extraordinary that neither Jimmy or I have ever been either to the Royal Hospital or the adjoining Ranelagh Gardens. Even more surprising considering how near they are to home. They were virtually deserted of other visitors late on this winter's afternoon; I doubt it will ever be so on any subsequent visit. We didn't linger long, because the sun was going down and the temperature was falling, and we hadn't quite finished our walk.
For a few brief minutes, the sun came out and shone brightly in that incomparable time that some people call The Golden Hour. This Avenue of trees almost made me think I was no longer in Central London.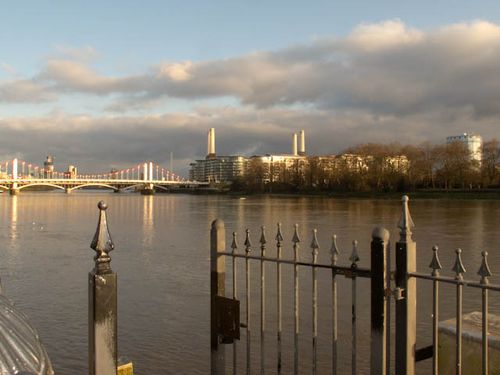 We finished on Chelsea Embankment, where we could have seen the outfall of the River Westbourne if it had been low tide on the Thames. But the tide was fairly high; still, we had a lovely view of the sun setting over Battersea Power Station and distant Vauxhall. We walked across Chelsea Bridge, pausing to inspect the mouth of the (former) Grosvenor Canal where it meets the Thames. We caught a bus to Clapham, and, ultimately, home.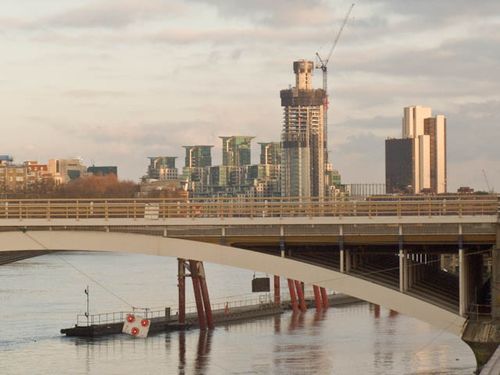 More pictures from today and other days out are in my London photo album