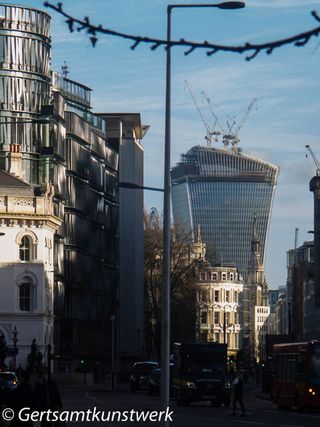 At Christmas and New Year I took more than two weeks off work - the obligatory days, and those in between. The plan was to take advantage of cold but bright weather, and enjoy several 'days out', close to home (because of early sunset). However, most of the holiday turned out to be wet and windy, or, at best, grey and miserable. It was as if there was just one bright day, and we had to use it. Unfortunately, there is a photographic disadvantage of low bright winter sun in heavily built up areas. So, I present a series of photographs more about what they depict than their photographic merit.
The map I followed is below. I only turned the app on when I emerged from St Paul's Underground, and I turned it off in The Harrow pub, not bothering to track my walking route to Blackfriars Station. Including one wrong turn, and a certain amount of walking around and around, it was a 3¼ miles or 5.2 kilometres.
The first site of interest was Postman's Park. This was busy, especially around the memorial wall. I have been there before (March 2003 - some time ago now!) - photos here, and press 'Previous', so I didn't linger.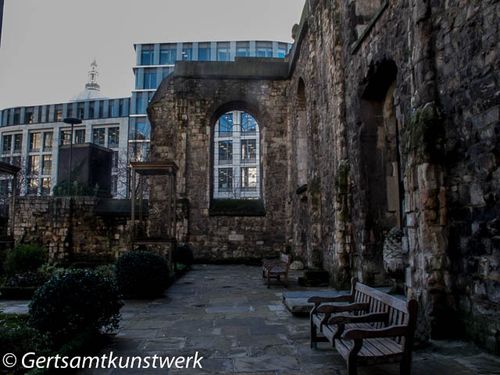 The first stop of interest was the churchyard and ruins of Christ Church Greyfriars. Established in the 13th century, it was destroyed in the Great Fire (1666) and rebuilt as a 'Wren church'. Apart from the tower, it was largely destroyed in the Blitz. This Wikipedia page lists all Wren churches - 51, plus St Paul's -  and lists those a) Substantially rebuilt after the Blitz (9), b) Tower remaining (6), and demolished in the Blitz (3). The City of London summarises its history and that of the post-War garden. Supposedly, it is haunted by not one but five ghosts - can't beat a bit of ghosting nonsense. This website contains a recent proposal to convert Christ Church Greyfriars into
a memorial of national significance to commemorate the heroism and sacrifice of the citizens of London during the Second World War and in subsequent bombings.
Sounds an excellent idea, the only drawback would be cash - and inevitable wrangles over matters of detail (I'm sure Charles Windsor and Boris Johnson would both weigh in with ill-informed crackpot ideas). 
 En route to the Old Bailey, we passed the livery hall of the Cutler's Company. Formed in the 13th century as a guild for craftsmen who made and repaired knives, it is now mainly a charitable institution - including donating cutlery to hospices - and cutlery is very much a Sheffield-based industry
As was the case with the other trade guilds of the day, its function was to protect the interests of its members, to attend to their welfare, and to ensure that high standards of quality were maintained.
 We were able to pass below the Old Bailey, but not go in - unlike two years ago when we were able to look around the Royal Court of Justice, when it had risen for recess. My companion said "Let's hope neither of us has a bomb". "Ssshhh," I said. As if either of us - or anyone else with an inch of common sense - is going to say "Oops, I brought my bomb out by mistake" as if it was an office pass or a packet of spice you forgot to take out of your rucksack. There are some people you can't take anywhere!
Next stop was St Sepulchre-without-Newgate, a church ("Without" signifies its place beyond the old city walls, in the county of Middlesex). Outside is a drinking fountain, the first installed by the Metropolitan Drinking Fountain and Cattle Trough Association, established in 1859: 
The objectives of the Association are to promote the provision of drinking water for people and animals in the United Kingdom and Overseas and the preservation of the Association's archive materials, artefacts, drinking fountains, cattle troughs and other installations.
 It now builds drinking fountains in schools, restores existing fountains and provides wells and other water projects in developing countries - Wikipedia.
St Sepulchre's is nowadays known as the National Musicians' Church, and contains a Musician's chapel. Henry Wood learnt to play the organ here, and his ashes are buried here. In the Musicians' Chapel there are modern windows depicting Dame Nellie Melba and John Ireland, and above the altar the 'Magnificat' window in memory of Walter Carroll. On the south wall of the chapel is a case containing the Musicians' Book of Remembrance.
Another Wren church, it is now the largest in the City of London, and is the Bells of Old Bailey in Oranges and Lemons. St Sepulchre's great bell tolled as condemned men passed from Newgate prison towards the gallows.On midnight of an execution day, St Sepulchre's Bellman would pass by an underground passage to Newgate Prison and ring twelve double tolls to the prisoner on the Execution Bell, whilst reciting a rhymed reminder that the day of execution had come. The hand bell is now displayed under glass in the church, alongside the rhyme that was read to prisoners  - from the Parish website. 
In retrospect, it was a tactical mistake not to go inside and explore further. Ah well, another time!
We had a quick peak into Snow Hill Court behind the church, and walked down Snow Hill. This police sign is a relative rarity nowadays; this is on the site of the old Saracen's Head, where Wackford Squeers met Nicholas Nickleby. Read about Sarah Mountain, a 'formidable business woman'. Watercolour of the Inn.
 We passed a rather un down part of Smithfield Market, the last surviving wholesale market in Central London - for the sale of meat and poultry. There was a livestock market on the site 800 years ago, and Wikipedia has a long and detailed history. Last week, The Observer ran an article about it:
The battle to save Smithfield market
A controversial plan to turn one of London's finest Victorian markets into a £160m office and retail complex is the subject of a current public inquiry and the finely balanced rival claims of heritage and development
 BBC London says
A public inquiry ends this week into plans to redevelop a large section of Smithfield Market in Farringdon.

Some of the Victorian buildings have stood derelict for 30 years and a brand-new public piazza with restaurants and cafes is planned.

But campaigners say the inclusion of multistorey office blocks will destroy the market's heritage. A decision will be made in the Spring.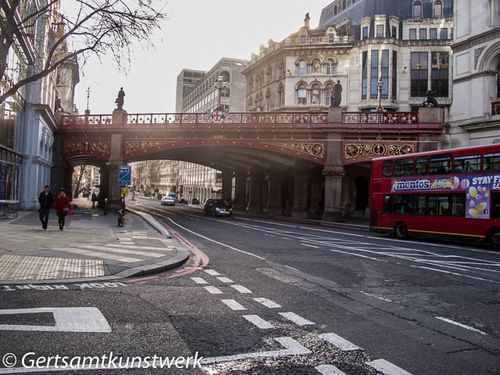 We reached Farringdon Street and I photographed Holborn Viaduct. I've always assumed it to be a railway bridge, but it seems that it carries the A40. I did once catch a train to Holborn Viaduct station, in 1981, and was told off by 17 year old cousin for mispronouncing it. It closed in 1990. 
From here, it was - surprisingly - only a short walk into Cambridgeshire, and a welcome stop in a extraordinary pub. But this blogpost is already long enough, so stay tuned for Part 2, a sneak preview of which is contained in the map below, which marks my exact route!

View 5 Cheapside in a larger map