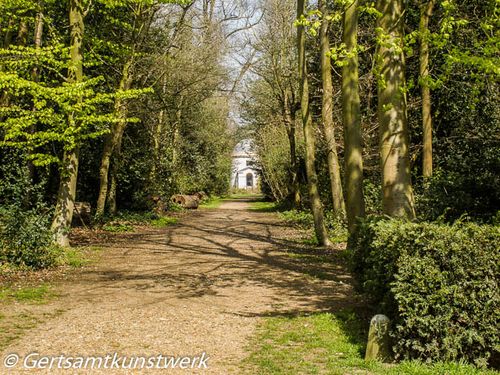 An epic walk, undertaken exactly a year ago! Actually, not that epic, but fun, on a nice day, seeing previously unseen places. We started our walk from Barnes Bridge station, across and along the Thames and into Chiswick House and Gardens. 
People who don't know London - including a large number of its residents - have a perception of dense buildings, masses of people and constant traffic, with its fumes and noise. 
But once you start to explore London you discover that there really is another half. There are some clear advantages over countryside and wildness, primarily accessibility. Partly that they are generally only a short walk from public transport, and partly that so much green space is dedicated to the public, unlike areas that are barred for productive reasons.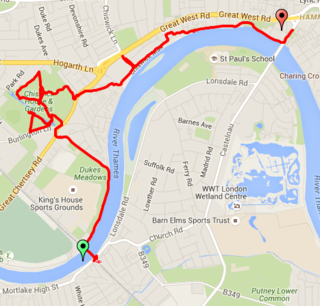 Any Londoner who heads out West by car or coach should have spotted the walls of Chiswick House on the A4 Great West Road, approaching the infamous Hogarth roundabout, beloved of travel news. I had never been before and was pleasantly surprised. I understand that the grounds have been refurbished fairly recently, and this is not to all tastes - rather than allowed to be wild, they are more tended. 
We strolled up the driveway to the mansion house, erstwhile property of the Duchy of Devonshire. As I have blogged before, I have limited interest in stately homes, largely because of the way they are presented and marketed. (I don't like the way they portray the rich as being heroic or people to look up to, when there is usually no reason to do so, other than their wealth, and how they tend to ignore the history of the vast majority of people, who were often living in squalor and exploitation). It wasn't open on that day - current opening is Sunday - Wednesday.
The grounds seemed busy, but that was merely because almost all visitors were crowded onto a small stretch of lawn between the house and the lake (which had been created by widening a brook), but most of the rest of the grounds were almost deserted.
It's a phenomenon I see time and again, of people unable or unwilling to progress much further than the first available stopping point. Obviously, one should distinguish between individual actions and a general trend - often one can spot people with mobility impairments, and assume that some others have invisible impairments - but every single time I go out, since I first spotted the trend, it has been entirely predictable! It doesn't make me angry, because it means that the wider grounds are mine to enjoy all the more, but it does make me condescending to the ignorant masses.
A more serious point is that people take their kids out like this, assume they're parenting well, because they're 'out', but actually, the kids' horizons aren't expanding, and their liveliness, unspent energy and boredom is often in conflict with people who have come to relax. Perhaps it's a pack mentality or a fear of what may lie beyond an enclosed or structured space.
A very short stroll through a wood brought us to an Ionic temple, where only the most intrepid of explorers venture to see the lake from a different angle. There was a classical elegance to the grounds, and away from that small area, we hardly encountered anyone. The gardens are renowned for their camellias, but it seems we missed them at their peak.
We left the park and followed our guidesheet to the river. Feeling hungry, we followed a sign to a pub. An interesting pub, because it has two names - the Mawson Arms and the Fox and Hounds. It also serves as the Brewery tap for Fullers's brewery. A very decent couple of pints and a very good 'fishfinger' sandwich - goujons, rather than out-of-a-packet.

We carried along the river. It was a sunny day and busy on the river banks. We passed several riverside pubs. Jimmy declared them crowded, I didn't think so. The trouble is, occasionally, you encounter a pub that has so much space that it doesn't seem crowded, and it spoils you for any other. But, in Inner London, you're less likely to encounter these than you would outside the county boundary. The Thames looked nice, though!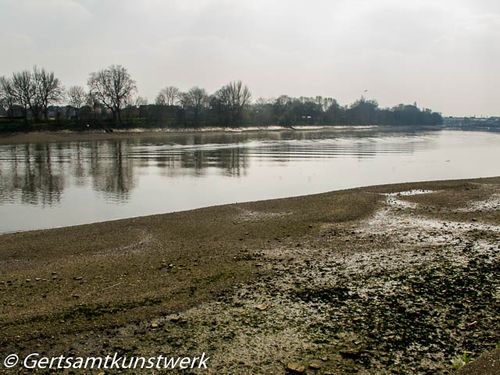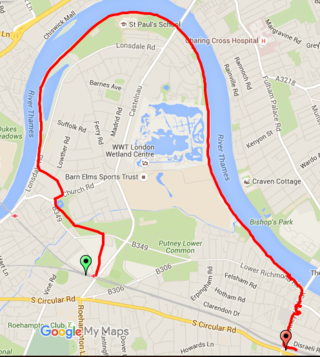 We took the bus back to Barnes Bridge and had another pint or two in a Young's pub in that area. The website I had found suggested continuing around the Barnes peninsular, but I see no problem in only doing part of a suggested walk. We did actually do the Barnes peninsular part some time later, but, for some reason, I didn't take any photos, and ended up getting quite tipsy in Putney.