I know I haven't been great in keeping my blog up to date, but about 18 months ago I blogged two short pieces Old photos, new stories: Gorey and Old Pictures and Short Stories, recalling a long weekend visit to Jersey in 2001. One thought led to another and it wasn't long before I'd booked the same hotel, and flights for a three night stay in September.
We got very lucky with the weather - when I stepped off the plane at Jersey airport, I had a sense of tremendous heat you normally only experience in southern Europe or further afield. Very easy airport to negotiate, out very quickly, and then the journey to our hotel, the other side of St Helier.
St Helier isn't the prettiest town, in the British isles, not by a long shot. I suppose it suffers from having to be multi-purpose - industry and port as well as administrative and tourism/leisure. We had the most depressive and moaning taxi driver, railing at the modern world, how things have changed, and how Jersey has gone to the dogs - he's intending to retire to the Isle of Wight.
The main road goes through a tunnel bored through rock, a useful bypass of the town. The taxi driver closed his window and instructed us to do likewise and ranted alarmingly at all the FOOLS who kept their windows open, they'd die of pollution in this tunnel. All taxi drivers on three subsequent journeys kept their windows open, and there were several pedestrians and cyclists. In any case, I've been in longer tunnels under airport runways, the Thames and Hindhead.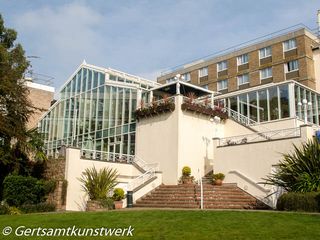 We checked into the Merton Hotel. It is a spectacularly ugly building from the outside, but really rather lovely inside. It managed to seem unchanged and yet updated since our visit more than a decade earlier. We spent the late afternoon in the hotel's splendid swimming pool, one of the main reasons we had booked this hotel.
It has a large pool, that is both indoors and outdoors, no real divide between the two. It has jacuzzis, indoors and out, sauna and steam room, and even a  fountain in the pool, silly and pointless but fun. The FlowRider SurfWave was closed for major repairs, and the giant water slide was closed that afternoon, but open at other times. It was lovely to be in an outdoor pool nearly in autumn.
I had selected a restaurant from Trip Advisor. I suppose that makes me unforgivably naff, but it serves me well in unfamiliar towns. I chose well - Saffrons, in a very grand hotel. It was just about walking distance, up a hill, although I felt I'd earned my meal when I arrived.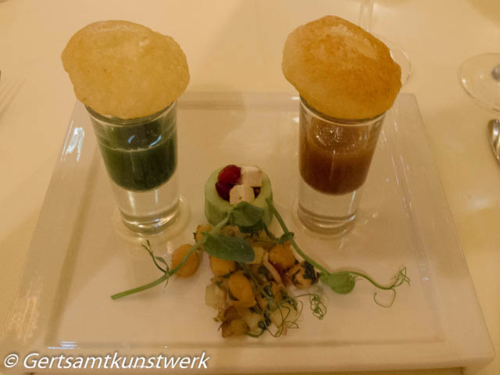 We went for the Tasting or Degustation menu, I for the vegetarian one and him for the non-vegetarian. Everything had a touch of class about it, without being pretentious. Sitting in the lounge with a drink while we perused the menu, and being escorted to the table only when it was ready.
Service was attentive without being obsequious or overbearing. At the end, we had to wait a long while for our taxi, because there had been a fire at a large restaurant in St Aubin, and all nearby taxis had been summoned to ferry people away from the scene (fortunately, no casualties, as far as I know), on a night when the Joe Loss Orchestra was performing at the Opera House. In this unusual circumstance, the waiters relaxed and we had an enjoyable end to our meal when I'm sure they were really wanting to go home. I certainly haven't forgotten how wonderful every mouthful was, different tastes from different elements, different emphasis in each dish, utterly beautiful.
The menu was:
Popadums & Chutneys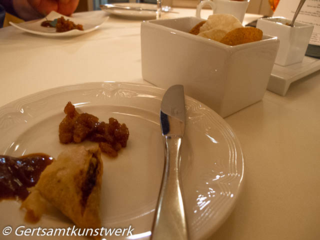 First Course
Deep Fried Wafer thin Dough, filled with Potato and Chickpea Salad Feta Cheese, Pomegranate and Cucumber Salad
Second Course
Corn Cake with Spicy Yoghurt Relish, Cauliflower Florets with Saffron Silken Mousseline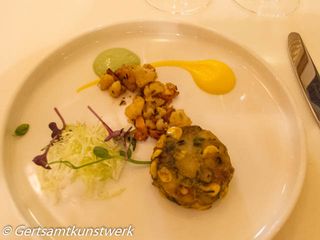 Third Course
South Indian Dopiaza Uttapam Lasagne, Idli Lentil Sambhar and Coconut Chutney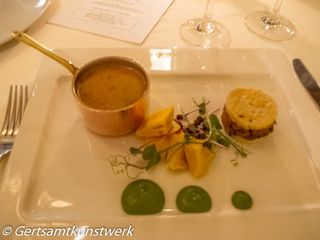 Fourth Course
Tandoor Paneer Tikka Masala, Butter Cheese Naan, Crunchy Yoghurt Kebab, spicy Chilli Chutney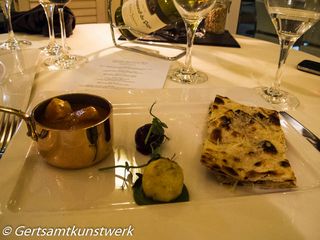 Pre Dessert
Apricot and Mint, Eros Elixir Sorbet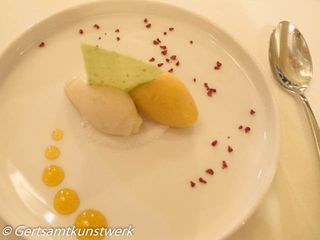 Dessert
Guanaja Chocolate rolled in Nuts and Sesame Seed Soil, Frozen Rum and Coconut Mousse, Chocolate sauce and Sesame Cream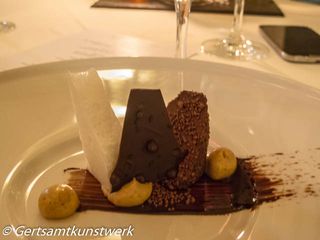 Coffee or Tea & Indian Spiced Truffles
As long as I can remember I have enjoyed eating in neighbourhood curry houses, and in the past ten years or so I have grown to appreciate fine dining. This is the first time I have ever experienced Fine Dining on Indian food (although I had some outstanding European food in India). If you ever visit St Helier, I would strongly recommend a visit to this restaurant this restaurant for a classy or romantic meal in luxury surroundings.