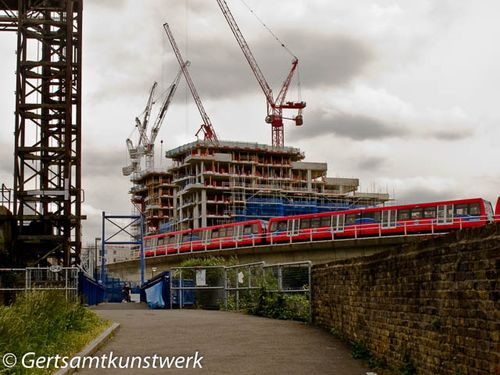 You may have gathered from this blog that I love walking or cycling along the Wandle. You may also deduce that I feel one is in no position to judge something as 'outstanding' if you have nothing to compare i with.t
One mild but gloomy day in June I walked along another of London's less known rivers. Jubilee Line to Canary Wharf and Docklands Light Railway to Cutty Sark - the latter, a stretch of London Transport rail lines I had not previously been on. Quite an interesting ride - at times elevated - through Docklands and the Isle of Dogs. I tried to imagine Docklands when it was bustling with ships and cargo - but I failed.
It is possible to take a guided walk of the Creek at low tide - although the information here refers to last year.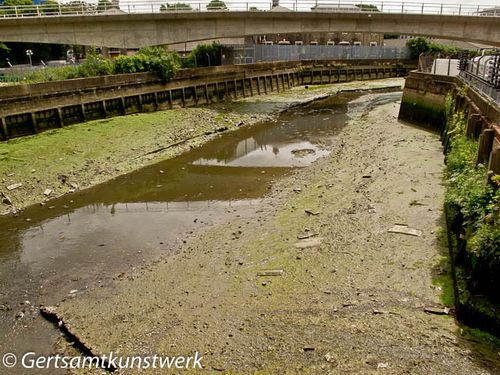 We walked away from the obvious tourist attractions of Greenwich Park and crossed Deptford Creek at low tide. At the time, I felt disappointed. I'm not sure what I expected but the phrase that came to mind was 'gritty industrialisation', not always associated with 'Greenwich'.
After I returned home and reviewed my photos I was pleasantly surprised how some turned out. Not pretty, I'll admit, but ugly urbanscapes are more interesting than a bland flat rural idyll of trees.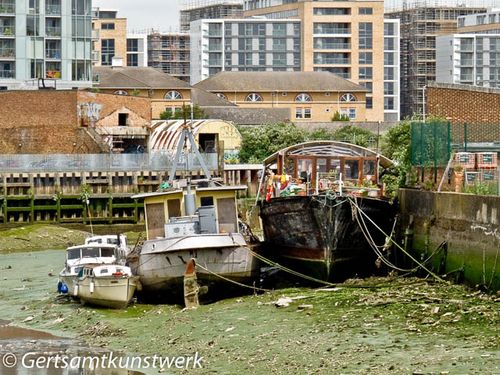 There was a veritable gallery of urban art. I spotted a middle-aged woman (with bike) taking photos of these graffiti. I sauntered nonchalantly until she went - lest she thought I was copying her! Then I took several photos. Apparently, these works are quite famous. I'm not a fan of graffiti masquerading as art - in my opinion it serves to condone less inspired 'tagging' and further acts of vandalism - but I will make an exception for these.
I immediately loved this art installation. It would look awful in Tate Modern, but was entirely appropriate for this bleak post-industrial setting.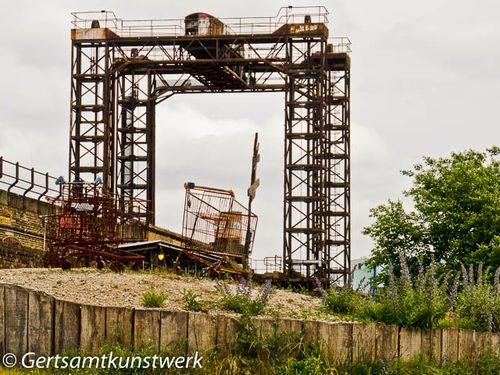 I was also fascinated by this flour mill,  operational for over a century. Pity there were no sons to hand the business on to (/lame joke)!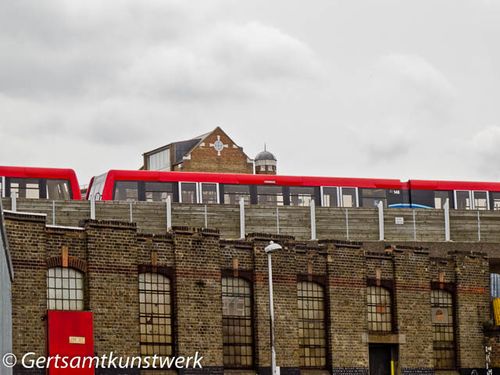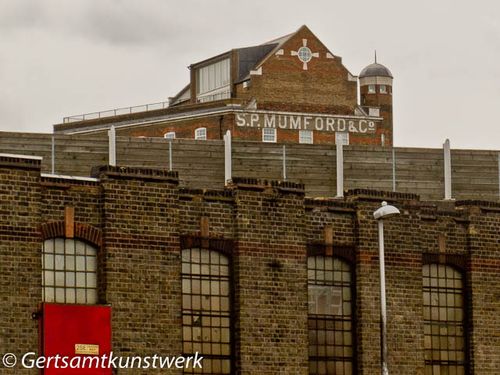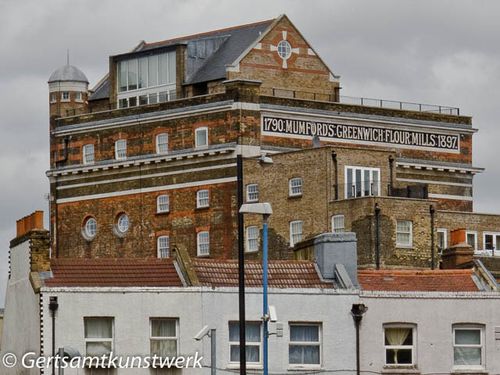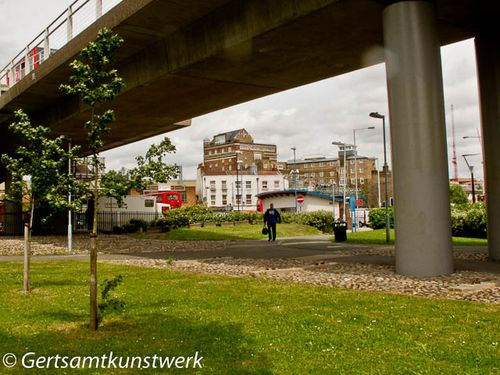 This illustrates the difference between (more or less) low water and possible high water - which seems more interesting now, after the already infamous winter of 2013/14, than it did last June. Comes with bonus Squashed Shopping Trolley.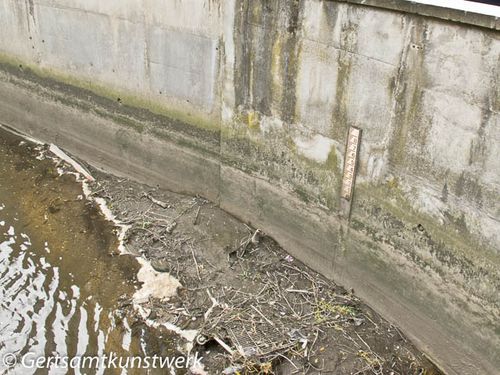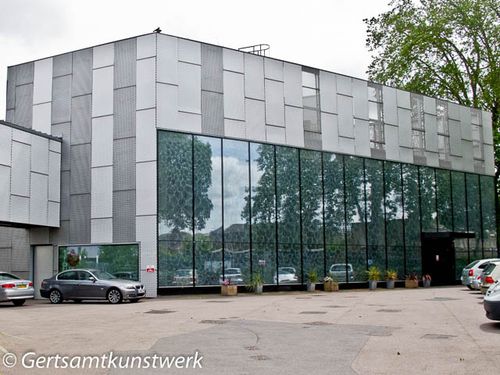 I was not much taken with Deptford - where Deptford Creek becomes the River Ravensbourne (or, given the way the river flows, vice versa) so Brookmill Park was welcome. A good neighbourhood park, and the site of the Stephen Lawrence Centre. I'm sure all UK readers are familiar with Stephen Lawrence's history - or really ought to be. But for others, here's Wikipedia:
Stephen Lawrence (13 September 1974 – 22 April 1993) was a Black British man from Eltham, south east London, who was murdered in a racist attack while waiting for a bus on the evening of 22 April 1993. The case became a cause célèbre and one of the highest profile racial killings in UK history; its fallout included profound cultural changes to attitudes on racism and the police, and to the law and police practice, and the partial revocation of double jeopardy laws, before two of the perpetrators were convicted almost 20 years later in 2012.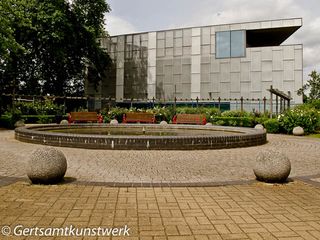 The park is green, a pleasant contrast with the gritty urban landscape, and great for local youngsters. We saw some evidence of 'wild play' - makeshift dens, swinging ropes and so on. The DLR runs alongside.
(I think that second one is a failed attempt to photograph a heron)
The river leaves the park near Elverson Rd and and a footpath follows it down to Lewisham, but the scene is bleak.
We reached Lewisham, and thus began an even bleaker and more frustrating part of the walk. To start with, crossing the road was difficult and dangerous because of roadworks. No doubt essential, but the site was laid out with no consideration for pedestrians or other non-motorised road users.
We had to leave the river at this point; I think both the Ravensbourne and the Quaggy, a tributary, are supposed to cause as little inconvenience as possible to Lewisham town centre. To be honest, Lewisham Town Centre didn't sell itself to me.We failed to find anywhere that so much as served a cup of tea or coffee, just the most god-forsaken retail park imaginable, too downmarket even for my dear other half, and deserted of shoppers except for a handful of woebegone souls, and featuring the most dismal Mothercare one can imagine.
We glimpsed the river briefly, running beside possibly the ugliest tower block in all of South London.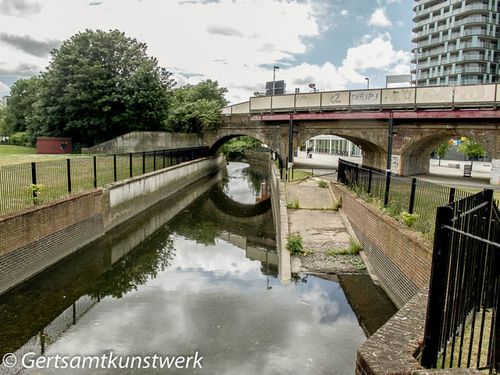 The walk on the leaflet - which I now can't find - directed us down residential streets of no interest, except for this incongruous but eye-catching stained glass.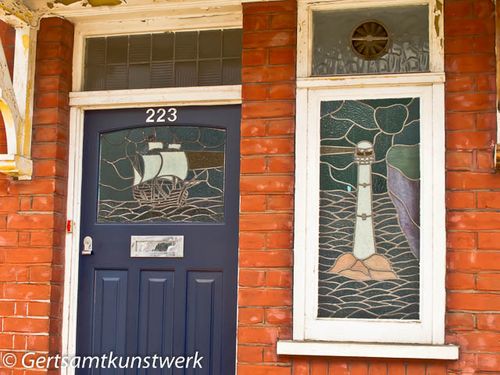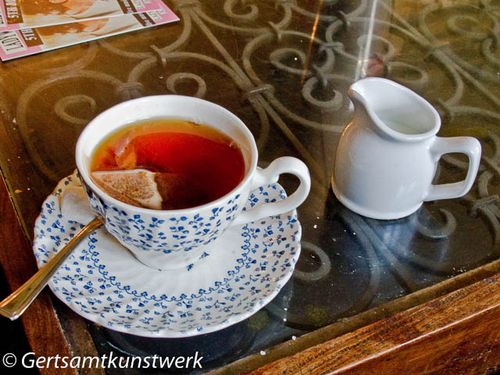 And we arrived, thirsty, in Ladywell. We saw an attractive and tempting chichi café, and would have gone in, but unfortunately, major roadworks were happening noisily outside.
Instead we walked to a pub called the Ladywell Tavern, which was a bit of a dive. This is what constituted a 'cup of tea'. No doubt legally within the Sale of Goods Act but a complete joke. Trying to be posher than their capabilities. A teabag in a mug would have been satisfactory, but what kind of idiot in England puts a teabag into a cup? Contempt for customers (at the price charged). The pub also serves food, even has a dining room. There was an unnecessarily descriptive notice in the Ladies' loos, enough to destroy anyone's appetite, and my companion said the Gents' were just dirty.
We walked to Ladywell station, but realised that any journey home would be via London Bridge. Instead, we caught a bus which seemed to take several days to get to Crystal Palace. Fortunately we found ourselves at the Café St Germain, an almost authentic French café-bistro. I say 'almost authentic' because they jolly well knew how to serve a gorgeous pot of tea. I also had a delightful meal. I forget what now, but I made a generalised positive statement on Twitter. I vowed to go back; as it happens, I haven't, but it's still there as a mental note!
If we had carried on walking, we could have followed the Ravensbourne all the way to Shortlands via Beckenham Place Park, or pehaps branched off along the River Pool almost to Penge.
The next week, we took a delightful cycle ride along the trusty Wandle!
I now have a photo album called Outer London. The distinction from 'London' is slightly arbitrary: photos of Greenwich Park would fall in the latter, despite being walking distance from Deptford Creek, but I think it broadly makes sense!

View Greenwich to Ladywell in a larger map
The enthralling nature of Deptford Creek: walking the riverbed from Walk Around London
Deptford Creek; low-tide walks from The Deptford Dame
London's Lesser Known Rivers - The Ravensbourne from London's Lost Rivers
Walking Deptford Creek from Sue Sinton Smith