We turned into Ely Place, a curiosity. Although it is without question just a few paces north of Holborn Circus, on the border of City of London and Camden, it is also an exclave of Cambridgeshire. As this Telegraph article puts it:
One of London's best-kept secrets, Ely Place is a living anachronism from medieval times when the influential bishops were determined to remain in their Cambridgeshire diocese even while on ministerial missions in the capital
First stop was Ye Olde Mitre pub, dating from 1546, and one of the most hidden away pubs in London Cambridgeshire. So hidden away I failed miserably in getting a decent exterior shot. The interior one wasn't much better, but then there were several people inside the cosy bar. Several real ales, including many guest ales. Convivial atmosphere, too, and some light banter with some older men who seemed to be regulars. Proper banter, I mean, a laugh and a joke at inconsequential matters, not 'merciless bullying' which appears to be the current meaning of 'banter'.
We went for a wander round St Etheldreda's church. This is one of only two buildings in London dating from Edward I's reign (1272 - 1307) and is the second oldest Roman Catholic church in England, and one of the first to celebrate Mass after the Catholic Emancipation Act 1829.
As a side issue, Catholic Emancipation and previous Catholic oppression - and that of Non-Conformist Christians - lies at the very heart of Secularism, and makes nonsense the Catholic Church's criticisms of secularism.  Wikipedia's introduction to the Test Acts states:
The Test Acts were a series of English penal laws that served as a religious test for public office and imposed various civil disabilities on Roman Catholics and Nonconformists. The principle was that none but people professing the Established Church were eligible for public employment, and the severe penalties pronounced against recusants, whether Catholic or Nonconformist, were affirmations of this principle. In practice nonconformists were often exempted from some of these laws through the regular passage of Acts of Indemnity.
This is strong proof from history that religious freedoms are mostly attacked by religions. These freedoms increase the more a state embraces secularism. Religion is a private matter, or one to be shared with one's religious community. It shouldn't be imposed on the unwilling but must be protected right up to the point that it breaks other laws or imposes itself on the unwilling. That is why many Christians are secularists and all should be - other than those who demand special privileges and funding for their own specific group at the expense of all other religious groups and the majority of people who are of no religion or do not involve themself in religious festivities beyond rites of passages and high holidays. The National Secular Society has a website. Those who don't know history and demand special privileges for their particular flavour of religion are the greatest threat to Religious Freedom. I find it particularly galling that some Catholics in England want special privileges, ignoring or ignorant of how they predecessors suffered precisely for that reason.
I took several pictures inside the church and its crypt. It was bombed in May 1941 and the stained glass window dates from 1952.
 We walked to the end of Ely Place and into the magnificently named Bleeding Heart Yard before doubling back onto Hatton Garden and walking briskly through several stops on our journey.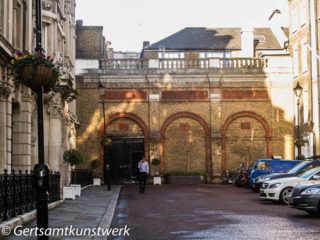 I took a picture of the 'Walkie Talkie' building, repeating a mistake I make often of concentrating on new sites that will be there for years and not capturing the old before they are demolished. This is the building with the reputation for melting bicycles and Jaguar cars.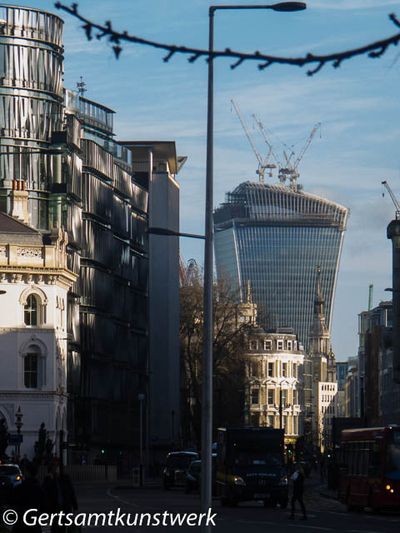 The few photos I took in Gresham College did not turn out right but I made a mental note that they provide free public lectures on academic matters covering a wide range of subjects, from eminent academics. Here's a list of their future events. Free events.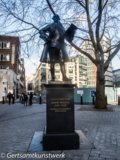 We passed a statue of John Wilkes in a prominent place in Fetter Lane. He was a radical journalist and politician. 
We also passed Samuel Johnson's house and his curator's cottage, said to be the smallest building in the City of London. I suppose we could have gone in, but I'm not sure of the benefit of trailling round looking at furniture. He is known as poet, essayist, moralist, literary critic, biographer, editor and lexicographer, and most famous for his frequent visits to Streatham, so I'm not sure how looking at his furniture would have been enlightening. 
This part of the walk was more interesting for its twisty turns through a warren of back-streets you wouldn't notice if you were passing by on the way from one place to another - Fetter Lane is part of the A4, the Great West Road to Bristol.
The last point of interest was the remains of the crypt of Whitefriars Priory, just off Fleet Street. You can gaze on these ancient ruins from behind a glass screen.
Gazing at such ruins has limited interest, but it's still rather nice to be in a quiet place in the heart of the City of London, looking at something that's nearly nine hundred years old and is really quite secret,
But by then, we had had enough - but not too much - of walking, and found ourselves a pub serving food, The Harrow, which I wrote briefly about at the time. We caught a train from Blackfriars station to Loughborough Junction. Both the station and the railway line afforded some splendid views above London in 'the Golden Hour' (that precedes sunset) on a beautiful bright day in London.

View 5 Cheapside in a larger map