When looking on Trip Advisor and other sites, The Mount Haven hotel ranked high among restaurants in Marazion. IIt has two AA rosettes, as does Blake's in Bournemouth, Wild Thyme Chipping Norton and Lythe Hill near Haslemere (not yet blogged), whereas Ben's in Marazion and the Victoria in Perranuthnoe has one rosette. The Trinity in Clapham has three rosettes as do several Michelin star restaurants. 
Admittedly, the day we visited the weather was dirty, lashing it down and blowing. But in the middle of September, when the child-free holiday, I would have thought Sunday lunch in a decent hotel would be a popular move. In retrospect, I should have been alerted by the over eager voice when I called after 11 for a 1pm table. I was rather expecting a 'no' or a grudging 'I think I can fit you in'.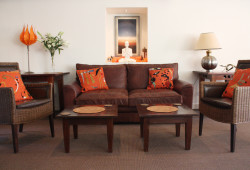 When we arrived it was guesswork how to get in - round the back, on the seaview side, but we chose the wrong level. A couple sitting near the French windows directed us with pointing and body language.
We were welcomed, seated in the bar and presented with tatty-looking menus, an A4 cardboard cover divided longways, holding typed pages of the day's menu. Except, the waiter explained, the Scallop and mussel St Jacques had become Moules Mariniere; spinach would be replaced by tenderstem broccoli, and puddings, which included 'Eton Tidy' were actually chocolate torte and coffee creme brulee.
I was pleased to escape the bar, reminscent of a funeral parlour, and be led to the restaurant. However, there were only three parties and we were sat at adjacent tables. One party left as we were served our starters. The other party wanted to talk. There was nothing obnoxious or unpleasant about them, but with no other diners and no background music, their conversation was intrusive. Conversely, this atmosphere made us clam up, not wanting our conversation to be overheard.
My food was fine, noting in my diary it was somewhere between adequate and good enough and Jimmy enjoyed his, appreciating his venison in particular. I'm not sure if it's the same dish that Gregg Wallace described as "a magical mystery tour of flavours" when the chef reached the semis of Masterchef: The Professionals.  However, he was disappointed that it was served with just a small amount of heavily reduced jus and no gravy. As were were leaving, one of the staff confided in me that they hadn't made enough sauce the previous day and chef went mad because it takes several hours to make. Staff wise, they were all very polite, but it was an odd combination of the over-enthusiastic, the over-sharing, and the over-nervous. 
I left the place bemused. There was nothing wrong with the place but there was no 'wow' factor in the food. It wasn't unpleasant but it wasn't really enjoyable, either, and it was the most disappointing meal of our holiday, failing to live up to 4.5 on Trip Advisor (with glowing praise) and the 2 AA rosettes.
According to their website, The Times says Quite possibly the most perfectly located hotel in the whole of Cornwall. CNN says One of the best 9 secret hotels in the world. Perhaps The Telegraph meant something by saying It's all about the view.