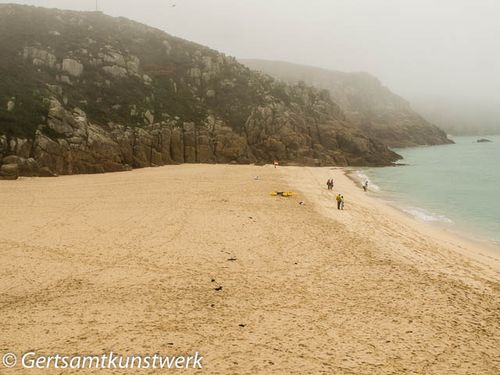 If you go on holiday to West Cornwall, the law dictates you go to Land's End. 
The day started warm, followed by a brief shower. We were in no hurry to get out, needing a rest and a lie-in after several relentless days. It felt that the weather would clear up. So, Land's End it would be, thirteen miles away. No need even for SatNav. 
We turned off onto the by-road to take us to Porthcurno. Magical Porthcurno, highly recommended as one of the best beaches on Cornwall. Down narrow twisty lanes, up and down steep slopes in gathering mist. We passed the Porthcurno Telegraph Museum which was closed. It's based near where the Transatlantic submarine cables came ashore.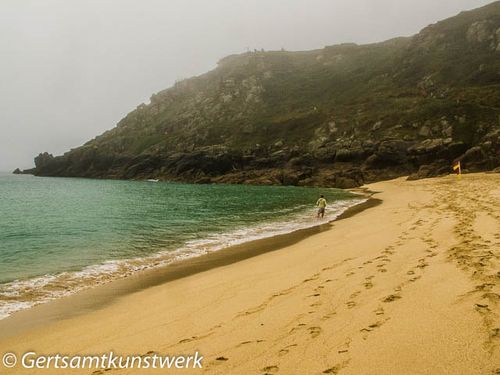 As soon as we arrived in the car park, the skies opened and torrential rain fell. We waited the obligatory ten minutes in the hope that it would clear. It did, and as we got out of the car and carried out the necessary faffing that all holidaymakers do, we noticed several other car loads emerging.
I had thought we would have the beach to ourselves, but no chance - there was upwards of two dozen others. I found the sloping dry sand quite hard going. But it certainly was a lovely little beach, although I imagine it gets very crowded on hot days in high season. The weather wasn't great for photos but it was good to get the fresh air and leg stretch.
There was an interesting rock formation forming part of scramble up the cliffs to the Coastal Path. There were some walkers on the path and I suppose we could have walked round to see the legendary open air Minack Theatre.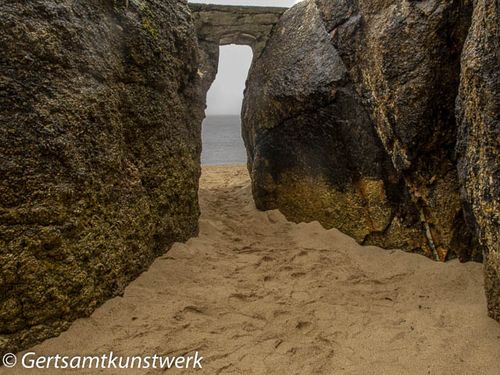 Instead we drove on towards Lands End but the fog was not improving. It seemed a bit much to pay £5 to sit in a car park and gaze out to a foggy sea. By now I fancied some refreshment and we made the mistake of stopping in the First and Last Inn in England. I was so incensed by the mockery of a cup of tea I took to Trip Advisor to moan. I accept that one will pay higher prices in popular tourist locations, and I don't mind that if it's for a decent product. But I hate it when English tourist places can't even get a cup of tea right.
As we descended from the ridge the fog cleared but it still wasn''t a pleasant day. We parked up in Penzance and went to the The Old Lifeboat House Bistro. It was mid-afternoon and they had a sign that they were open for scones, cakes and beverages. Jimmy asked if they could do us a sandwich. Yes, they said. Which was nice of them, I thought. And sensible, business-wise.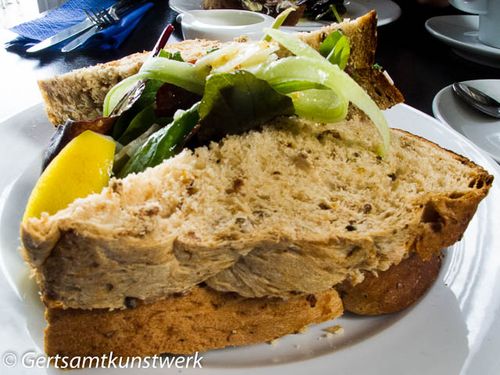 It was a lovely example of how to do things well. In a sense perfect. Not exceptional or outstanding but as you would really like to expect places to be - but they rarely are. Clean fresh bright surroundings. Pleasant paintings by local artists on the wall. A crab sandwich with tasty proper bread filled with the sweetest tasting crab imaginable. The tea was made with Clipper teabags in a pottery teapot, served with cups and saucers, with real milk in a pottery jug. If you use good quality teabags, such as Clipper, you don't need to use leaf tea. China pots are great for purists but I'm happy with a decent pottery one. A light late lunch I really savoured. We never went back for dinner but I would have had faith on the basis of the quality and service we received.
In the evening we went for dinner at the Victoria Inn in Perranuthnoe. A highly reviewed restaurant, and one that several locals had recommended to us, it appears in the Waitrose Good Food Guide. The chef/owner trained with Raymond Blanc and Michael Caines. Suffice to say we booked to return the next week, too. People travel a long way to eat here, and it's worth it. 
I started with tempura of fish and seafood with a coriander dipping sauce.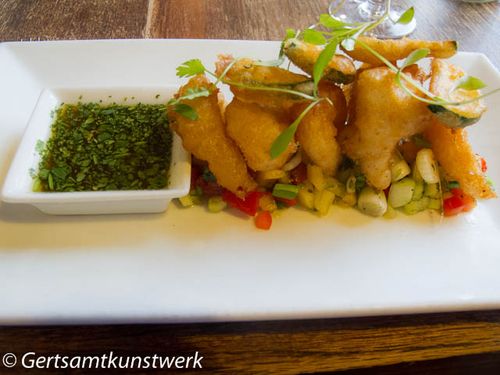 It's pretty easy to do, but quite difficult to do well. They did it well. Not a hint of greasiness in the batter, and the fish and seafood were fresh, tasty and beautifully cooked. The salad was good, too - crispy and flavourful. 
My main course was roast cod with champ potatoes, and, as I wrote in my diary, 'other stuff, with a creamyish sauce'.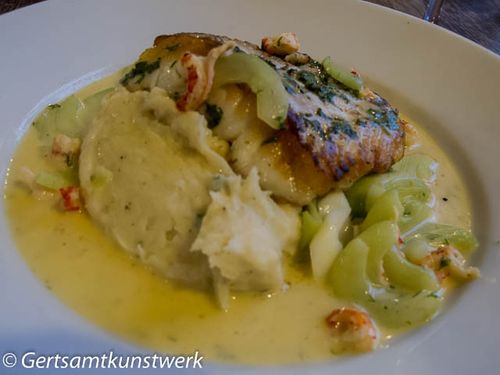 They got it absolutely right for pub food. No compromise on the quality of ingredients, and some good flavour combinations, bringing the art of the kitchen to the plate. A chain pub could have done something broadly analogous but there would be no comparison. They didn't make the food over-fancy: there's a place for that but not in a pub. My main criticism would be that the portions were generous, leaving no room for pudding.
Other people's blogposts include: 
118 Lamorna to Porthcurno to Land's End - she's walking the coast of Britain, and she writes well. I'll have to go back and read some more of this - especially as she's already walked most of the stretches that I know - see also 117 Perranuthnoe, Penzance to Lamorna Cove