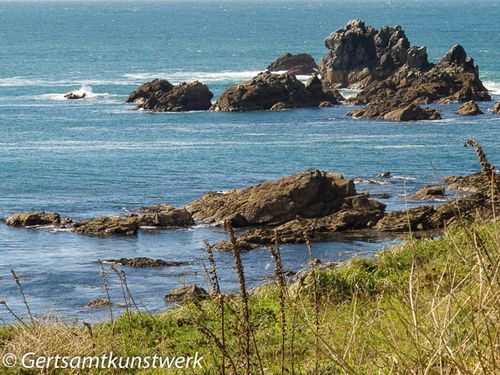 Lizard Point is the southernmost point of mainland Great Britain and according to both my guide books is as Land's End should be.
We were very lucky with the weather. Gloomy when we set off, bright for the journey, heavy shower when we stepped out of the car, and bright again by the time we had finished coffee, and increasingly sunny and warm throughout the rest of the day.
It isn't possible to drive to the Point, so the Village Green is given over to parking. A shame for the Village Green but great for small independent businesses and a pleasant stroll down to the sea.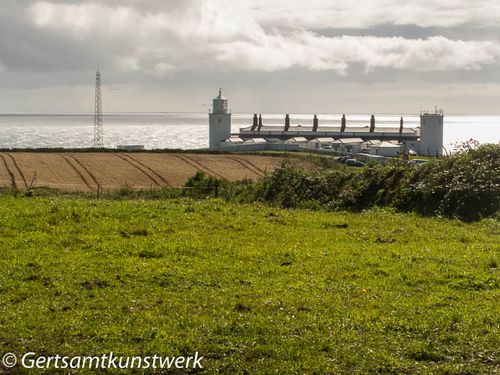 I don't think we walked the right way to the Coastal Path. I followed signs, and it started off okay, along a road lined with houses on one side and a field and views on the other. I was convinced I saw something that appeared to be a reptile, a lizard perhaps, but it ran under a car before I could photograph it. The Lizard peninsular has no connection to lizards or any other type of reptiles. The dominant geology is Serpentinite rocks, which has no connection to snakes, but derives from the metamorphic process that formed them. 
At a junction, we had to make a decision and I chose 'Bridlepath'. This got us to the Coastal Path, but I could not imagine taking a horse down there. Narrow, a hedgerow rich with insects - butterflies and dragonflies rather than wasps, thankfully - steep, and uneven underfoot.Worth it for the view, though!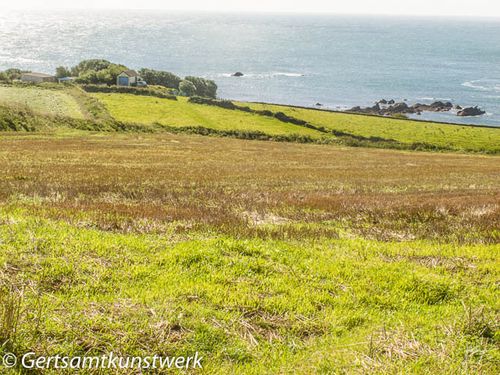 We reached a small bend in the Coastal Path overlooking a rocky cove. At the time I wrote "I have come to the conclusion that you simply can't have too many photos of waves breaking against rocks", but, after I had edited all my holiday photos, I revised this opinion!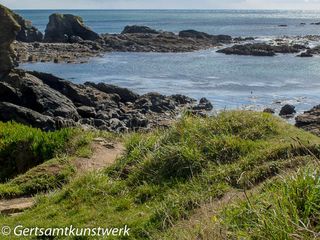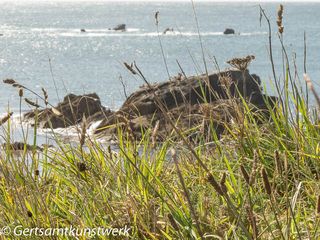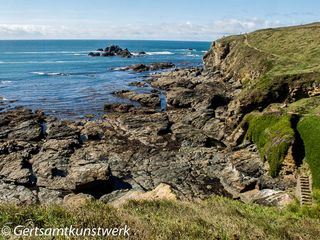 We paused at a viewpoint from where the previous occupants had spotted a  seal, but Jimmy hates seals. This stems from our 2003 Scotland holiday when we went on not one but two boat trips that included close-ups of seal colonies that stunk to high heaven!
The coastal path took us above the disused and rotting lifeboat station. This closed in 1961 and was relocated to a less rocky part of the coast.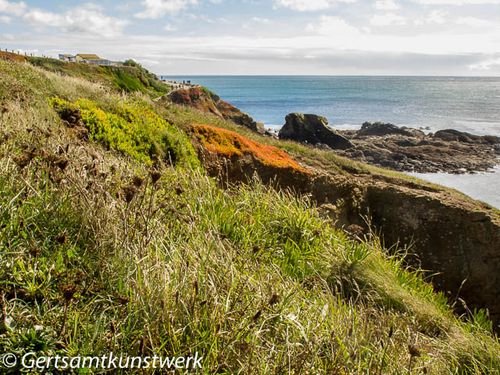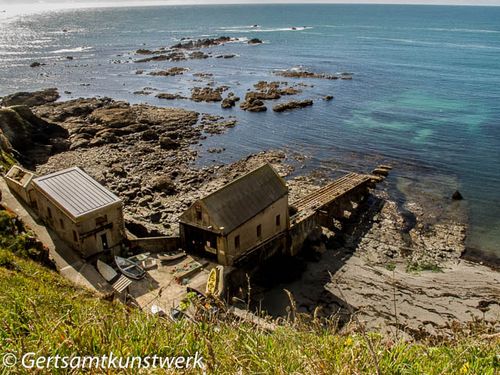 Wikipedia article on the various Lizard Lifeboat Stations.
There is a board commemorating the wreck of the SS Suevic in March 1907. This resulted in the largest rescue in the RNLI's history - over 500 people rescued, with no loss of life. The Independent published an article to mark the anniversary:
 the captain of the Suevic who conducted the evacuation while calmly smoking his cigar, not once letting the ash fall to the ground
We stopped off at the Wave Crest café, a little gem, serving Teapigs in a pot and a selection of home-baked cakes: I had a tasty fresh slice of almond and cherry cake.

Around the corner was the actual Lizard Point and suddenly dozens if not hundreds of people. Previously we had met relatively few people, all with sensible shoes, sensible cameras, sensible clothes. But at the epicentre of the tourist spot are people who make you wonder why they're their. Shoes more suitable for trudging round shopping precincts or hanging out in nightclubs. Possibly only stepping out of the car to take an Applephone snap and tick somewhere else off the list.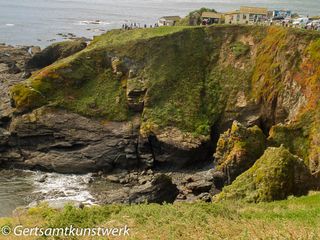 Of course one shouldn't judge - every individual's circumstances are different and private. For example, I saw a woman in the car park, struggling to walk. She was about my age and I would guess that she suffered from some arthritic or rheumatic disorder. I noticed that she wore fashion court shoes. Albeit flat, but with no cushioning and they appeared to be too tight for her feet. I often have problems walking, and have found that wearing solid supportive cushioned walking boots make a massive difference. I often find a walking pole helps, too. So I find examples such as this woman frustrating and I have to resist the urge to offer advice. My comments from sadness not from anger or judgementalism.
We walked to the Lighthouse but didn't go in. It was such a gloriously hot day it seemed a pity to waste it.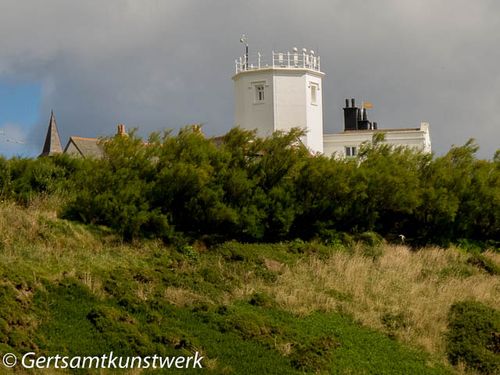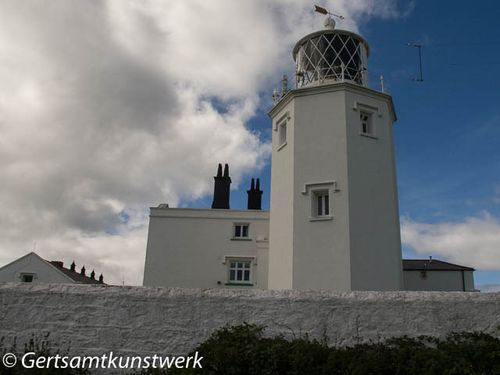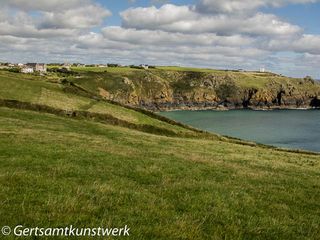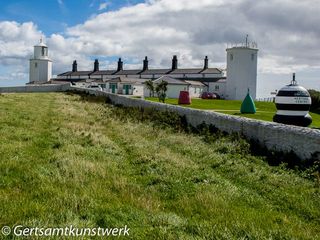 I concluded there are few experiences that beat a clifftop walk in bright sunshine, especially when the sun is warm but not hot. I guess some people are put off by imagining that they have walk 20 miles or more and dress head-to-toe in serious walking attire. But I have fairly limited mobility, and find that as long as I have sturdy shoes and sensible street clothes, I do just fine. I contrast my high spirits, my serotonin and adrenaline hit, with the bored, gloomy or puzzled faces of those that venture only a few yards from the car park. Ruth, who is walking round the entire coast of the UK, has remarked on how few people venture more than a hundred yards from the car park and I would agree; as a GP I'm sure she has a greater insight - and frustration  - than I do about the benefits these people are missing out on!
Lizard to Predannack Head - from Ruth's Coastal Walk
Kynance Cove to Lizard Point and An apology, and a beautiful Lizard Point sunset- from What's Wild in Cornwall
Cornwall - Lizard point from Discombob's Blog
Cornwall: walking the Lizard peninsula - from the Telegraph Travel (not overtly stated but appears to be a 'paid-for' trip)
It's changed since we were there.
Most southerly cove in Britain reopens to public at Lizard Point from West Briton
I suspect most of the coast of South and South Western England has changed since I visited (I was in Bournemouth in early February; there was rockfall just two weeks later  (watch video)