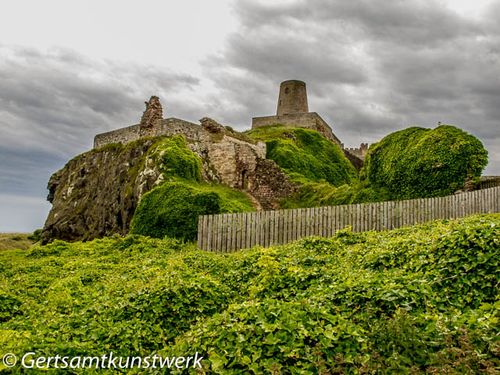 Our first full day of the holiday. The weather forecast was not encouraging, either for that day, or for later, when they predicted the tail-end of a hurricane would hit Britain, bringing wind and rain in its wake. Decision: find somewhere local and have a quick look round before the rain comes. Result: a very pleasant if unplanned two mile stroll without ever getting wet.
We parked across the road from Bamburgh Castle - delighted at free parking! There is a sign-posted walk that takes one around the outskirts of the castle, and we thought we would follow that - until we realised that we could head down to the beach.
What a splendid beach! Long and wide, and mainly sandy, but with rocks and rock pools for added interest. Several parties out, walking or encamped in a well-rehearsed routine. What I was to find over and over again was how uncommercialised the beaches are in all the area we visited. I made jokes about the abusive parents who were denying their children the right to sit in a shopping precinct drinking sugary drinks. One family included a child who was obviously a 'problem' - she laid down in front of me, which I found bemusing (rather than obnoxious) and I noticed later a couple of aspects of her behaviour that seemed more toddler-like than the age her appearance suggested. She and her older brother were obviously enjoying themselves exploring the rockpools and playing on the beach.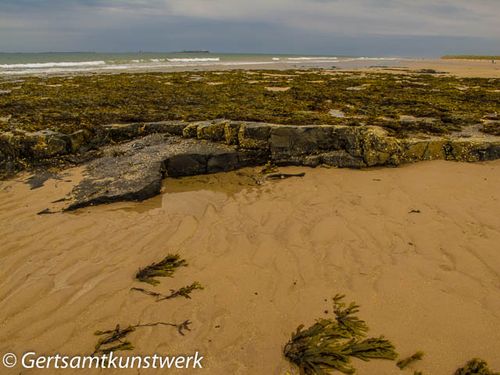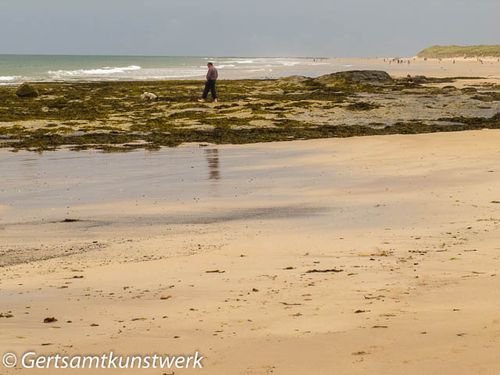 We had our own fun exploring the rockpools.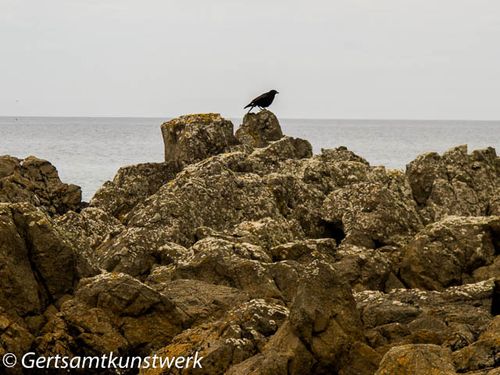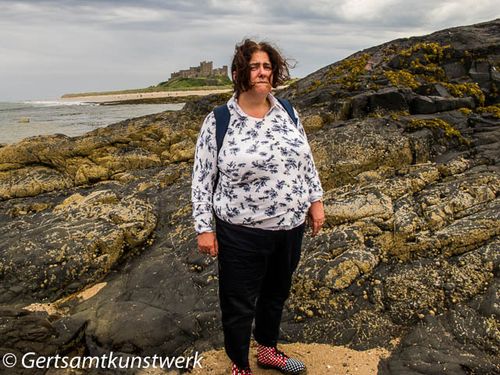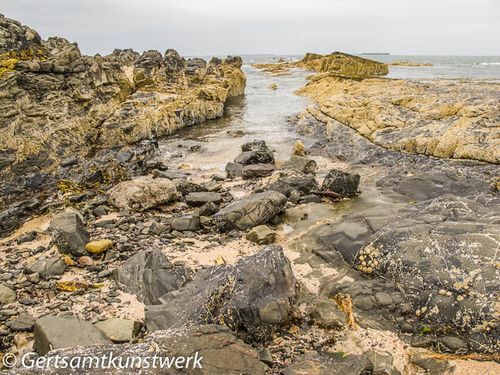 I decided I would devote this holiday to photographing nature.
We walked as far as the lighthouse, which had a face. I'm always slightly disappointed when lighthouses aren't made out of tall towers, even though I know it makes more sense to build a low-level squat building on a high cliff.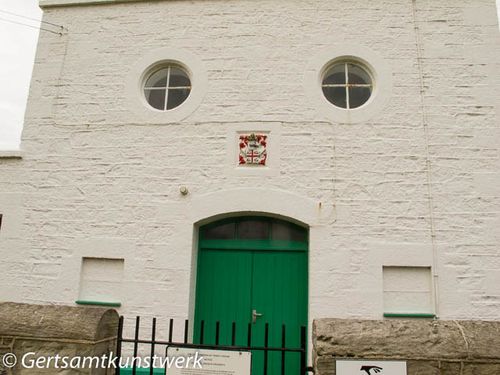 We walked along a minor road with views of an unremarkable village, and flowers.
 We reached the spot on the dunes where we had earlier diverted to hit the beach, and continued our walk round the castle. I took a lot of photos of Bamburgh Castle, and then remembered how last year I got totally fed up of photos of St Michael's Mount.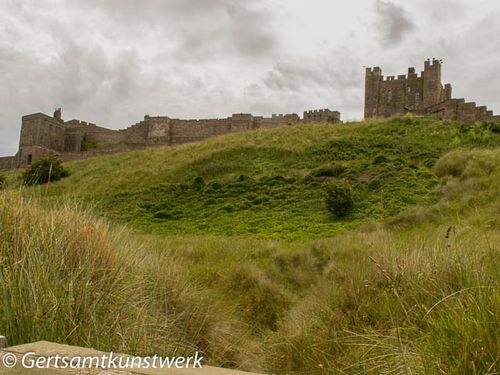 More wildlife 
 This couple intrigued me, walking the dunes.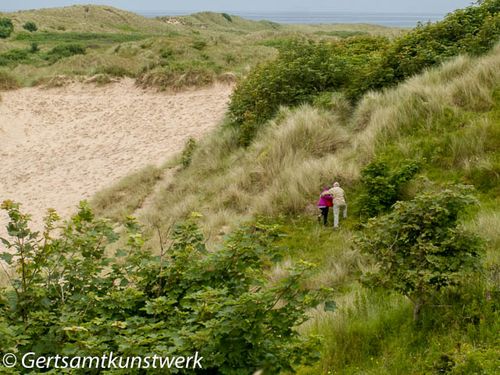 We had a great view of Inner Farne (I found out the next day that a Twitter 'friend' from South London was visiting the Farnes as we did this walk, and was staying in Seahouses, too!)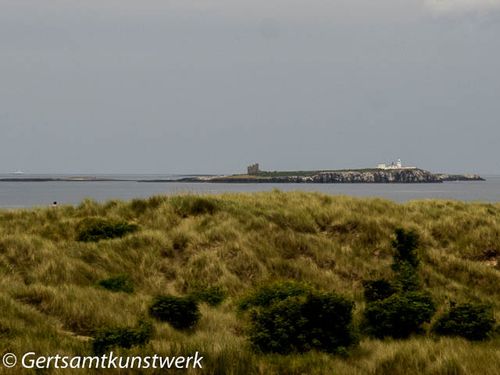 And more flowers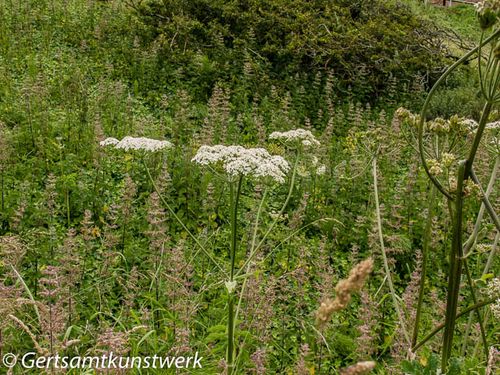 As we approached the car, it seemed like it would rain, After a discussion, we decided to head for Alnwick, the nearest town of any size. It was quite a drive, about fifteen miles mainly on B roads with their fair share of bends, often sharp. On a Sunday, there wasn't much open, and what there was was due to close within little more than an hour. A quick dash round Morrison's for a few things we hadn't been able to get at Seahouses co-op, and then a sit down and a cup of coffee. At quite possibly the worst café ever.
Imagine if you will, a country town serving a wide rural and coastal area, residents and tourists, just off the main London-Edinburgh trunk road. A town with several cafes and similar places. all competing for the passing (and returning) trade. You make an offer to the customer; the customer pays their money, and expects a certain standard.
I ordered a scone with butter and jam. She upsold me one with cream. I am capable of resisting upselling, but she was pleasant, I was in a mood to relax, and I like a bit of cream with a scone. We agreed to sit outside on the cobbles of the market square and she'd bring our order out.
The scone with cream arrived. Cream? Squirty cream! Who puts squirty cream on scones? Is this even a thing? I was rendered speechless. I bit into the scone. The key to a good scone is to serve it the day it's baked; at worst, the day after. This was so stale I concluded it must have been Friday's batch. Perhaps baked on Friday afternoon 'to do the weekend'. I suppose I should have complained and demanded my money back. But we don't, do we. Better to bear the loss than endure the stress of the confrontation.You walk away; you won't come back. But as a visitor, even if it was the best scone ever, you're unlikely to return, you have other destinations planned. Stale scone with squirty cream. As if!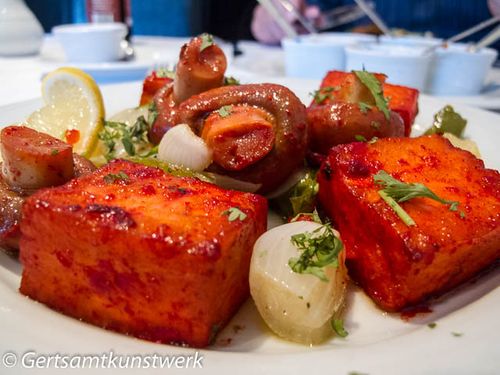 In the evening we ate at The Spice House in Seahouses. Mixed. The young men who greeted us and took our order were warm and welcoming. We were able to buy bottled Northumberland-brewed ale (surprising for a curry restaurant). And my starter of mushroom and paneer was delicious.
 On the other hand, my main course didn't really taste of curry and didn't consist of much other than prawns and sauce. The middle-aged man who took over serving us was super-grumpy. I decided to put it down to Ramadan fasting. 
Obviously, people are free to choose their religious practices etc etc etc, but it got me thinking. Whoever invented Ramadan fasting in the Dark Ages didn't know that Sunrise to Sunset could last 17 hours (18 in Inverness on 21 June), had no concept of Bangladesh or England, nor would be able to imagine people from one place serving food in the other place to people who had no intention of carrying out a dawn to dusk fast, ever. And, frankly, the Dark Agers knew little about physiology, hydration, energy levels or anything. I do understand why a Bangladeshi immigrant observes the Ramadan fast. But I'm not entirely convinced it's an unfettered free choice.