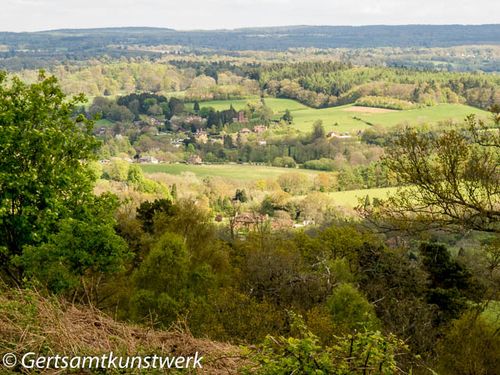 This blogpost is aimed squarely at Surrey. But not every individual person in Surrey. And not exclusively at Surrey people.
Onshore wind turbines began to appear - at least in my consciousness - at about the turn of the century. Flying out of Glasgow Airport on a glorious sunny day, the array of wind turbines on the hills below appeared like elegant dancers or a Calisthenics display. Soon after I began to read about people who opposed wind turbines because they are a 'blot on the landscape' or 'generate more traffic'. I was puzzled. I agree - in comparison to pristine virgin countryside untouched by human hands, they are indeed an imposition. but I don't know of any pristine virgin countryside untouched by human hands, at least not in England.
One day, in Surrey, from the vantage of the North Downs, I took several panoramic photos of Surrey but knew something was missing. Not a wind turbine to be seen, nor any solar panels. How peculiar, how utterly un-English I thought.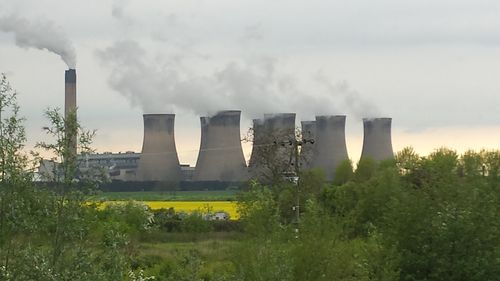 A month or so later I travelled by train, up the East Coast Mainline. Somewhere near Selby, I counted the Power stations, which I presumed to be coal-fired. I couldn't be sure if there were four or five arrays of cooling towers. On the way back, the train ground to a halt. I took this photo with my phone camera. This is not one but several such constructions visible at once, from the train, and I discovered in July, from the A1 (M).
These are not alien constructions to me. Similar buildings a well-remembered feature of childhood outings, of trips through and around Nottinghamshire as a student and after, and indeed many journeys throughout England for work and pleasure.
I looked up a list of power stations past and present. Look at Greater Manchester, or Cheshire, not known for its coalfields. Look, of course, at County Durham, Nottinghamshire and Kent, traditional coalfields. Or Oxfordshire, home to recently-demolished Didcot Power station, and not a well-known mining area. And then, look at Surrey. Not a fossil-fuelled power station, ever. Two small, recent hydro-electric stations. On the regional news just this week, Surrey residents objecting to an application for a solar farm.
Surrey is known as the place where the decision makers live. Not the elected politicians representing areas such as Selby, Didcot and Fiddlers Ferry. The Senior Civil Servants, the Captains of Industry, the Architects, and Judges. They live in Surrey. 
In Surrey, electricity is something that comes out of a socket in the wall. They think that wind turbines are a blot on the landscape. They must never have seen Ratcliffe-on-Soar or Ferrybridge. They think wind turbines generate traffic - and, perhaps, coal is transported to coal-fueled power stations by magic carpet.
Everywhere else, electricity comes from power stations. Yes, these provide employment and economic activity. But they dominate the landscape in the Vale of York, an area no less beautiful than the north downs of Surrey. The choice isn't between wind turbines and nothing; electricity comes from Behemoths that belch out pollutants in places where people live. Just not in Surrey.