The day started badly. A small delay creating a domino affect, so it seemed that we boarded the Guildford train at Clapham Junction some two hours after leaving our home two and a half miles away. And when the cold wind blew and the dark skies loomed heavy at CJ, I questioned the sanity of even embarking on a country walk.
A pleasant riverside stroll from Guildford station to the town centre (although I didn't turn my tracker on until we were almost at the castle.
The instructions I followed suggesting by-passing Guildford Castle. I went in. The gardens were very nice, full of colour. I'm not usually a fan of what I call  'Municipal Borders' but this was a good example of how they can be done well.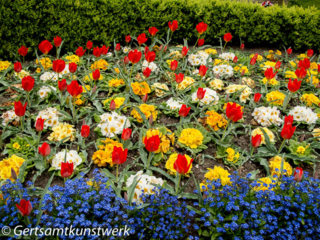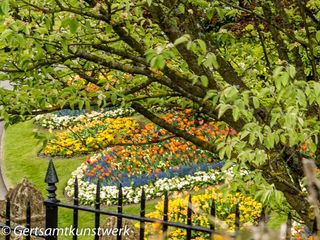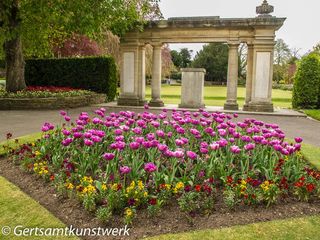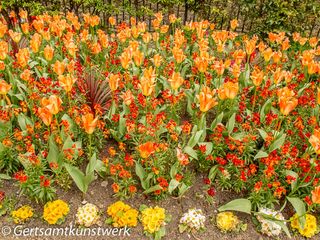 I could have taken even more photos but we were accompanied by the parents from hell. This doesn't entirely do their behaviour justice (and it's not the child's fault). Everyone else in the park was adult; some were reading, others were exchanging glances of exasperation, not at the child but at the very loud parents. Running around is essential for every child; that's why councils provide parks, with children's playgrounds and open spaces. But they couldn't be bothered to go there. The rest of the world has to revolve around their princess, but she's just an inconvenience to them.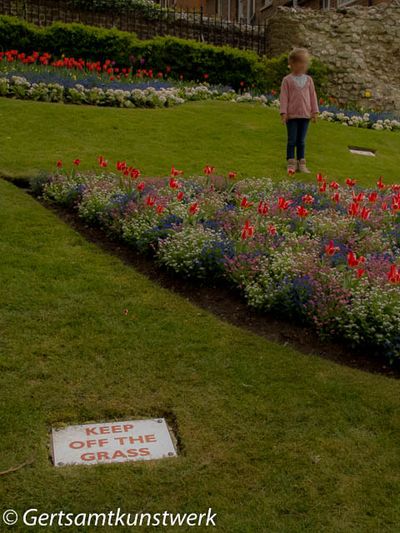 Guildford is known for its centuries-old furniture shop
We were soon clear of the Town Centre and climbing the steepest road ever, in the history of steep roads (or so it seemed at the time). The instructions said, 'Pause halfway up, turn around and admire the view'. I did.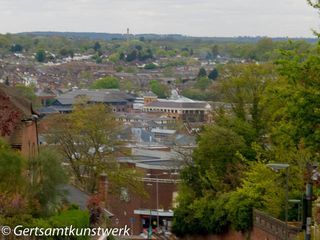 I crossed the road. "Oh, that view!" I exclaimed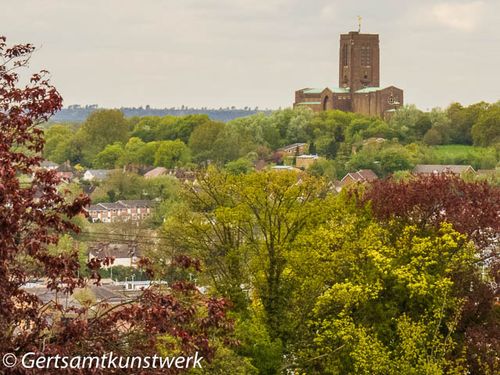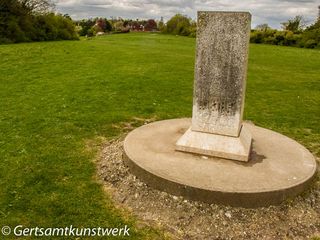 At the end of the road was open country. Pewley Down  was donated by the Friary Brewery for use as a public area in memory of those who perished in The Great War. On it stands a memorial. A clearly neglected memorial (it's not as though anyone has any interest in remembering the Great War currently). A thoughtful gesture from the brewery; the site affords panoramic views of the surrounding countryside
We turned down a footpath on the right and followed it past commercial stables and into a wood.
The instructions said - in late March and April you'll want to take a diversion to see Southern England's best bluebell wood. Of course we did. It was mid-April, and we had seen some good bluebells in our garden and on Rush Common, Brixton Hill. Turn right, it said, so we did. What bluebells, we exclaimed. Me nearly in tears of disappointment.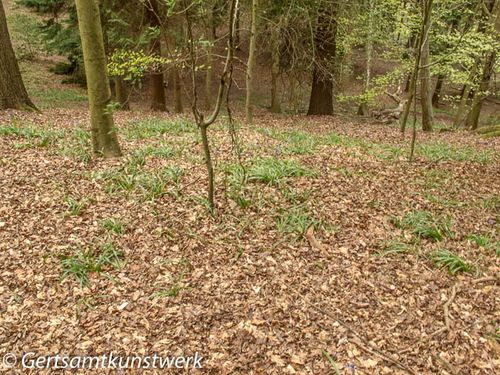 Oh well, let's just carry on along the path. Gosh, there's several people taking that path to our right...er, okay, let's see.
We spotted a very strange couple. A young woman jumping on and off logs, and behaving a bit like a slightly 'special' child who's never been out before as her boyfriend took photos with his Applephone. I'm not sure whether the photos were of her or the bluebells. But they (she) obviosuly needed our attention. I'm not sure why.
Bluebells
Oh, I see. Bluebells. Not bad. As bluebells go.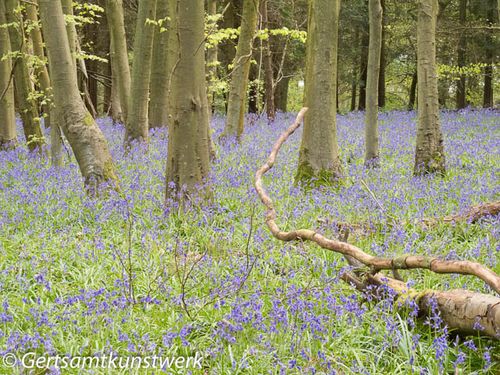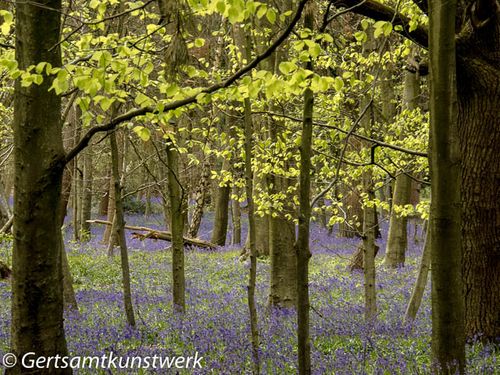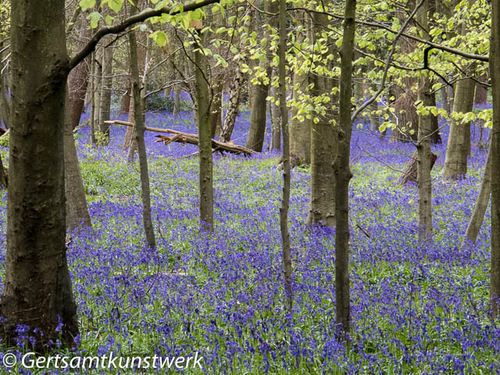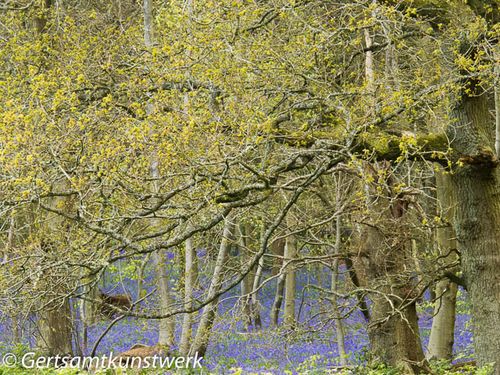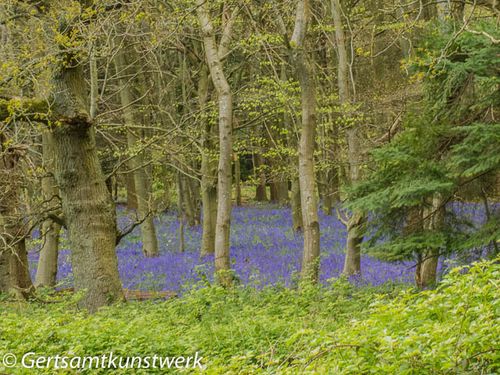 We'd barely passed a soul since leaving Guildford Castle gardens. Suddenly, we were in the company of several tens of people. Oh, gosh, there's a car park not 100 metres away "We always go for a walk on Saturday afternoons, not like those chavs that just sit around on the sofa".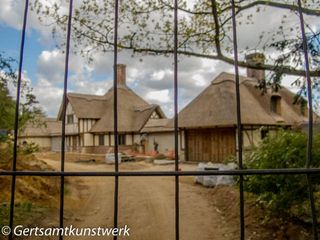 You can always spot those with money and no taste (they erect a house to demonstrate it).
The walk took us up a steep hill. There were a fair few people attempting it, or coming down, although fewer than near the car park, and the numbers thinned out near the top (tried, turned back). It was quite challenging, but we were following a woman who must have been nearly 80, if not more so (off to tend to a grave up the hill). And later we saw cyclists. One of those days I was glad to be on foot, not on two wheels.
The climb was worth it for spectacular views. Something was missing, though. And that is quite a separate blogpost.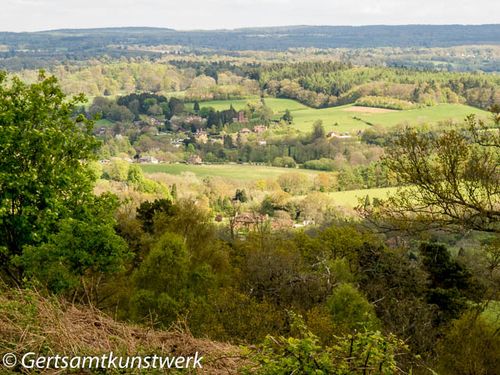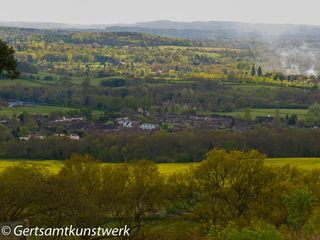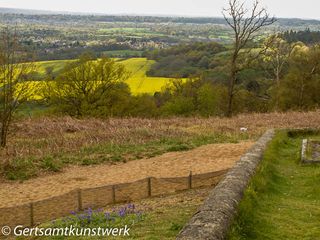 The church is called St Martha's on the Hill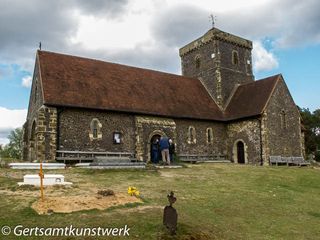 We descended to a clearing approximately 100 metres from a car park. several children played on tree trunks in a bored 'wish we could move on' way. Four adults, probably two couples, stood talking. One each male/female wore walking boots and outdoors clothes. One man wore trainers, one woman wore fashion boots with a heel, and shifted her weight from foot to foot. I imagined that they were relatives or old Uni friends "Come and stay for the weekend, we'll go for a walk!" said the Outdoors couple.
"Ooh yes," said the others. "We always go for a walk on Saturday afternoons...WHAT, how can we possibly go more than 100 metres from the car park? What will happen to our protecting carapace? Up a HILL? You are joking! But it's muddy! Ugh, how soon can we go to the pub? The kids love to let off steam in pubs."
This was a nice tree
We turned off and again descended, not seeing another soul until we were 100 metres from our final destination. 
More bluebells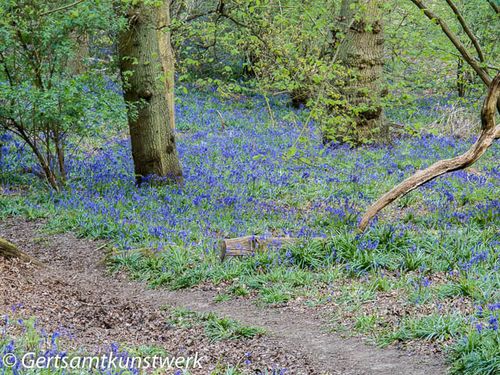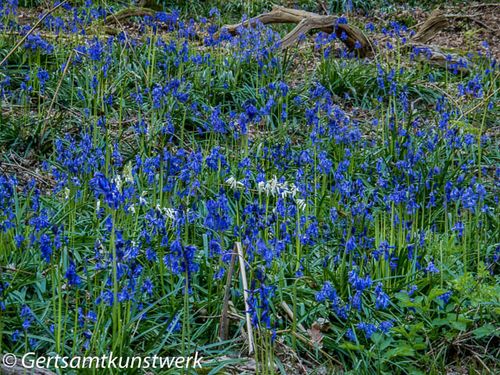 And horses
Down to Tilling Bourne and into the grounds of an abandoned gunpowder mill (1626 - 1920). A good readable history on the Wey Valley website. An eerie and mysterious place, now given over to nature.
A picnic area lies just 100 metres from the short pathway into the village. Suddenly, it felt like Piccadilly Circus. We had a decent pint at The Percy Arms, conveniently situated just opposite the railway station. It looked a nice place to eat, too, but the trains to Guildford are infrequent, and we were muddy and tired,
A really beautiful walk, very few encounters with other people, except at a couple of pinch points. Only 4 miles actually walked, according to My Tracks app, but that was four miles included two steep climbs (and matching descents); an expert walker wrote
it's fair to say that five miles is quite a long walk for most people, unless you have a stop along the way
 Worth reading that article, if you want help progressing more than 100 metres from the car park.
I followed the instructions from a TimeOut walk, Guildford to Gomshall 10 miles. The Chilworth abbreviation enabled a link up with public transport.