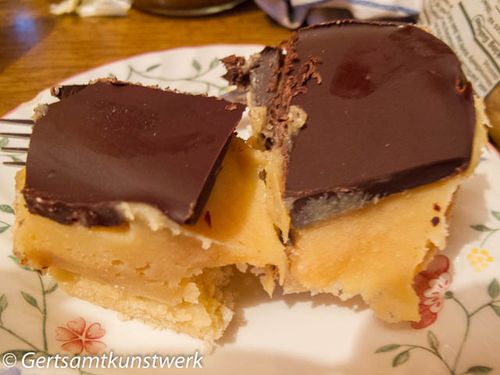 From time to time when I am cooking I like to photograph the process. Much of what I cook doesn't really lend itself to photography, especially stews and  anything made of pulses - which I love. One weekend I made three different dishes all photographable. The first was Millionaire's shortbread. A simple recipe technically, but one that can't be made in a hurry.

On the Saturday I made the biscuit base but didn't think to photograph it until the cake was assembled and served! After baking it for  30 minutes, you have to set it aside to cool.
In the meantime, you make the 'custard' or caramel. Melt butter, condensed milk and golden syrup.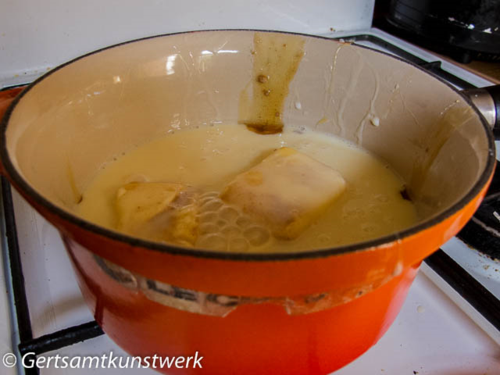 Cool it a bit, and then pour it onto the cooled shortbread, and leave it to cool completely. I suppose if you start early enough in the morning you can make this in a day, but, in practice, I would recommend starting it the day before.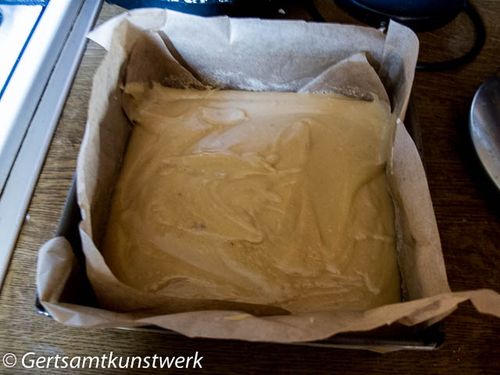 At this point I left it to cool overnight.
Next day, all I had to do was melt the chocolate. I've been melting chocolate over a bain marie for years, decades. But it's only recently that I've learnt that you mustn't let the simmering water in the saucepan touch the bowl the chocolate is in. Suddenly, this becomes technically more difficult!
As a kid, you'd use Scotbloc chocolate flavoured cake covering because you knew no better and it's just 'cooking chocolate'. I used Sainsbury's. With a BOGOF, and containing more cocoa solids than Green & Blacks this seemed the best chocolate available on the hill, without venturing to a artisanal chocolatier - there appear to be none, yet, in Brixton/Streatham/Clapham/Balham/Norwood. Only a matter of time, no doubt.
Pour the chocolate onto the cooled caramel custard that sits on top of the shortbread.
Good quality chocolate melted properly gives a sheen that even reflects the colour of the paint on the kitchen wall.
And leave it to cool, again, this takes several hours.
Easy to execute, pay attention to execute it properly, and plan for the hours and hours of cooling time. I thought it was gorgeous; Jimmy said it was too sweet!
I've found recipes on the internet that suggest adding some sea salt to the caramel, and others that round off the display by piping some white chocolate on top of the dark!