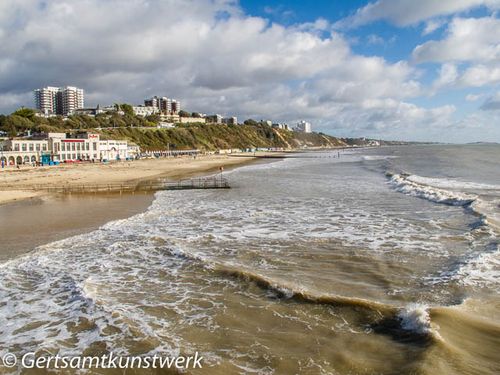 We were taking a chance booking a seaside holiday in February. We didn't fully understood we would be caught in between two great waves of extreme stormy weather.
Destination Bournemouth, using my biirthday falling on a Thursday as an excuse for a weekend away. When we left London the weather was dull and unnoteworthy. The train took us down through the outer suburbs of South West London, into Surrey, and across Hampshire before crossing over into Dorset. As we travelled, we played that gusessing game - field or lake - the clue is that lakes don't contain electricty pylons. The view was not spectacular, but in a quiet English way told a story of the winter floods and how the land was soaked, the waterways overflowing, and the New Forest - puddles and winter ponds.
Our arrival in Bournemouth was heralded by a heavy cold dark shower. Our taxi driver asked us if we were here for a Conference and seemed non-plussed that we were visitng for a mini-break. In the restaurant on Thursday evening, two couples were talking and I eavesdropped. One couple had been for a drive down to Swanage but had only stayed half an hour. I wasn't surprised. I had seen a news report; one line stood out "I've never seen the tide go so far up the High Street in my lifetime". Just the previous day Lindsey Harris took these amazingly good photos of Swanage. She's disabled right-clicking so I can't copy - fair use for criticism or review - but do have a look, they're exactly as documentary photographs should be - no poncing around with special effects but letting the subject of each photograph speak for itself.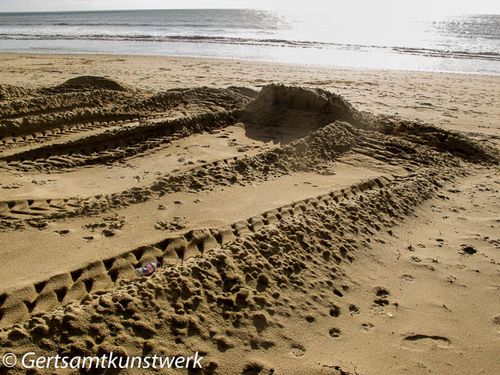 All were agreed, however, that Friday would be the day to get out for "a walk". Which we duly did. I didn't start 'My Tracks' app until I reached the seafront, but the walk down the zig zag from our hotel is an exertion in itself. We repeated the walk from nearly two years ago. That day, it had seemed a challenge to reach the pier. So I was pleasantly surprised at how soon we reached it this time. In fact, the short version of this blogpost is that we walked from our hotel at West Cliff to Boscombe Pier, then turned inland to catch a bus. With more energy we could have retraced our footsteps, but on top of the cliffs (but I know from experience it is quite a trek inland to cross the Chines).
It was a glorious day for a walk and we were not alone in grabbing such a rare opportunity.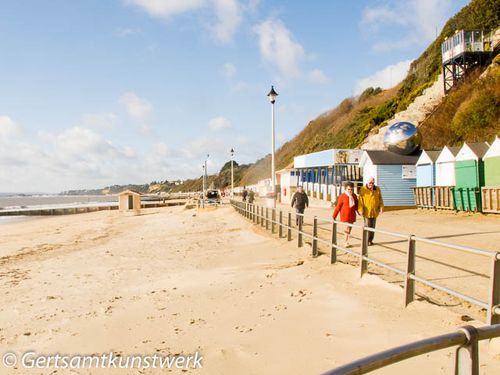 We reached the pier and lingered to watch the surfers in the water. The news had covered elite surfers heading to Britain and Ireland from around the world, but I don't think they had Bournemouth in mind. I don't think these people would consider themselves elite - although better than I could be. They probably meet every Friday for some fun in the water.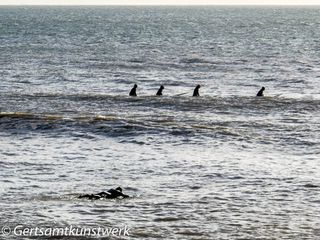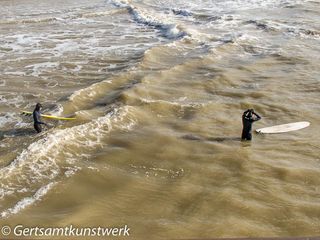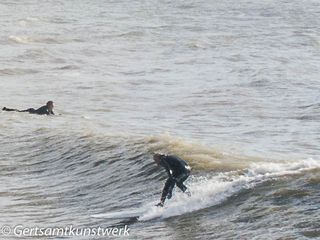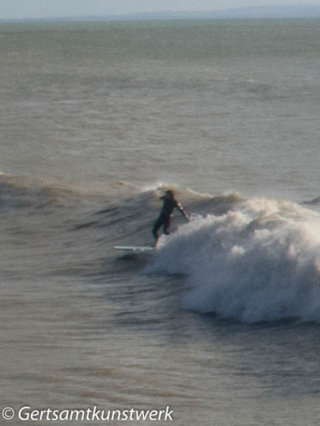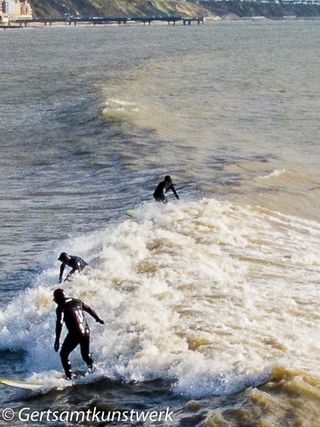 The weather was perfect for February. Suitably wrapped up in winter coat and scarf, it was a pleasure to sit basking on the sun-drenched pier for a mid morning latte. We passed several beachfront cafés where customers were sipping al fresco oblivious of the ubiquitous sandbags.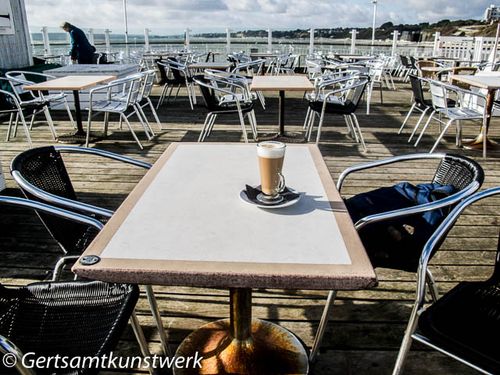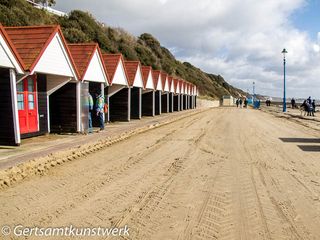 We walked past the pier. The promenade was covered in sand. Bournemouth has cliffs that rise steeply above the beach. The town lies at the top of the cliffs. The road has restricted access for vehicles, I think mainly official vehicles use it. And pedestrians and cyclists - it's possible to walk or cycle safely for miles, encountering only the tourist land train (but not on a February Friday) or council vehicles maintaining the front.
We passed the oldest municipal beach hut in Britain.
I became fascinated by the different colour schemes of the beach huts. It's been thought out carefully. Here, going from blue to purple through pink into orange.
These are amazing summer colours, not systematic but all of the same intensity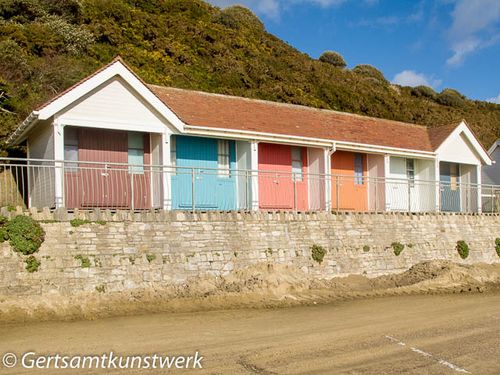 These are bolder but not inconsistent.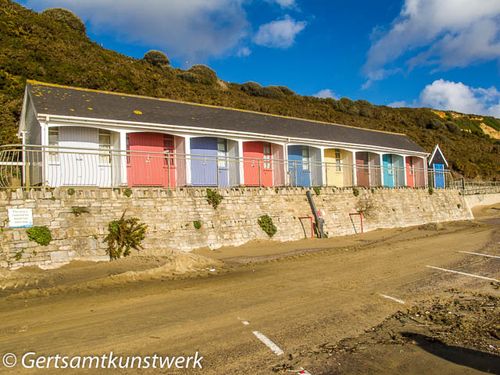 I think these are amazing. The best thing about them is that they are fully accessible. 
UK studio a:b:i:r Architects and Peter Lewis of AEREA Design have redesigned the traditional English beach hut to be accessible for wheelchair users.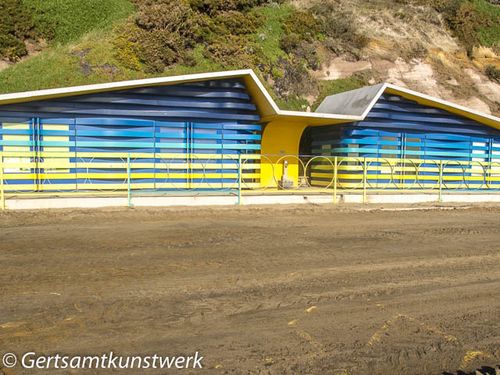 The East Cliff lift, closed for winter, was undergoing maintenance.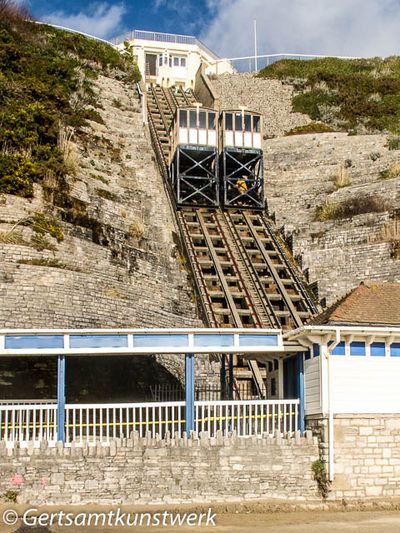 Two weeks later, there was dramatic footage widely broadcast of the cliff collapsing.
 CCTV captures moment cliff collapses onto beach
170ft landslip blocks prom between Bournemouth and Boscombe piers
Just beyond there, the ice cream shop was shut for winter, and looking a little forlorn.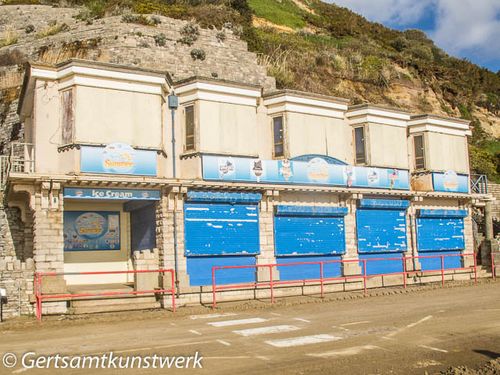 I felt a bit sorry for this woman. The weather was bright and sunny, so she had come to the seafront and opened up her beach hut, in the expectation she could read and bask in the sun. And the Council sent a tractor to clear away the windblown sand from in front of her hut. Necessary work of course, but probably not part of her plans!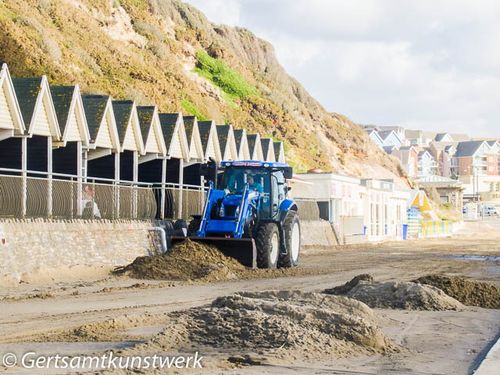 A mother took her kids for a walk on the beach.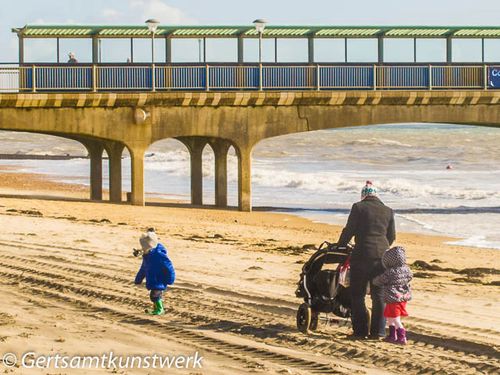 A lone surfer battled the swell in the shadow of Boscombe Pier.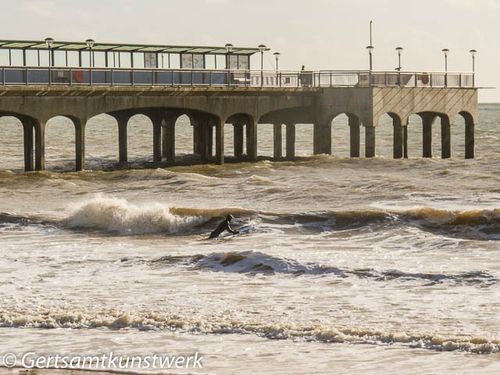 Beyond the pier, the lifeguards were off-duty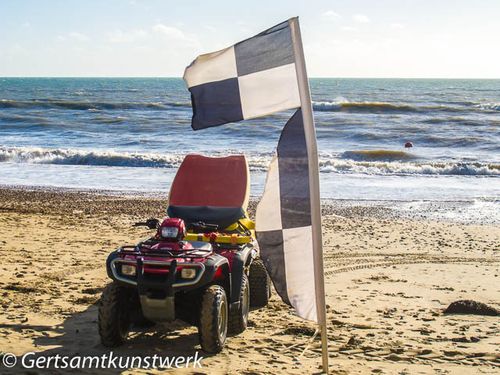 We walked into the Town Centre, which was in chaos following an road collision. We had a brilliant bus driver, who patiently explained to people their options eg "Run and try and get that bus which is more direct but if you miss it I'll be waiting for you" & explaining to passengers further along the route why they had been waiting. Once they understood, their whole body language changed to "I'm no longer angry now I know the reason, the poor dear" - underlining to me the importance of communication.
Pensioner in 'critical condition' after collision outside Aldi in Boscombe
As I walked down the aisle of the bus, my walking app on my phone played a fanfare as my total steps that day passed 10,000. The blue line on this map is 3.2 miles.

View Bournemouthto Boscombe add half a mile in a larger map