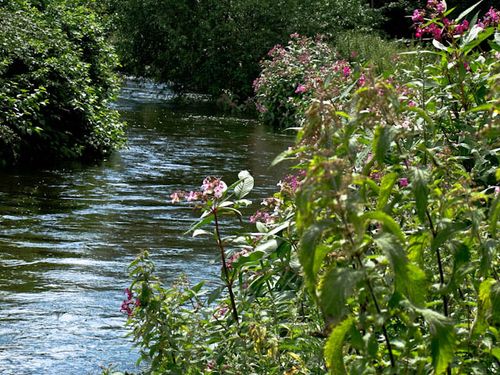 It's - frighteningly - over four years since we discovered the Wandle Trail. We rode along part of it one gorgeous autumn day back in 2008. Looking at my photo album we didn't visit again until August 2011. We have been on several different parts of the Wandle Trail since.
On those earlier bike trips I took very few photos. Cycling's that. It's nice to stop from time to time, to sip some water, and if you're clever, to take some interesting photos. But, unlike walking, you can't keep stopping and still sensibly call it a bike ride. Major downside of cycling - you miss a lot of the detail.
You may recall that last summer was pretty hideous weather-wise, except for a few days in May, right up until the Olympics, which, like the Paralympics, were endowed with nearly perfect weather. It's because of that that I don't moan about the summer of 2012, although I realise that the weather wasn't helpful - to put it mildly - for people dependent on a fair amount of reasonable weather to earn a living.
But one Sunday in July, the nation rejoiced, as the weather looked bright and dry, and not too hot. So we set out for the Wandle. Oh, what a fun day that was! We started with a row on Wandsworth Common, when Jimmy decided without consulting me that the best way from A-B is the most direct way, irrespective of the volume and stupidity of vehicles and their drivers.We had another row in Earlsfield, and I nearly went home, only slightly pacified by coffee. We never did find St George's Park, the sensible way to start the Wandle Trail if you're not a total completist (a shopping centre lies between there and the Tideway).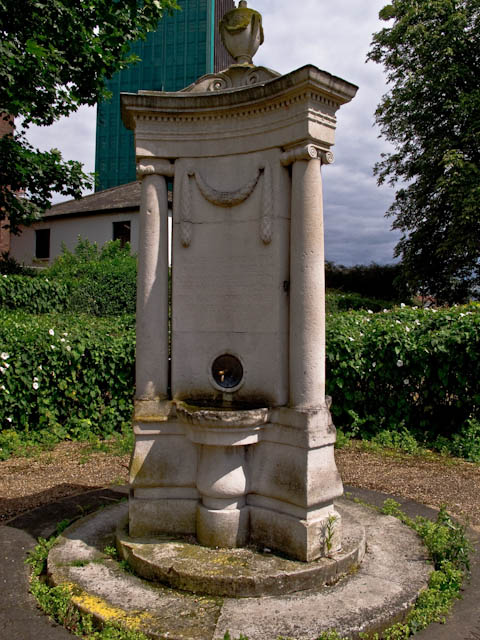 It's impossible to explain the charm of the Wandle. The Northern reaches are unsurprisingly urban and still to some extent industrial. It also challenges my awareness of South London - before long, you're passing Plough Lane and the Wimbledon (greyhound) Stadium, yet 'Wimbledon', eg Wimbledon Park, tennis, and common seem so far from home. And, suddenly you feel that you're in the country! Or, at least Wandle Meadow Nature Park, through the more urban Wandle Park (Colliers Wood), and then you have to deal with the chaos that is Merton High Street.  It was the first decent weekend day for weeks, since before the Diamond Jubilee, by then a long-fading memory. There were few people out along the river, but streams of people flowing to Marks and Spencer and Sainsburys, still known to many South London as 'Savacentre'.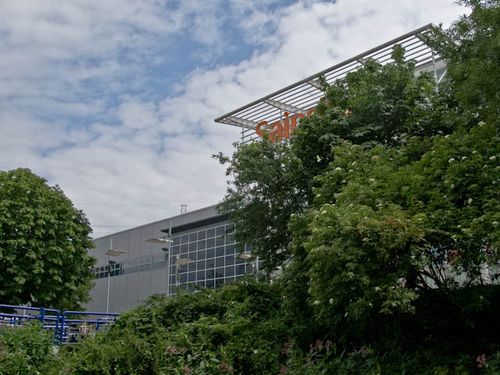 Merton Priory was founded in 1114 by Gilbert Norman, Sheriff of Surrey under Henry I. Former pupils include Nicholas Breakspeare (later, Pope) and Thomas Becket. According to Wikipedia 
In 1236 Henry III held a Parliament at the Priory at which the Statute of Merton was agreed allowing amongst other matters Lords of the Manor to enclose common land...As this was the first recorded statute of the first recorded parliament its real significance is as the starting point for parliamentary democracy
A sad statute. The Wikipedia author may celebrate the birth of Parliamentary Democracy, but all over England, and beyond, we see the destructive effects of the arbitrary enclosure of common land for the use of the rich and privileged - remember, back in 1236, the ordinary working man - let alone women - had no say in the land being stolen from us. This New Statesman article is illuminating about land-ownership, albeith in rather impenetrable prose. I'm sure I have read somewhere that over 70% of land in England is owned by fewere than 100,000 people, many of them inter-related. 
Merton Priory was demolished when Henry VIII dissolved the Monasteries. He used much of the masonry at Nonsuch Palace. 
We cycled on through Morden Hall Park, a rare National Trust property in Greater London. I have mixed feelings. I have an increasing dislike for the National Trust, and, to be honest, Morden Hall is a place of no great interest or historical relevance. But the grounds are expansive and calming. The Rose Garden is a bit underwhelming, and, on balance, the greatest attraction of the park is the River.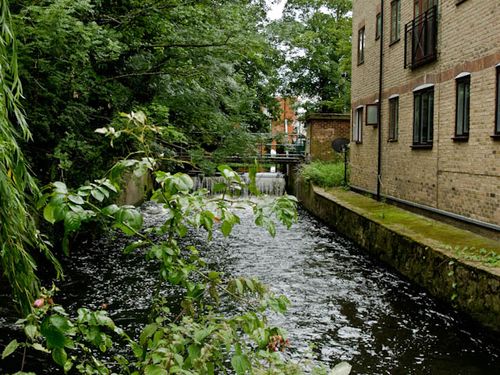 Even nicer than Morden Hall Park is Ravensbury Park, a tranquil place with the river as a feature, and plenty of places to sit and think. (Or just think). If we weren't with bikes we could have caught a bus home, or a tram from Mitcham. Slightly tedious to trawl down to Mitcham Junction, but the cricket green is rather pleasant. I've just noticed on the map that there is a Wandle Industrial Museum nearby. This is due to move into Ravensbury Mill this year.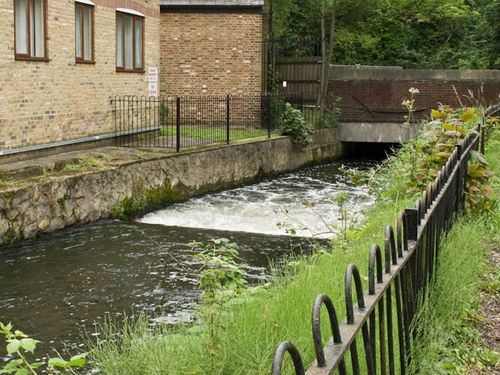 Starting to expand the photo collection at Wandle Way; I promise there will be further - and better illustrated - posts on the Wandle!