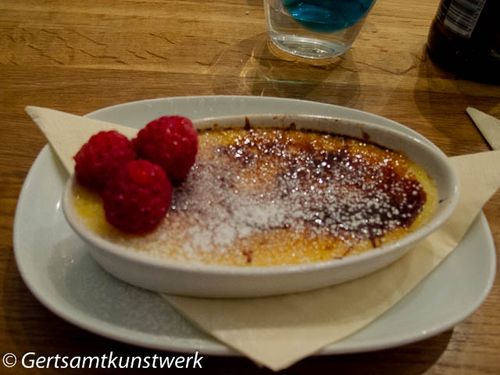 I selected Mackerel Sky because it was top restaurant in Penzance on Trip Advisor. I looked at their website and liked what I saw. 
We made a mistake booking a table for 6.30. We had to get a bus from Marazion before 6, wasting precious daylight hours. We then had time to kill and went into the Humphry Davy pub for a swift half (cider). Nice pub, although that evening we had a raucous group of ex-sailors being over-friendly. The barman said he'd only been on duty ten minutes and knew already it was going to be 'one of those nights'. 
The main street in Penzance is called Market Jew Street, which made me double-take but apparently it derives - like Marazion - from the Cornish for 'Tuesday Market'. Mackerel Sky lies in an alley just off, close to a shop where Humphry Davy served his apprenticeship as an apothecary - he later became a notable chemist and is best remembered for his invention of the Davy lamp in mines.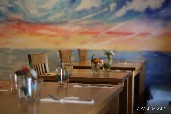 As soon as I entered Mackerel Sky I liked the place. The welcome from the staff was warm and unforced, and I liked the decor and ambience. I didn't take any photos of the interior - I rarely do - but I liked the way it was arranged and decorated. This picture from their own website.
Having started on cider in the pub, cider seemed the way forward. I was on Clodgy from St Ives Cider, and liked it so much I later bought a consignment to take home.
For my starter I had salt and pepper squid with aïoli. I didn't quite see why they described it as such but it was very nice lightly battered squid, with none of the grease or chewiness you often get.
My main course was Cornish crab rarebit. A few months ago I printed a Nathan Outlaw recipe for fish rarebit but didn't get round to cooking it until after I returned from holiday. I can assure you that rarebit really works as a topping for fish, or, in this case, crab.
As you can see from the photo it doesn't really work as a decorative dish, but that's not a complaint. Mackerel Sky uses some tantalising taste combinations and presents them well enough without worrying overmuch about 'elegant' presentation. Wholesome huggy food.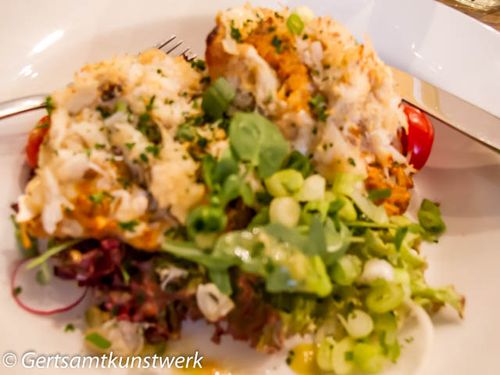 Jimmy wasn't so lucky with his plaice, and raised this with the waitress. Jamie the chef came out to listen to Jimmy's explanation of the problem. Jamie explained that the plaice had come from the boat that day and even named the boat. He was entirely gracious, perhaps recognising that Jimmy wasn't trying anything on but genuinely had a fish with a taint. Jamie offered him a whole new meal, which Jimmy declined, but settled for some crab claws which made him happy. It would be tempting to criticise a restaurant when these things happen, but these things do happen - we've had tainted or off fish at home and you don't always know until you taste it. And the restaurant handled the situation with professional courtesy, which only added to my impression of it being a warm and professional establishment - friendly enough but not intrusive. Attentive without hovering.
My pudding of strawberry crème brûlée was delightful. Light and crispy in the right places.
When we left the restaurant we realised we had make the rookie/Londoners' mistake of not checking the bus timetable. The buses run late into the night but we had only just missed one and would have to wait the best part of an hour. So we got a taxi and spent some of the rest of the evening in Marazion's Godolphin Arms. I was very conscious that the pub was due to shut for a refurb in November, and, to be honest, it looked like it was needed. But the staff were friendly and welcoming, and the cider was good, and any other comments are irrelevant post-refurb. I was quite tiddly when we got back to the holiday let.