Our idea on holiday is to have a busy day followed by a quiet day, and alternate. This was supposed to be a quiet day, where we took it easy.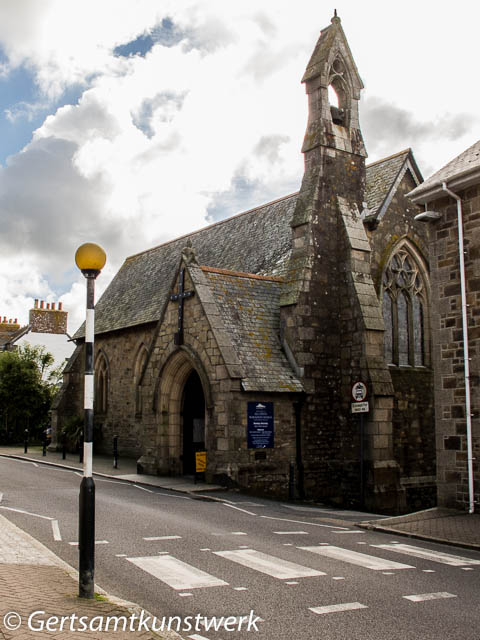 The day began by exploring Marazion on foot. The town contains an Anglican church, a Methodist chapel and a Quaker meeting house. I had read that Methodism is traditionally bigger than Anglicanism in Cornwall, but the Anglican church seemed quite lively. I noted from the sign outside that they periodically conduct services in the Celtic tradition. It gets a relatively good write up from the Mystery Worshipper. While we were there we popped inside. There was a shop open, and although there was nothing there that appealed to me, I didn't feel nervous or awkward, and certainly not unwelcome being there. I liked the embroidered kneelers.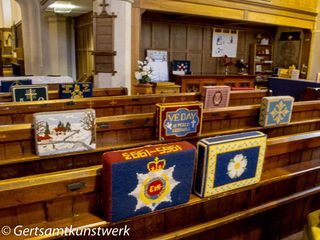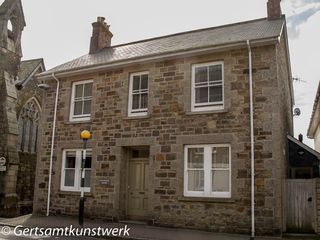 Like many small towns/large villages, Marazion has several clues as to being more lively in times past, such as The Old Police House. The village also hosts an old school house, although the local school seems to have outgrown it, rather than simply moved on or disappeared.
Like just about everywhere, there is a town War Memorial, and in every town you look at the names. Many of the names recognisably Cornish. The same surname appears under both World Wars, possibly a father and son, each killed in different conflicts.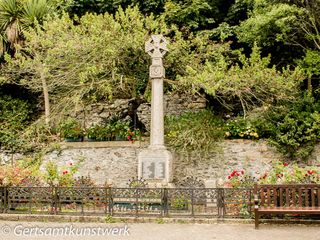 I have mentioned before that Marazion overlooks St Michael's Mount; I felt obliged to take a photograph.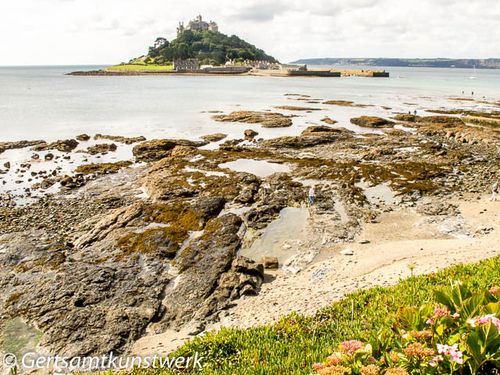 Behind the church sits a turret. Its purpose or history remains a mystery to me.
From the beach, the Town Hall clock is visible.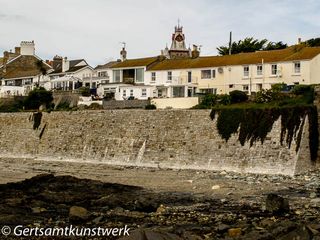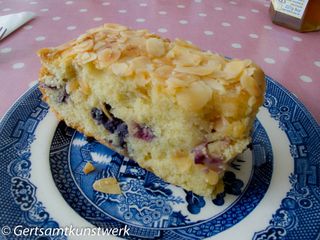 We stopped for coffee in the delightful Delicious deli, our first of three visits during our fortnight. I noted that they served loose leaf tea, £1.60 per pot. The coffee was very good, too, but their offer of tea stuck in my head, and became a benchmark. It's a wonderful place, a bit quirky and boho, but not letting that get in the way of serving up a good range of all-day breakfasts, light lunches, snacks and cakes. Small, but achieving a standard many superficially similar places only aspire to. Well deserving of its Trip Advisor Rating.
Back on the road and I declared we should walk to Penzance;  after all, the signs stated that it was just two miles. Long story short, I set my Tracker app just by the Town Square in Marazion. It tells me I walked over 3 miles, and we never reached Plymouth.
It started off as a very pleasant walk, heading westwards out of town. past a memorial stone for HMS Warspite - do read the final section about her decommissioning.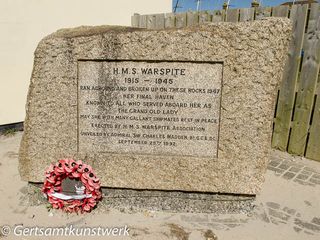 We walked for a while on the beach until we met a stream flowing down to the sea. According to the map this is the Red River, but not the same Red River that flows north and enters the Atlantic near St Ives.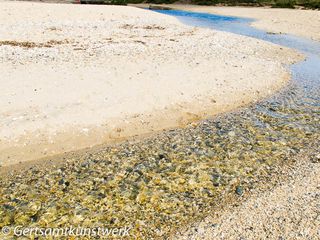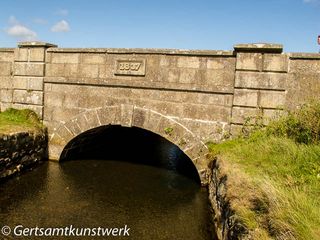 For some distance, it made sense to walk along the footway beside the road, while still looking out to sea.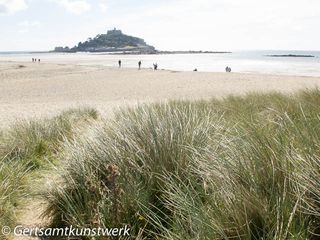 I took a lot of photos of St Michael's Mount but quite early that evening I became very bored of editing them. When selecting photos for this blogpost I deleted a great many.
The beach runs next to the railway line, specifically the sidings serving Penzance, the extreme end of First Great Western's InterCity service. There are few crossings, and one former crossing has been closed, clearly not a popular move locally.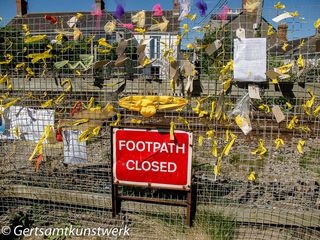 On we walked, and it slowly began to dawn that there were no further railway crossings before a bridge that seemed a great distance away. My feet were beginning to hurt, and the more we walked the more they hurt. Initially, the pain didn't stop me taking photos, such as this one of what appeared to be newly built holiday lets.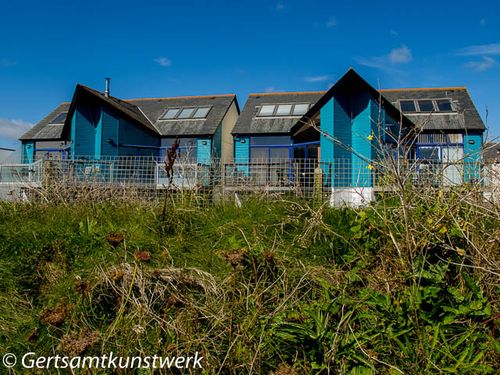 I also took several looking out to sea.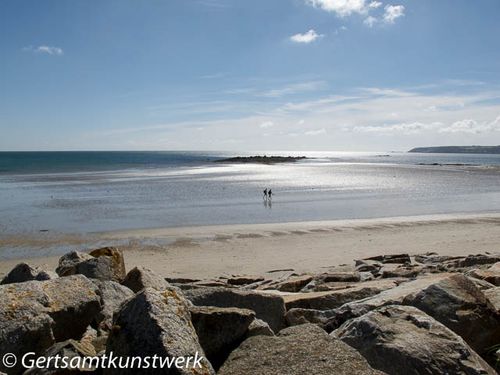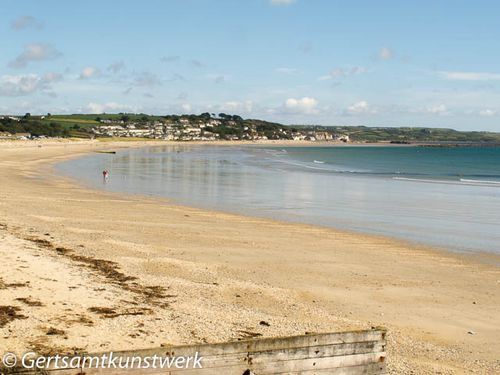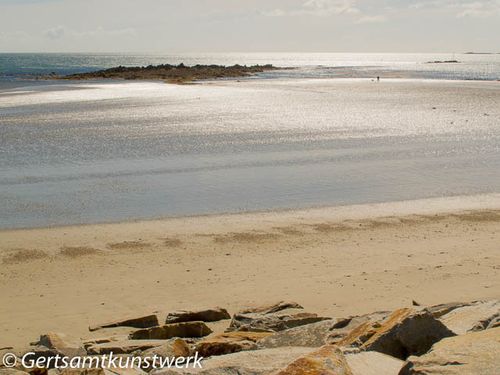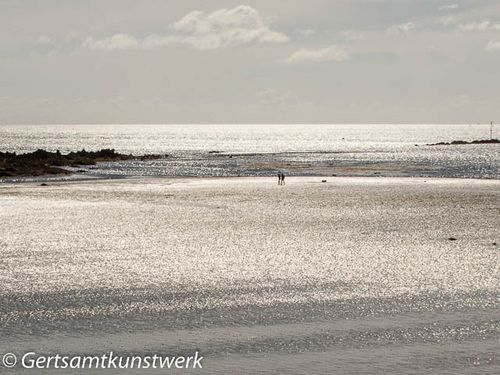 At first we agreed we would get to Penzance and find a bar or café, then it began to dawn us that Penzance was a long way away. I set my sights on, of all places, Morrison's; my thinking being that a) they have a café and b) it is likely we would be able to get a minicab if not a bus from there.
But even when we reached Morrison's we still weren't there, as it lay on the other side of the railway tracks. We had to walk its entire length, and further, until we reached a footbridge, which brought us back to civilisation - if that's how you can describe a large building site for roadworks for an under-construction Sainsburys on the site of a former heliport.
Finally we got to Morrison's, and their café. At this point I was grateful for anything, but, really, this was a shambles and an insult. It wasn't staffed when we and another twosome arrived. It was 'serve yourself' but it wasn't entirely obvious how - these two women had to explain to us that teabags were already in the pots which had to be carried to the warm water tap. Small, grudging-sized teapots containing a teabag of dubious quality tea.
The tables and chairs were plastic arrangements, screwed to the floor with room for just 4 people around each table. No thought that someone of, say, six foot height like Jimmy may have different seating needs than a small child, no recognition that groups, say family groups, may come in sizes greater than four. The twosome that came in after us included a woman in a wheelchair, who couldn't easily be accommodated at a bolted down table-and-chair arrangement. She had to stick out into the aisle, as would, I assume a highchair, although I don't know whether they had highchairs available.
Still, it was liquid, and the woman at Customer Service directed us to the bus stop for a bus back to Marazion. That was quite an exercise in numptiness! The bus was very full with pupils from the local college (ie secondary school) who, in my view, should have precedence at that time of day over shoppers and tourists. It did of course mean the bus was full, and I was obliged to stand downstairs. Fine. But every time the bus went round a corner an old boy sitting down reached his arm across the aisle to grab a pole, sending my body out of balance (I had nowhere to move ny feet). 
As the bus approached the stop before the Town Square, a young couple at the back stood up and walked forward, making everyone move out of their way. but they didn't want that stop, they were just being prepared for the Town Square. Guess what, loads of people got off at the Town Square, and loads were getting on, but that didn't seem to make any impression on some old bloke who nonchalantly walked his rat of a dog right in front of the single door of the bus.
If I hadn't paused, I would have tripped over the almost invisible dog lead, and possibly hit my head on the cobbles, or been crushed by the stampede of people who were pushing to get off the bus behind me. I did call the man an 'Idiot' or somesuch but he was well away with the fairies in a world of his own.
I do wonder if these people ever go anywhere in public when not on holiday; it scares me even more that their habitual mode of transport is private car! 
Back in the holiday flat I ministered treatment to my feet: ibuprofen to reduce the swelling, a hot bath to ease the the muscle pain, and a good massage with peppermint foot cream, because it feels nice. I hoped my horrible feet were not going to ruin the holiday.