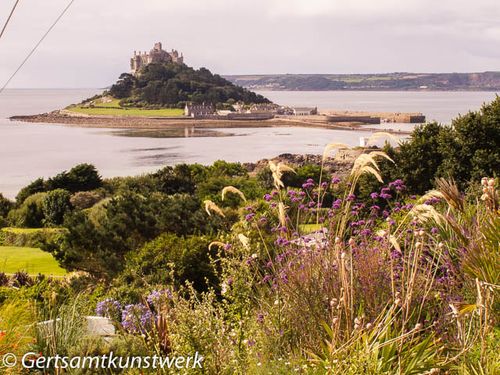 I have spent the last two weeks in Cornwall and had a jolly good time. I had hoped that somehow, we would enjoy an Indian Summer, with plenty of opportunity for sea swimming. It was not to be. On the other hand, most days were warm enough and fine, with plenty enough sunshine. This made walking a pleasure, and to my surprise, I did a great deal more walking than I feared would have been possible.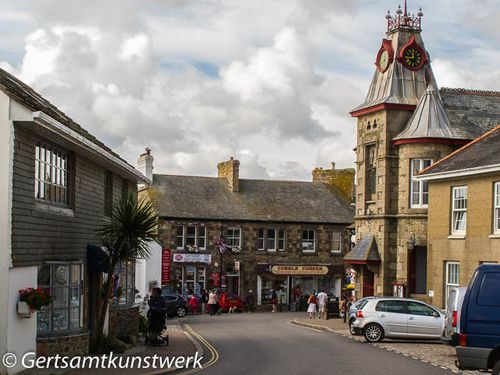 We stayed in the ancient town of Marazion, just a couple of miles from Penzance, and just opposite St Michael's Mount. We were brilliantly located, with a sea view. The town is big enough to sustain several shops and eating places, and a surprisingly good bus service, but small enough to have some character. There was a Morrison's less than two miles away, and a Sainsbury's being built just next door to that, and we were within easy driving distance of Sainsbury's at Helston and Marks & Spencer at Hayle.
We rented a flat which was spacious and light. When we arrived it was scrupulously spotlessly clean. There was sufficient furniture and the beds were wonderfully comfortable. The sofa less so. Having stayed in several similar rented places in the UK and Spain I did feel there were certain aspects that were less satisfactory. All of them quite petty, but the pettiness added up to an annoyance. Two lightbulbs, including the kitchen one, had gone before our arrival, as we discovered mid-evening Saturday in the dark. There were no spare lightbulbs in the place, something I have always noticed with previous places. The kitchen was poorly stocked lacking some of the most basic utensils, such as wooden spoons. Bear in mind that this was a two-bedroomed place seemingly ideal for a couple with two small children, whose holiday may depend on being able to make simple stews, pasta sauces etc. The saucepans all lacked lids, there were no storage pots eg for teabags or bread. Worst of all, the oven on the cooker didn't work. There was a combination microwave/fan oven instead, although we had to work this out for ourselves, and it was simply not big enough for cooking a casserole for 4 or roasting a joint, as many people might wish to do. There wasn't even a welcome pack. Most places include a list of hints and tips eg the WiFi password, 'the oven doesn't actually work' and maybe even numbers for local doctor, bus timetables etc. It was advertised as having reserved parking, but in practice during the day this was used by the owner's other business. Not a problem in practice, but communication/information would have helped. It was also slightly irritating that the washing machine wasn't a washer/dryer, considering it was a flat without a garden, which wasn't too great an inconvenience for us, but might have been a pain for the family with two small children. Admittedly, all petty moans, and we certainly didn't let them mar the holiday.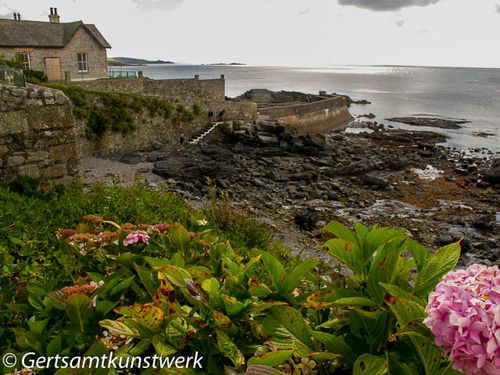 The town is lovely, and it was enormous fun people-watching. They came in their hundreds and thousands to cross the causeway, or catch the boat, to St Michael's Mount. It also lies along the South West Coastal Path, a truly wonderful thing, a jewel in England's crown. During our first week our neighbours never took their car out and were usually out early, often coming back late. If you're a keen, fit walker, I think with careful planning and bus timetables, you could cover a great deal of the path, returning each night to comfortable quarters.
Sadly, Cornwall County Council are consulting on withdrawing funding for much of the Rural bus service in West Cornwall. This was covered on the local TV news and it made me angry and sad. They illustrated how the buses, often visiting quite remote and isolated villages, are a lifeline for elderly people to get out to shops and doctors etc, for local workers, often on minimum wage or in seasonal jobs. They had a voxpox with someone on holiday in St Ives who said she chose St Ives because she could go walking and end the day with a bus journey. The local constituency is Liberal Democrat held, and Council is LibDem/Independent coalition. I doubt that many of those Liberal Democrat or Independent voters would have supported axing rural bus services.
I still have nearly 200 photos to edit from the holiday, having already processed over  300 (and that's not including the duds and duplicates!). Over the next few weeks I intend to compose several blog posts on the subject, and these will be varied with posts about days out, and other holidays as well. I just hope I have the time to do them justice!