Last year, there was a very hot Saturday. I know, it seems difficult to recall now. We had the truly inspired idea of heading to the South Coast. We arrived at Clapham Junction and sauntered over to the platform from where depart trains for Brighton and other seaside towns in Sussex. We were not heading for Brighton, suspecting it would be quite busy.
The platform at Clapham Junction was heaving. The Brighton train was in, but the station staff were preventing anyone else joining it due to overcrowding. They were advising people to go to Hove and then get a train back to Brighton. My heart sunk; we were aiming for the "not Brighton" train, via Hove. Not only were there a lot of people on the platform, but many of them had pushchairs. Even more had bikes.
We got on the train and it was pretty crowded. As the line approaches Brighton, it runs close to the A23 (Roman Road from Westminster Bridge, passing near my house and eventually becoming Brighton Pier). I looked out of the window and saw a queue of cars waiting to enter Brighton. 
We alighted at Shoreham-by-Sea. For years, I have been convinced I walked once from Hove to Shoreham, but I think it must have been Portslade. Not so impressive!
You could argue that Shoreham isn't actually on sea, although you'd come over as being a bit of a prat if you dug your heels in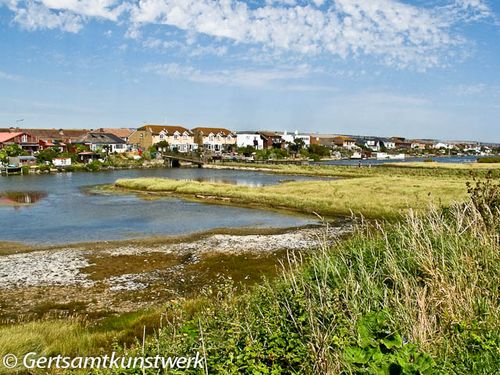 We walked down through town and crossed the River Adur to reach the actual seaside, and then we cycled to Worthing. It is without doubt a delightful cycle ride. As far as I know you can cycle all the way from Brighton, and perhaps east of Brighton to Worthing, along the coast, on dedicated cycle paths all the way.
I would observe that the public needs a tad more education about what a cycle path is. I speak both as a pedestrian and a cyclist. Firstly, there is no law or rule that prohibits people walking on the cycle path. However, should you choose to do so, you need to be aware that you may encounter cyclists. It's rude to shout abuse at them for cycling on the cycle path and ringing their bell to warn you of their presence. This particularly applies when you're walking five abreast and not actually looking where you're going. Also, it's rude to stop and chat with your mates on a cycle path when there is, as it happens, a wide pavement wide enough to drive a bus along.
Also, dog owners. You are responsible for looking after your dog. If the said dogs run out from behind a fence on a beach onto a cycle path and the cyclist screeches to a sudden halt and yells obscene words at you, please consider that the cyclist is probably very shaken, and really doesn't want to be told to take more care and the dogs were 'only playing'. The cyclist did take care; otherwise your dogs would have been 'only dying'.
I also have a lecture for cyclists. Especially unfit middle-aged cyclists with a chronic health condition. Cycling takes energy. It might make sense to take some tuna or hummus sandwiches to replenish the carbo and protein required. If half of London is on the beach in Sussex, this suggests the weather is hot. More water would be sensible.
Oh, and if part of your biography consists of 'I like take photographs', stop cycling more often and take more and more interesting photos.I salvaged three in total from the day.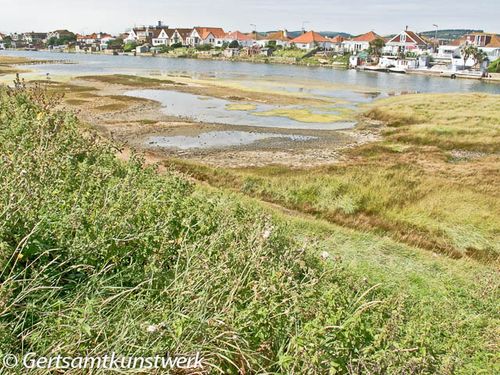 This is one of my favourite crap photos of all time. Lancing College  is situated on a hill which is part of the South Downs, and the campus dominates the local landscape.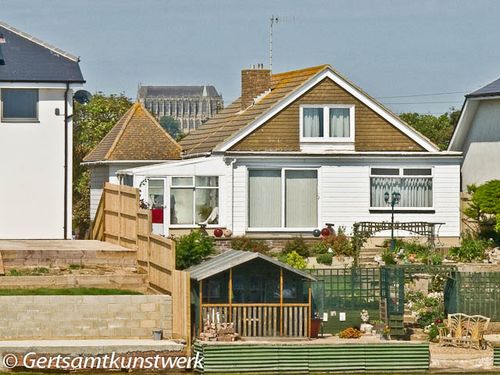 Yeah, right whatever!
Shoreham is fun, and I'd like to return. There's an airport there, indeed it's the oldest airport in the UK. According to Wikipedia: 
The airport is used by privately owned light aeroplanes, flying schools, and for light aircraft and helicopter maintenance and sales. A number of operators provide sight-seeing and pleasure flights, including the experience of flying in two T-6 Harvard World War II training aircraft.
So you get the unexpected pleasure of seeing bi-planes take off and land.
We spent some time on the beach but our luck being what it is, this was at the time the sun disappeared behind clouds that had suddenly appeared from nowhere. There were people in the sea, but, after a paddle, I decided I didn't really fancy stripping down for a swim. Missed opportunity. But it's worth remembering that away from the town centres there are miles of quiet under-occupied beaches. I have subsequently acquired beach shoes - a recommendation for the hotel we visited in Greece - and would strongly recommend them to transform the experience of visiting a pebbly beach in Sussex.
All day I saw dozens, hundreds of cyclists. I saw no one over the age of ten wearing a cycling helmet. The hot weather influenced my decision not to. I also saw no lycra. I concluded however, that when there are segregated cycle lanes, people feel safe cycling, and take to their bikes for pleasure. This lesson needs to be applied more widely.
Following this bike ride and the one on the Wandle Trail the day before, I took three weeks sick leave and began to reassess my capabilities and the consequences of 'overdoing it'.