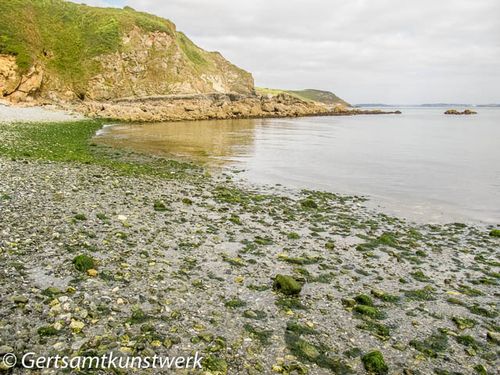 It was the last day of our holiday. How to spend it? I had thoroughly enjoyed my Cornish holiday, with lots of great memories of beautiful places and fabulous food, and hundreds of photos. But I was also looking forward to being back in my own bed, and didn't feel I was in love with West Cornwall like I am with West Dorset. 
Once again onto the Lizard Peninsular and to the remote village of St Keverne. Very pretty, it has an impressive church (we didn't visit), two pubs (we didn't visit), a Temperance Hall (you get the picture). Post Office, General Store, and Community Fire Station. But to my surprise, it's not by the sea, so we didn't linger and I didn't take photos.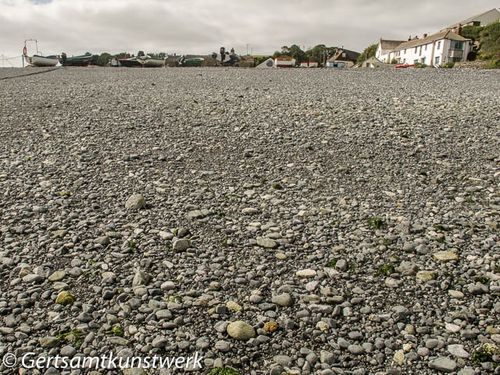 Onwards to Porthallow, once the centre of the pilchard industry. The pilchard is now called the Cornish Sardine and according to this article from ten years ago was undergoing a renaissance. More here, and I've seen features on TV that suggest that Cornish Sardines are thriving - although I know the Cornish fishing industry was hit hard by the recent winter storms.
When we arrived we pretty much had the beach to ourselves and we sat there for a while, relaxing. By now I was pretty bored of taking pictures of waves crashing against rocks, and in any case, the sea was relatively still. So I spent some time taking shots of the small details of the intertidal zone. The results are a bit mixed but overall quite pleasing.
It was lovely to sit and relax on the beach with no one else around, but we weren't disturbed by the colourful arrival of kayakers - a couple taking a lesson, as far as I could tell. Once landed they didn't stay long.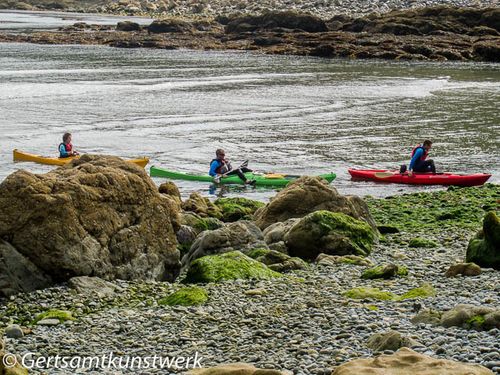 Later we were joined by a swan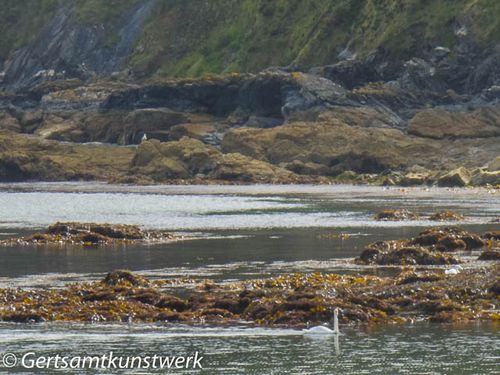 As we left the car park, some people were taking each other's photographs next to a sign. The sign marked the exact halfway point of the South West Coast Path. For a moment, I considered leaping out of the car to take the same photo, but I imagined many people will have done so, such as this one. The South West Coast Path is 630 miles from Minehead in Somerset round the craggy coasts of Devon and Cornwall (North and South) and onto Poole in Dorset.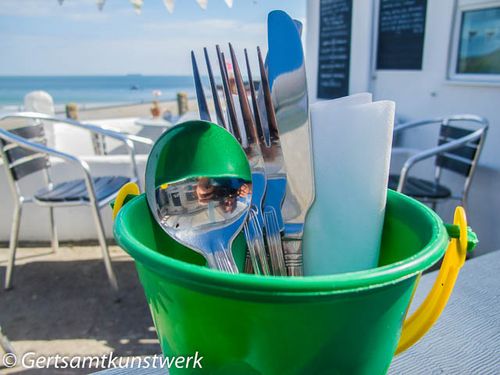 Our next stop, and the last place we visited on our holiday was Coverack. That was in September; the village appears to have changed significantly since - see Damage to the Sea Wall, April News from Coverack and video of the 14th February storm.
We parked up and went into the gift shop. I bought a book about the legend of Tristan and Iseult. I haven't read it yet. Next stop was the Harbour Lights café and bistro. What a lovely place with a good selection of home-cooked foods. I opted for a crab sandwich. We started by sitting outside, with a view over the bay, but ultimately, being that time of year, we were defeated by wasps and had to retreat indoors. (Also the arrival of a behaviourally disturbed child and his younger-than-me-grandparents).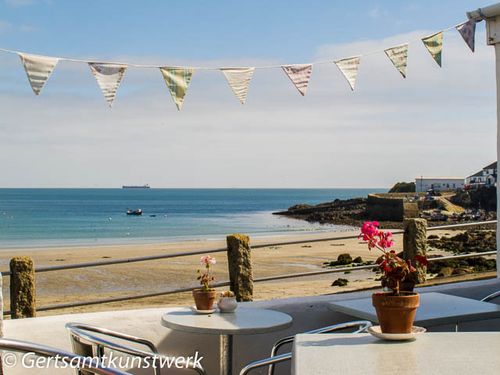 We walked along the seafront. The map described it as a picturesque village, so I took pictures but didn't really do it justice.
It was low tide when we passed the harbour. I reflected that the flood tide must be impressive to allow the boats in and out across some rocks that appeared to block the harbour.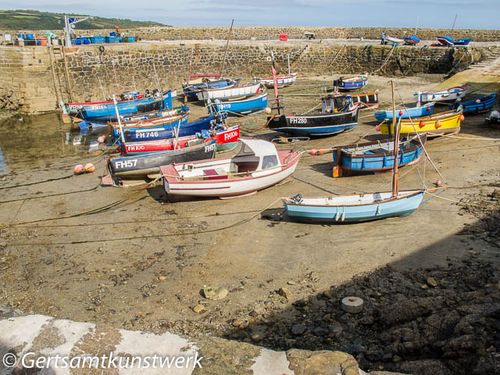 The lifeboat station is n longer used, but they appear to keep a boat there just in case.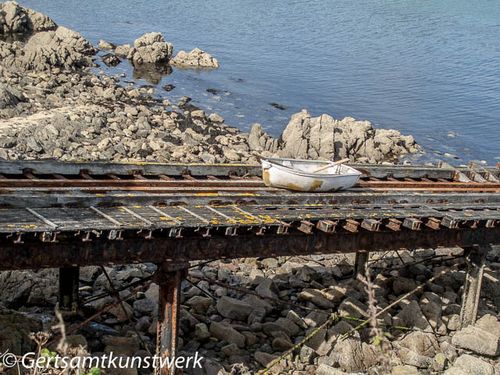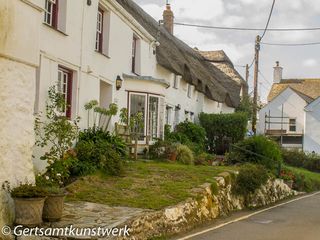 At the top of the hill is a pub called the SS Paris, named after a liner that ran aground on The Manacles rock just round the coast. After a pint, we walked back down the hill, passing more picturesque housing.
We also passed a group of four tourists who were in the middle of expressing outrage. One of them had been walking along, minding her own business, eating a Cornish pasty, when a giant seagull swooped and stole the pasty from right out of her hand. I did laugh, though feeling certain that if I had been such a victim my outrage would have equalled or exceeded hers!
The tide had risen and the harbour was once again working. We watched the Kindly Light, registered in Berwick on Tweed - the furthest point of England from Cornwall - landing her catch. The load was winched up by a crane on the quay.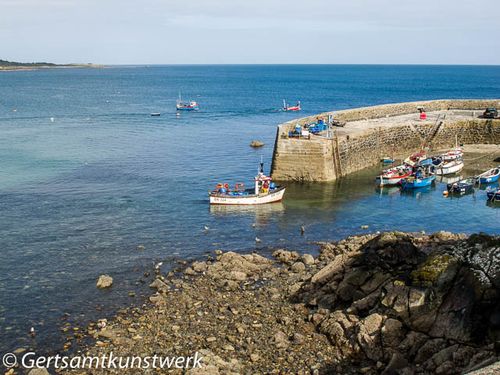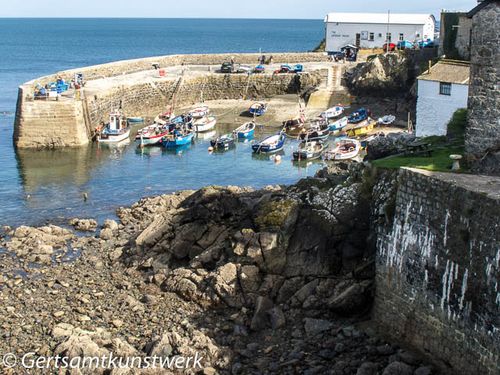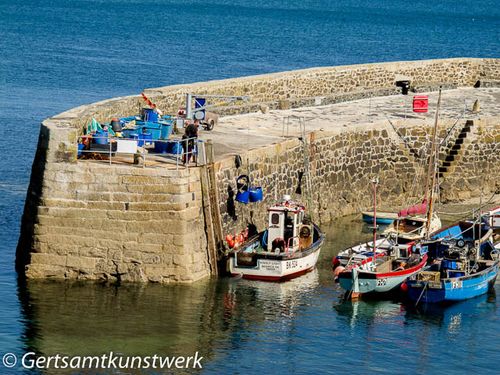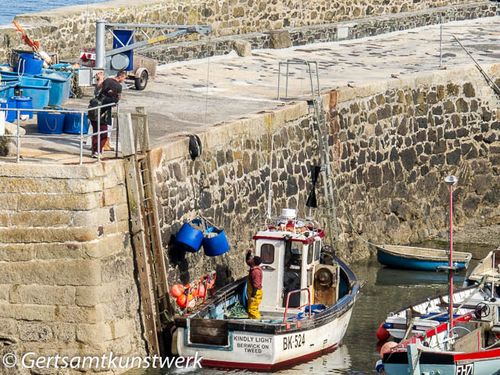 We returned to the car, and back to the holiday let in Marazion, for an early start and a long drive home the next day.