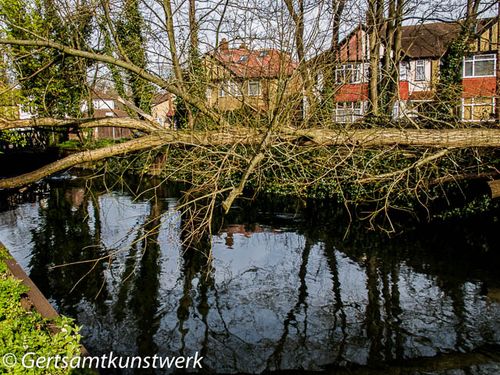 What a miserable winter 2013/14 was. I am immensely grateful, living on a hill and inland, I was not affected by floods how many people were. Even so, the seemingly constant heavy rain and strong winds was not conducive to going out. I've blogged about a New Year walk around The City, and a fortuitous stroll along Bournemouth seafront, but other than 2 or 3 pleasant but uneventful walks on Tooting Common, and one to Brockwell Park, these are my only 'going out' since returning from holiday in September.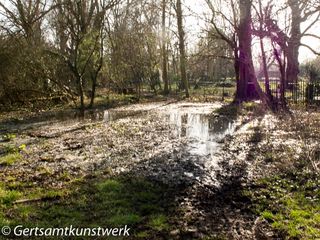 I took time off sick in February and March. It retrospect it might have been easier to take a full week, rather than a day here, a couple of days there. Something dawned on me in late March - how good I had felt walking through Central Croydon after a work-related meeting, and a similar work-related jaunt to leafy outer suburbs. Both days were bright sunshiny days. One was pretty cold - scarves and gloves - but that mattered less than the brightness of the sun. In short, I am fairly certain I have Seaonally Affective Disorder. I don't want to be pseudo-scientific, and I'm very aware of the power of suggestion, but I have felt so much better since the Spring Equinox.
The odd trip out, in glorious pre-Spring weather, only served to mask the reality of Seasonal Affective Disorder. I've ignored it for too long. I've treated it like hayfever or migraines, afflictions that make me lose several hours every couple of years, but not comparable to people whose lives are devastated by them. Everyone feels a bit down in winter. It's not that I'm depressred, just de-energised, lack-lustre, indifferent, apathetic. And yet, that isn't me in sunshine. I walked three miles, which is nothing really (although three miles of pootling and stopping to admire the view surely requires more energy than yomping across country). I was tired in the evening, and had to leave a birthday party early, but it felt a lot more positive than the world-weariness I had felt for months.
The Wandle never ceases to amaze. I could walk its banks for ever and always see something new. Early on, we detoured into the wheelhouse at Merton Abbey Mills and saw behind the water wheel.
Along the river were scenes of devastation:
The sandbags were out by the flats in Ravensbury Park - thankfully, looking unneeded. What a great place they must be to live. Whenever I go past there are always people out enjoying their amazing back gardens, and the kids obviously love living in the woods - even when a kicked football falls dead in a squelchy hidden puddle!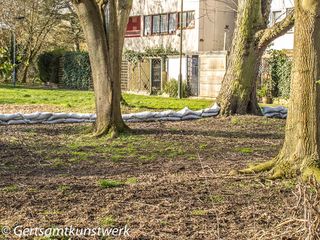 Talking of squelchy, the Wetlands were pleasingly wet. According to Wikipedia: 
A wetland is a land area that is saturated with water, either permanently or seasonally, such that it takes on the characteristics of a distinct ecosystem...wetlands consist primarily of hydric soil, which supports aquatic plants.
During the winter, some attention-seeking MP was condemning money spent by the Environment Agency on creating a wetlands in his - admittedly subaquatic - constituency. I sighed big sighs - if the water doesn't go into wetlands, it has to go somewhere else.
I got told off by a rather bossy dog woman for wearing the wrong shoes. I was stunned into silence until she had gone. She wore Wellingtons, which are right for her, but they give inadequate support and cushioning for me. It wasn't like I was wearing sandals or PE pumps. I was wearing proper genuine walking boots, Gore-Tex from an outdoors shop. They did me just fine. Yes, they're suede, but I can't help being innately stylish. I pass judgement about people's footwear all the time - in my head. They're adults, they'll cop onto themselves one day, and it's none of my flipping business. It's uncouth to criticise strangers whose behaviour is not affecting oneself. Rude dog woman. 
The walk through the Wetlands goes into Morden Hall Park;  several attempts to take iconic bridge photos.
Stroll across to the Snuff Mill.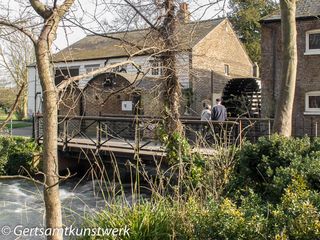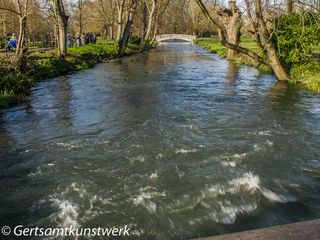 I tried a few photoly effects. Not sure what to conclude:
It was great to see many people out in the park, but sad not to see those those not enjoying the welcome and overdue sunlight. Part of me thinks that everybody should spend more time in our great parks, but another part of me thinks, no, we don't want the stunningly secret Morden Hall Park to be over-run by people! If you've never been, you could do worse than follow Morden Hall Park walk. Indeed, there are things in that I've never seen.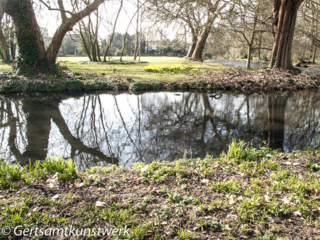 Great, too, to see early signs of Spring. I feel guilty for writing that. Last year, Spring arrived late, and all the better for it - bumper crops and so on. But I so wanted the gloom of winter to be over.
I took many poor quality shots of wildfowl, including herons, but I have more than enough mediocre photos of wildfowl. Time to say, enough is enough.
Normally in Morden Hall Park we walk (or cycle) down the grand drive next to the Hay Meadow, but this time we took the riverside route, through the arboretum...squelch squelch! It was so quiet, we only passed one other couple. We sat on a bench to watch the world go by but nothing did.
except some geese, and a heron taking flight
Not even much traffic on Morden Road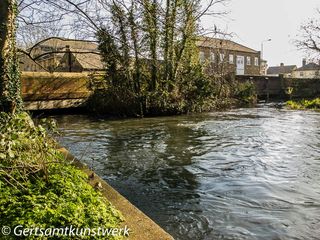 Into Ravensbury Park where the millstream flowed in full force.
Several rubbish attempts to photograph waterfowl. Maybe I should get a DSLR with a Zoom lens. One more thing to carry around, and lose. Or I'd be daunted by using it so my photography would dwindle and cease. I was quite pleased with these, anyway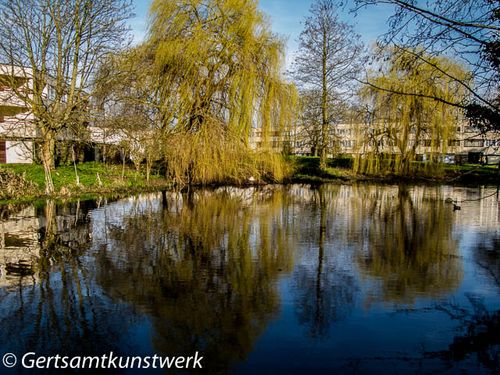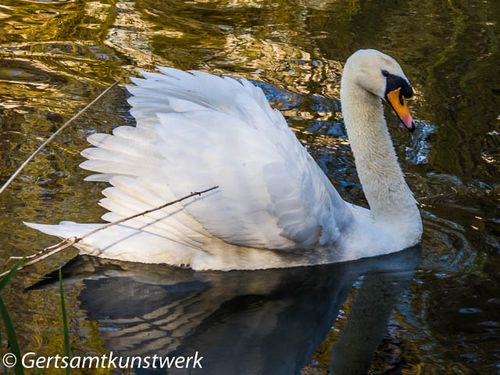 Just before we saw the swan we had noticed a couple of women in their mid twenties. We both thought they were probably Irish Travellers. One was careering along the footpath on a child's scooter (although I've subsequently seen rather too many adults on such a scooter). The other was taking an enormous St Bernard for a walk. We met at the swan, there was also a Polish mother and toddler. Our attention was drawn by the swan. The St Bernard stood there, relaxing, keeping an eye on the swan, not getting excited or agitated. I have never seen a dog so disciplined and well-behaved in the presence of water fowl. Swan, St Bernard, Sunshine...can't beat that (sadly, the St Bernard was lacking brandy). If I ever had a dog it would be a St Bernard. And not for the brandy! I should have photoed the St Bernard, but I didn't, so here's a photo of the London Rd bridge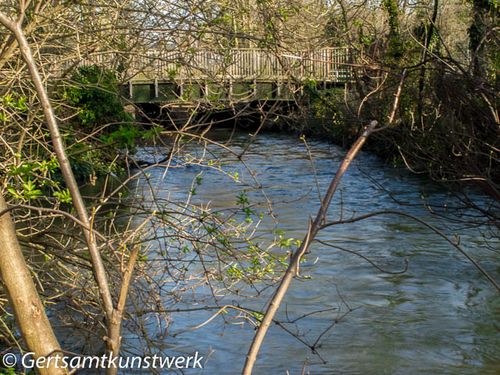 We had caught a bus and a Tube to get to the Wandle, now we were in for a new adventure - a Croydon tram. Amazingly, only my second ever ride on a Croydon tram, and Jimmy's first

Our journey ended on a standard train to Streatham Common, not a station we use much. And early dinner in the Railway. Not sure what to think. Very positive about their craft ales and ciders, but this is no way to serve tea.

I shouldn't have needed to ask for this. Granted, this wasn't in the tea room. Even so, it's not difficult - teabags don't go in teacups. If you're making it in the cup, the cup must be a mug. If you're serving it in a teacup, it should be brewed in a pot. The water was not boiling. Their ineptitude at making tea made me less well disposed. I was part of a mass exodus when several of us separately but together decided it's pointless being in a pub where you can't hear yourself think over a baby that wouldn't stop screaming. 
The squid for a starter was very nice.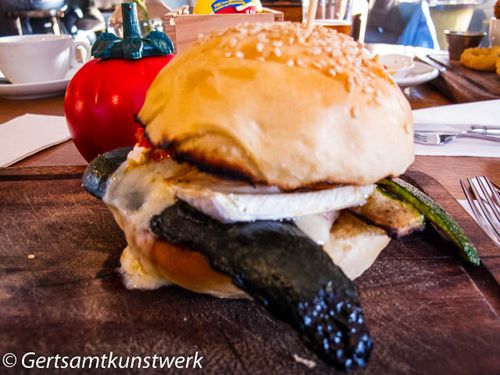 and the Somerset brie, chargrilled courgettes & sun dried tomato chutney on brioche bun, hand cut chips, bloody Mary ketchup filled a spot. Foodwise I'd go back the next time I come off a train at Streatham Common starving hungry. But maybe the service and ambience would put me off. Too far to 'pop out' to, but not special enough to justify a special journey.

View Merton Abbey To Mitcham Tram in a larger map