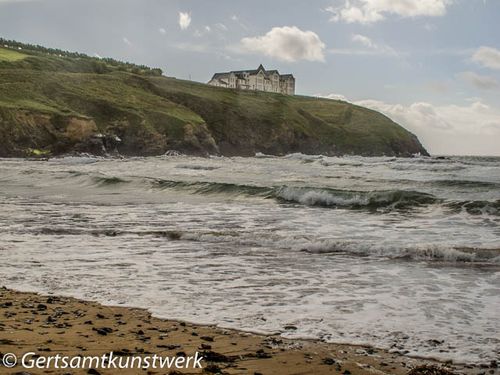 After a dark and stormy Sunday, the Monday looked...promising. Classic British summer holiday weather - not entirely sure what it was going to do, so I packed all the clothes to cover every possibility. I decided we should explore Lizard peninsular, hopping from cove to cove. We didn't get far, only stopping three times. But it was vastly enjoyable.
We had barely left our holiday let when we saw two vintage Rolls Royces, one with an open top, not ideally suited for a sharp shower. Over the course of the day - and for a couple more days - we saw many Rolls Royces of different ages; even on our Saturday journey home we overtook a 1930s vehicle doing a steady 45 down the motorway. I suppose there must have been a rally but I never found mention of it. It would have been lovely to photograph them, but difficult on the open road!
Just past Helston is RNAS Culdrose. On the road is a sign warning of ow flying aircraft, Immediately, we were buzzed by two jets. I thought there would be no end of them, but despite several trips onto Lizard, we saw no more jets. Helicopters were a different matter, spending several hours hovering, as if they were the Sky News helicopter over Westminster on a day of political intrigue. (I initially wrote this on Sunday; on Monday night I read of the RNAS Culdrose helicopters searching for sailors lost at sea. I am grateful they were able to practice and train during our summer holiday).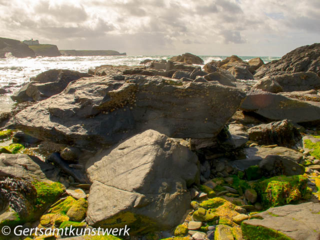 Our first stop was Gunwalloe, with two coves - Gunwalloe Church cove and Dollar Cove. At least, I think so. The maps were less than clear and didn't entirely coincide with the guide books. Many shipwrecks happened round here, including a Portuguese ship carrying 2.5 tonnes of silver dollars. Not all of the silver has been recovered yet, and, yes, we did see someone with a metal detector.
We had fun clambering over some rocks and watching the waves crash on others, until a shower threatened and we briefly took shelter in the church.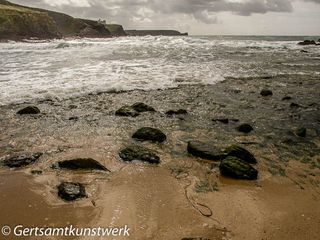 Lovely little church, although I'm not much into them. St Winwalloe, dating from the 15th Century.
We stopped briefly at Poldhu Point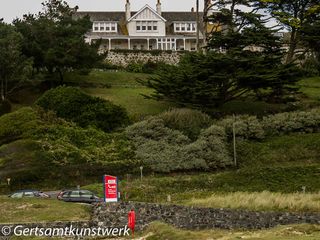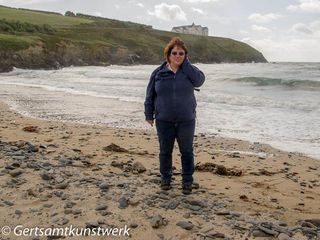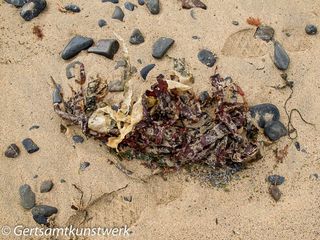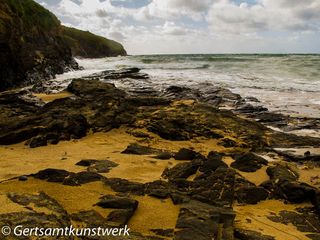 Our final stop was at Mullion Pont, a working and picturesque harbour. It's a bit of a trek down from the car park -and also a trek uphill again. I didn't find it a problem, but worth bearing in mind if you have limited mobility.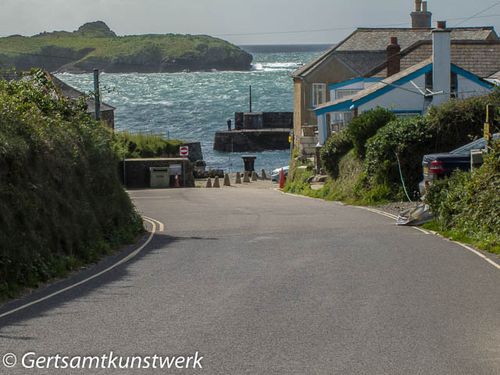 I enjoyed the spectacular waves breaking over the rocks and breakwater. You could edge out over an outcrop to sit and take photos. I found a particularly extreme example of the rubbish phone/rubbish camera phenomenom, two women with plastic sandals and wedge heels, barely able to walk, then sitting on the breakwater posting their photos to Facebook.
Next stop was the Porthmellin Tea Rooms. We ordered the large cream tea but probably would have been satisfied with the smaller version. Beautifully fresh crumbly scones, still slightly warm. An abundance of clotted cream and jam, and the jam contained real fruit pieces. Minus point was the sugar served in paper sachets - but neither of us takes sugar in our tea. Teabags were good quality and the teapot for two contained three bags, but was an 80s style metal teapot with a designed-in drip. Overall, an excellent cream tea.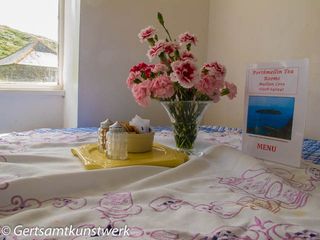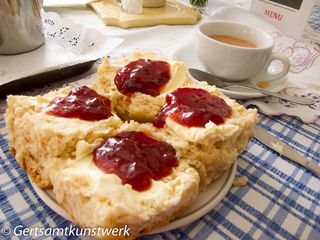 We finished the day by buying copious amounts of cider in a place just off the main road.
View Larger Map