An odd day, really. Some people have taken to calling it Christmas Eve Eve, to the annoyance of some other people. Not the weekend, not really 'Christmas', but not exactly a normal Monday, either. His workplace is closed for two weeks, so I decided to take the time off, too.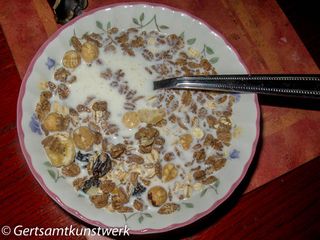 Breakfast was dull. A bowl of Disappointing Muesli from Marks and Spencer. Not up to the standard of Dorset Cereals. But a whole big bag that I suppose will have to be munched through eventually.
I made some pastry for the next attempt at mince pies but was totally lacking in enthusiasm. And I iced the cake. Every year, I say I'm going to be prepared and do it all proper, layer after layer of perfectly smooth icing. And every year, I leave it late and the Royal Icing doesn't quite work. It never quite stands in the requisite stiff peaks despite what seems like a lifetime of whisking. Perhaps a tiny amount of egg yolk crept into the egg white. Or perhaps I put in slightly too little icing sugar.
This was after the first layer. A second layer did follow.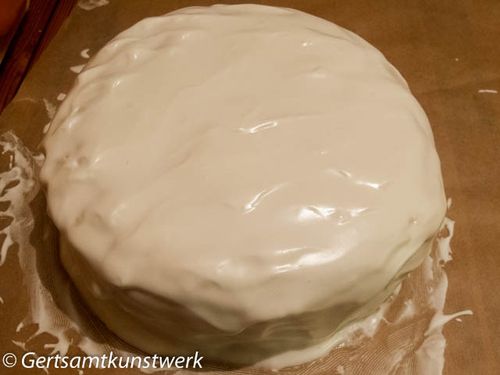 For dinner I made what might turn out to be the best single meal of the whole Christmas break, based on Yotam Ottolenghi's Swiss chard, chickpea and tamarind stew. We couldn't find Swiss chard locally, so substituted in Red Kale, which slightly odd turned green after blanching. It works fine, but when I make it again, if I do it with kale, i'll just use the leaves, not the stalks. Jimmy decided to stew a portion of it separately and add chorizo, which struck me as a good idea. But after tasting he said it wasn't really necessary because the stew was so full of flavour.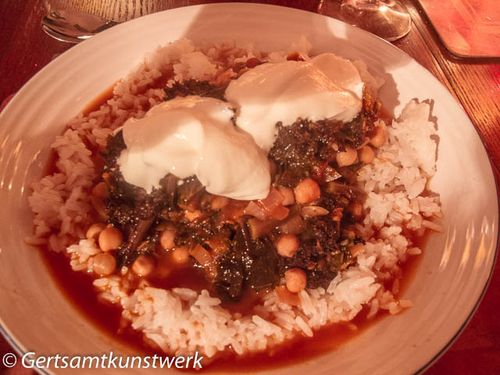 We finished with shop-bought sticky toffee pudding in front of the TV and fireplace.