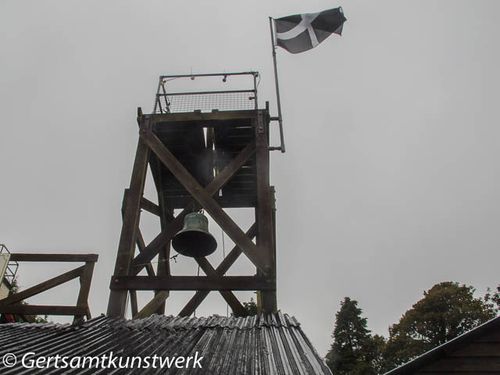 There isn't really much to do on a miserable dark rainy day on holiday. A late leisurely breakfast in Deli, enlivened by watching the fridge engineers at work - or to be precise the younger man work and the Boss cadge food. The Deli manager came over to us and apologised for the disruption but I admitted I love watching other people work. 
A trip into Helston for odds and ends. The weather didn't set Helston off in its best light. It has clearly suffered the fate of many a market town. A sign from the car park still points to Woolworths. It sustains a WH Smith (reportedly a fading brand, but one that still indicates something about the former standing of a town). I wondered what other shops the town had lost over the years, to be replaced by bookies, charity shops and the inevitable tat shops, along with a couple of shops - one for kitchenware and one for Swedish tableware - that hint at some local prosperity.
The highlight of our visit happened as we emerged from Car Park Alley. A ditch or semi-culverted river runs down the main street next to the pavement, where one would normally find a gutter. A driver, trying to park, drove his near front wheel into the ditch. Much comment from passers-by, including us. We were grateful we had gone for the Pay-and-Display - strangers to the town, we would be good candidates for making the same rookie mistake, in a hire car. Judging from the reactions of passers by, it doesn't happen often, which surprises me (you can get a sense by zooming into street view here - perhaps outside the Cancer charity shop - note the abandoned wheel hub).
Another highlight of Helston was the Party Shop. Hanging in its doorway was an automatic bubble-making machine. In blustery conditions, this resulted in dozens if not hundreds of bubbles blowing merrily along Meneage Street, adding to general jollity!
(Note to self: a routine visit to an unexceptional town in dark miserable weather is no excuse not to bring camera - two great photo opportunities missed).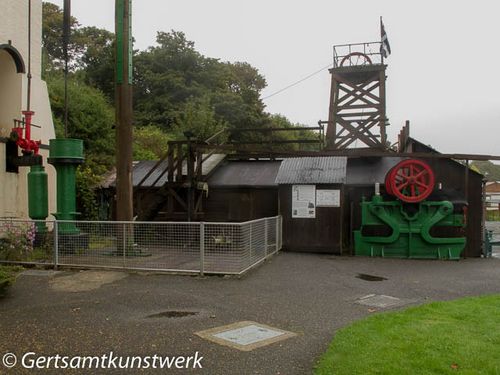 Despite the impromptu entertainment, there was a limit to how long we could stay in Helston. But there was very little else that could be done in such miserable weather conditions. In desperation, I said, look, I've seen brown tourist signs pointing to Poldark Mine, let's go and investigate.
We seemed to be driving for ever along a minor road from Helston to Redruth until we found it. Jimmy wasn't keen on going in. I said there wasn't much else to do on a misty rainy day. He agreed to take a look at what was on offer. The offer included a tour of the mine, and there was a sign that listed all the reasons not to do the tour - medical conditions, being under 4, and wearing the wrong shoes - so I figured it might be worth the £10 admission. We would have to wait nearly an hour and a half for the next tour. In the event, that wasn't enough time to see the Audio-Visual shows, have a cup of tea and look round the museum. The tea was satisfactory - priced appropriately for a pot made with PG Tips teabags. Unusually, the milk jug rather than the teapot leaked.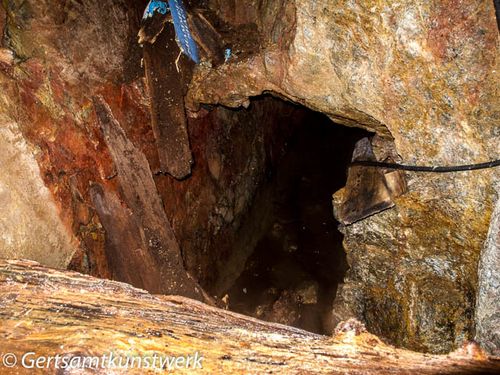 The tour of the mine lasted an hour and was led by an excellent guide, Kenny, a mining engineering student. The mine officially dates from the 18th century and was closed in the 19th, and was accidentally rediscovered in the 1970s. 'Poldark' is not its historic name, but pays tribute to the TV series and the novels. Wikipedia says there is some evidence that the mine workings predate the introduction of explosives in the mines of Cornwall in 1689. Kenny said that recent findings by an Industrial Archaeologist suggest the mine workings may date back to Roman times.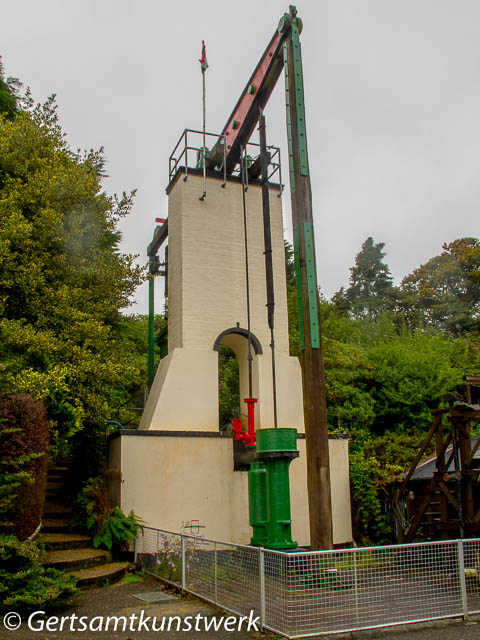 During the tour we walked along new and old workings, including the mine shaft. Despite the electric lamps and torches, it was dark. It was wet, too. We walked down a metal staircase and walkway with handrails. It was logically very safe even though it felt scary, especially for those with vertigo. The dampness convinced you that you might slip.
Kenny explained that when it was a working mine, there was a straight up-and-down ladder, 110 feet. If a man lost his footing, he would fall. If he grabbed out for a hold, or if a workmate tried to grab him, the workmate would be ripped from the ladder, too. Before the mechanisation of access, the deepest mine shaft in Cornwall was 900 feet.
I'm not sure whether the visit to the mine could truly be called 'enjoyable' but it was memorable, informative and cause for thought. We agreed it is better to study history such as this rather than trail round stately homes admiring pieces of material. It is beyond my imagination to understand the hardships that these workers endured.
Too easy to be dismissive that they were relatively well paid for manual workers of their time - they got to buy their homes. Whoopee doo. Those that got truly rich were the land 'owners' who claimed the rights to the underground workings, irrespective of how ill-gotten 'their' land was. Nice they could build stately homes to show off their numerous pieces of material and jewellery (some of it obtained in mining conditions even worse than in Cornwall). The life expectancy of mineworkers was exceptionally low.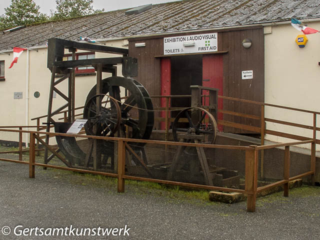 Tin mining is finished in Cornwall but represents a significant chapter in English history. Wikipedia: Mining in Cornwall and Devon gives some background.
Poldark falls within the Cornish Mining World Heritage site and claims to be the the only complete underground mine open to the public in Cornwall and Devon. I got the impression its financial future is uncertain, and it isn't important or unique enough to attract public funding (notwithstanding the numerous stately homes and Anglican churches funded by the taxpayer for no discernable public benefit). Although it sits on Duchy of Cornwall land, the Duchy has no interest in preserving the heritage of Cornwall. I would rate it highly among visitor attractions and would strongly recommend a visit if holidaying in West Cornwall. It would be a shame if it was lost.
There were no restrictions on photography within the mine, but given the dark and dampness, and my desire to keep both hands free, and my uncertainty that I wasn't about to walk into a rock, I decided not to make this a photograph trip.
Do read the brilliant It's all mine! ...... the holiday in Cornwall commences, from The Day After Yesterday - her photos capture the essence.
Also, Tin Mining in Cornwall from Regency Ramble and Free day in Carwinion from House to House.