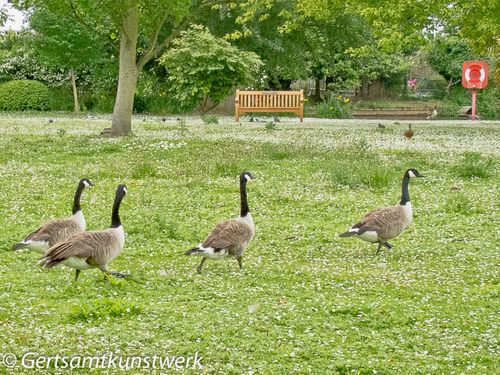 We got on our bikes and rode.
Almost, anyway! Firstly we caught the train to Waddon. And braved crossing the gridlocked A23 before reaching Waddon Ponds. The road's horrible. Or perhaps it's just the drivers, some of whom have poor risk assessment, poor understanding of traffic lights and scant respect for other road users.
Such a relief to get into Waddon Ponds. So very quiet. Odd, really. It's in the middle of a densely populated area. Admittedly it was a school/work day for many, and the weather was a little overcast and there had been a brief light shower when we were on the train. But the forecast was warm and sunny for the summer solstice; it had been a long wet cold spring.
Leaving Waddon Ponds behind, you encounter signs of electricity generation - the towers of the old power station, now IKEA and a local transformer station.
We cycled on into Beddington Park. We'd been there just a couple of months earlier and I had taken a lot of photos - and written at some length - so there's little value in doing that all over again. It was looking lusher and greener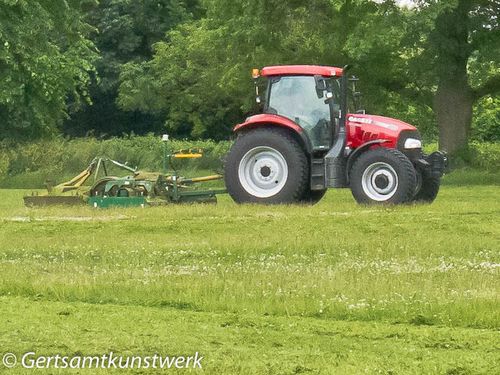 I was annoyed to see this tractor mowing the grass for no obvious reason. It's not clear what the field is used for. It's not even marked out for sport and doesn't seem to serve any useful purpose. But, as you can see, something that may be wild flowers are sprouting. This mowing, dictated no doubt by a municipal timetable, seemed like wanton destruction of a meadow that could have been allowed to prosper until the autumn, as, thankfully, is happening in many other places.
Another picture of the Terracotta Bridge
and the clarity of the river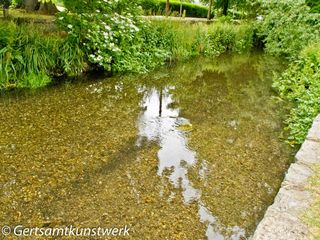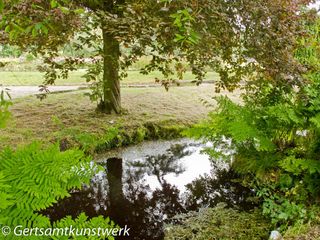 At the end of the park is The Grange. This is an old mansion and is set amongst a formal garden that I made a mental note to revisit when in full bloom. Cycling is the enemy of photography! We stopped there for a coffee and while we sat outside beside a tiny tributary of the Wandle, the sun came out. Finally, summer had arrived, at about half past three
Coming out of the park we had to negotiate a difficult junction made more difficult by it being the peak of school run. And then we had to make a decision. For a short stretch it's not possible to walk or cycle alongside the River. We could have taken the cut-through to Wilderness Island, following the Wandle from its major source in Croydon. But we chose to pass along residential back streets and pass the Westcroft Leisure centre, en route for the other source at Carshalton Ponds. At five to four I passed an older - but definitely not elderly - woman who sighed and lamented at the hot weather we'd been having. For all of 25 minutes! How was she going to cope in coming weeks - hopefully by at least removing her coat.
It was good to see The Grove at Carshalton so full of children and teenagers enjoying the late afternoon sun after a day at school. I felt madly envious. I never once went to a park after school. The Primary School day finished at quarter to four but we had to sit in the school hall for another half an hour awaiting a bus to take us home. There was an excellent Primary school ten minutes walk away but my parents didn't think it was good enough, and exercised their right to religious separatism, thus ensuring I had no childhood friends living near me. The unaltering daily routine was never broken for a spontaneous trip to the park to play in long overdue solstice sunshine. Solstices weren't generally discussed in my religious separatist schools (taxpayer funded)*. 
We cycled round the ponds and ended  up in the newly refurbished and re-opened Honeywood Museum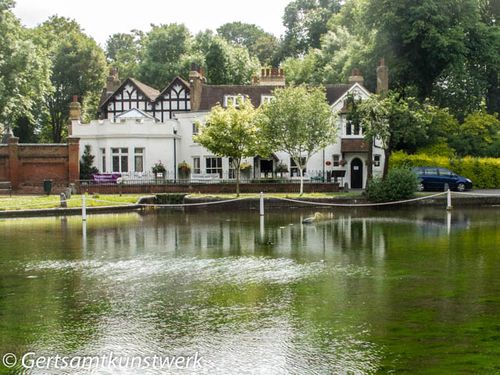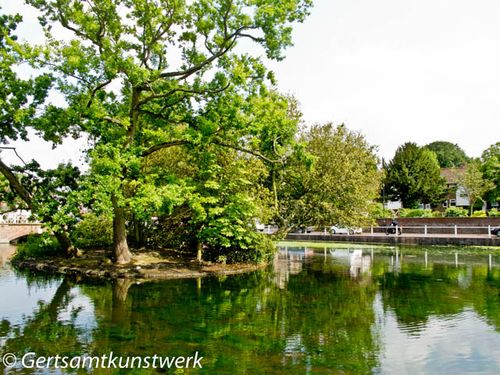 The tea room had a sign "Due to staffing difficulties, unfortunately the tea room will remain closed today" which was a pity, but probably not a decision taken lightly. The museum was great to look round when passing, although I'm not sure it's worth visiting especially. A mixture of local history, including the natural history of The Wandle, and some 'imagine life in the olden days' with paintings and other art works.
Well, it was very enjoyable until the arrival of the archetypal show-off Dad - the one who talks in loud stilted tones to the children he barely knows in order to impress someone - either us or the museum staff - what an amazing father he is. We don't actually care, but if you want us to judge, we feel you'd be better off listening to and getting to know your children.
It had been a lovely day back but the journey was unpleasant. Carshalton Station is close by. But trains from there do not serve Streatham Hill. To use this station would require changing at Balham, either to cycle home, or catch a southbound train - at a time when bicycles aren't permitted. Instead we headed for Carshalton Beeches. To be honest, if I had been on my own, and just a pedestrian I would have ended up in tears, at the cars zooming along narrow roads, the disgusting smell from the engine exhausts and the challenge of crossing a blind bend four-way junction with no pedestrian crossing - outside a school! Looking at the map there does seem to be an obvious back-street route, which I'll remember for the future. But on the way, I wished I'd gone to Balham and endured that slight but continuous climb back home! 
* my secondary school had many flaws I could spend hours listing but taken overall it was a good and, in retrospect, an outstandingly cool school that has produced many successful professional women
Some other of my Wandle posts: