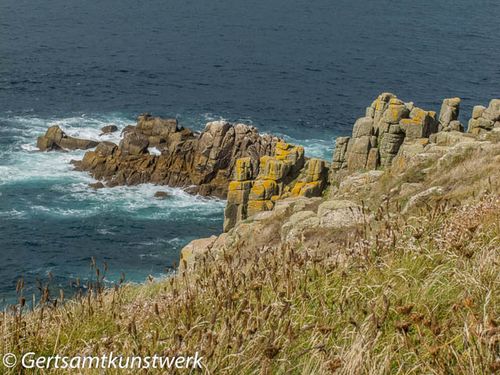 We aborted our first attempt to visit Lands End because of fog. On the middle Saturday of our holiday we tried again, in glorious late summer weather. I felt over-dressed in a long-sleeved t-shirt.
It costs £5 to park at Land's End; most people head straight for the visitor's centre. My guide books both warned against this, with words like 'over-priced' and 'tat'. In any case, one's instinct would be to turn left and stroll along the South West Coast Path.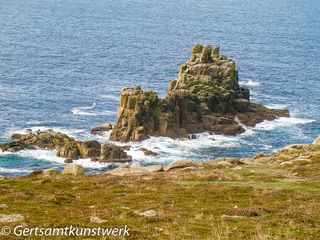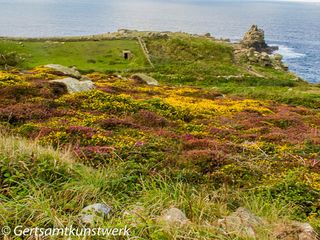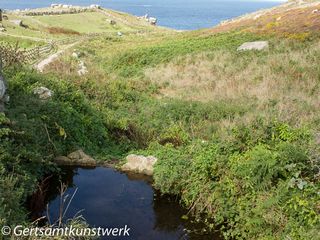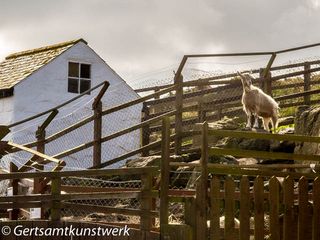 The cliffs and views are spectacular. The path is rugged but perfectly passable in the right footwear. We passed several but not many people: a couple with serious camera gear and sensible shoes - I was disappointed they weren't bird spotters, but they had seen a seal earlier; a group of four twenty-somethings, men in Converse, women in fashion wellies, looking bored and wanting to know where 'the sign' was; and a few other pleasantly forgettable people.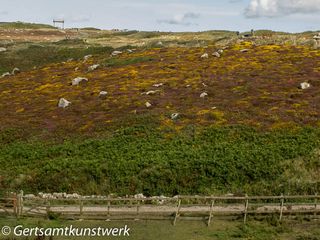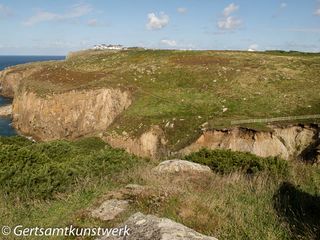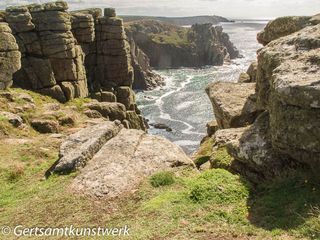 Being out on the cliffs for an hour or so was a surprising highlight of the holiday. Fresh air and sunshine, able to see for miles. Looking at the gorse, bracken and heather. It was amusing to think how many vehicles were in the car park and how few people there were to spoil our tranquility. Although I did invent the psychological condition of 'vicarious vertigo' - being more bothered about your companion venturing close to the edge than you are about yourself.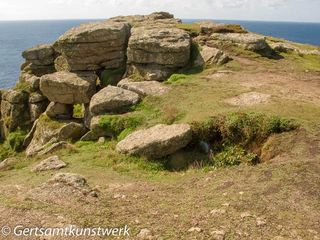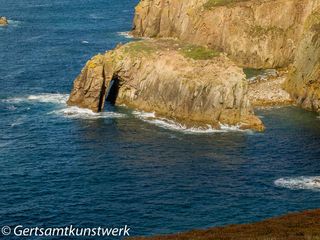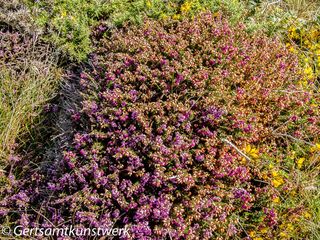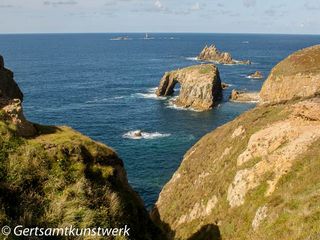 We walked back towards the car park. He told me that he had been looking at people's footwear. So had I. People with stout shoes headed out purposefully along the cliffs. People in shoes intended for mooching shopping malls looked confused. We saw a coach unload its human cargo. Most were in flip-flops, some in new shiny trainers, bought especially for their trip to the country. They took photos of each other posing in front of the sea. From the edges of the car park, it could have been any sea, nothing would say 'Land's End'.
We walked to the visitor's centre and our spirits fell. Some people seemed not to know why they were there. We went for coffee in the self-service restaurant and asked the assistant if there was a 'proper' coffee machine. They said helpfully, "I wouldn't bother."
We didn't bother. We glanced at the 'fun attractions' - videos, to tell people about the world, when they don't want to look at the world outside. We walked to The Sign, but they didn't have Brixton (or Streatham or Clapham) on their list, just London. Because 'London' is specific enough for 8 million people. We strolled more and looked at the cliffs that stretched away to our right. The café with outside seating was closed, because how could they have known there would be visitors on a warm sunny Saturday in the first half of September. 
We looked at the tourist tat shop. The goods were similar to those on sale throughout West Cornwall but with a special Land's End mark-up to reflect the location. I thought the person who walked past me smelt of poo, but Jimmy said they were eating a Cornish pasty.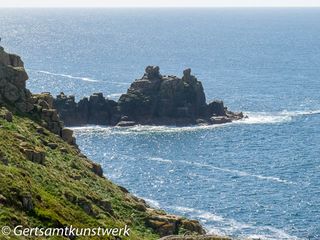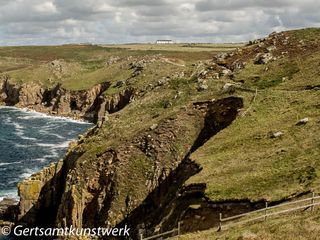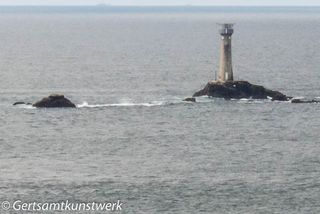 We returned to the car, having ticked Land's End off the list of 'Essential Tourist Sites to See Before You Die'. I wouldn't really recommend going - the South West Coast Path many open air clifftop wild plant strewn spaces - but it is Land's End. 
Cornwall photos gradually being added to Cornwall photo album