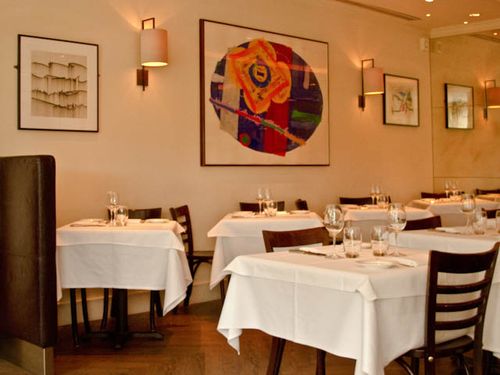 I wrote about Chez Bruce a few weeks ago and soon after I blogged that, we returned. It seemed a sensible way to beat the dark wet gloomy depressing days of early June. A three course weekday lunch is priced at £27.50, so it's no great surprise it gets fully booked up . We've booked at fairly short notice twice, and have had to make do with times not of our choosing. Which is fine - if I wanted to choose the precise time I'd be more organised. 
One of the things I appreciate about Chez Bruce is they have no airs and graces. I have been in downmarket eateries who take a customer's lack of knowledge as a personal insult. A sign of a good restaurant is when they patiently explain what the strange-to-me ingredients are.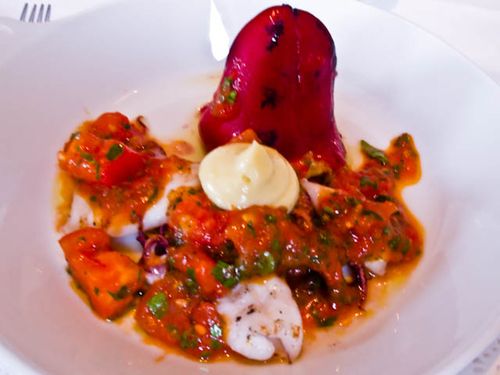 I started with Brandade-stuffed piquillo pepper with a sauté of squid, tomato, chilli and aïoli. Brandade is an emulsion of salt cod and olive oil. Piquillo is a particular form of sweet pepper originating from Northern Spain. Chez Bruce say:
We are not into tricks in the kitchen and there are doubtless some who view our food as slightly old fashioned in this regard. We take this as a compliment!
Whilst I have a fondness for places with tricks - if done well - I also have enormous respect for the Chez Bruce approach. I see it as conservative, in a good way, letting the ingredients shine. Not overly fancy; surprisingly hearty, cooked perfectly. I particularly liked how the fish ingredients accompanied the vegetables*.
Although I love vegetarian food, it's a rare event when I opt for the vegetarian main course in a proper restaurant. This time I chose Pea tortelloni with asparagus, wild garlic and mousserons. A celebration of summer, notwithstanding the gloomy weather. 2012 is the year that I came to regard fresh peas as a sensual ingredient, not just a convenience food.The tortellini was delicate and thin, to melt on the tongue. Asparagus I love for just a few weeks a year. And I learned that mousserons are mushrooms, often known as Fairy Ring mushrooms. For far too long I ate only supermarket button mushrooms. Okay as far as they go, but nothing compares to the various nutty tastes of the numerous different varieties. We shared a bottle of very good white with the meal - I forget what now. And they have such an extensive wine list I can't even refresh my memory!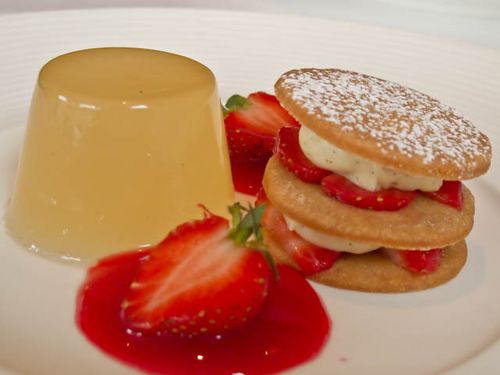 With my pudding I additionally had a glass of dessert wine. It was probably very foolish to indulge to this extent at lunchtime - but all I had to do was to get the bus home and snooze on the sofa. Strawberries in shortbread with creme patisserie (if I remember correctly) and elderflower jelly. Not the first time I have had jelly and shortbread this summer. They go well together and are surprisingly sophisticated. The fresh elderflower is a great foil for the sharpness of the strawberries.
I like the little touches. Parmesan chips; bread rolls I could happily repast on; chocolate truffles with the coffee. Can't fault the food, can't fault the service - sufficiently formal but not stiff; sufficiently friendly but not over-familiar. I really must go back again soon!
View Larger Map
* technically or botanically peppers and tomatoes are fruit. For cuilnary purposes they are vegetables!