Chez Bruce gets consistently high praise from both the professional critics and from normal people who pay for their meals. It's not very far from us, although easier to reach by bike than by public transport. And who wants to bike home from a nice restaurant? Even so, it's just a couple of stations along the railway line.  They do an excellent irresistible lunch offer. We had wanted to book for about 1pm or 1.30pm, but by the time we rang a week beforehand, it was either noon or the tail-end of service. So we actually arrived to an empty restaurant, where the staff apologised that they were running late and said they were still printing the menu!
I had a mixed reaction to that. On the one hand, if I'm obliged to arrive at noon, I sort of expect them to be punctual, too. But it's such a small thing to be churlish about. Far better, too, that they are still printing the day's menu, than handing you a sauce encrusted one unchanged for decades.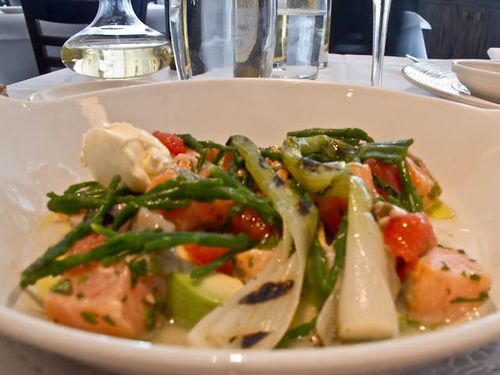 I started with salmon tartare with oyster, herb and grapefruit vinaigrette, avocado and crème fraîche. It seemed a bit odd to stress the contents of the vinaigrette, which wasn't really a feature of the dish, when there were all these other lovely ingredients. I have no complaints about the dish, which I think epitomised the restaurant. Very good quality food, prepared and presented with utmost skill and professionalism. I'm tempted to write 'very conservative' but that would imply 'dated', which, actually it isn't. I suppose like classic tailoring which claims to be timeless, although it isn't. There was no wow factor in the dish; all of it was good. Jimmy liked his deep fried lamb sweetbreads with sauce gribiche -  a mayonnaise with cucumber, capers and herbs.
My main course was halibut fillet with buttered spring vegetables, basil velouté and potato gnocchi. Velouté is stock thickened by a roux. (I realise everyone else knows these things, but I'm a bit clueless in the technical terms of classic French cooking; it's about time I learned!). again, absolutely perfectly cooked and presented with ingredients that were fresh and of the highest quality. I couldn't fault it. The gnocchi surprised me. It's not something I'd normally go for, having had some ghastly doughy versions from supermarket. These were closer to fondant potatoes and worked better than I expected. And the veg were just so tender. The sauce was a bigger feature than for the starter, but even so, it was more to provide a connection between the other elements than being a feature in itself. Jimmy liked his cornfed chicken with liver stuffing, tarragon relish, lemon and artichoke, his main criticism being of the unfortunate coincidence of having tarragon as a strong flavour in both starter and main.
We both finished with crème brûlée which was divine. I am somewhat of a connoisseur of this dish, and variations on it, and this was up there with the best. the best, as it happens, is mine, but this was a damn fine close second. No gimmicks, no fuss, no tarting it up. A back-to-basics burnt cream. Pity it didn't photograph as well as I had hoped.
In addition to the dishes discussed, there were several trimmings - parmesan biscuits to start with, a nice selection of fresh rolls. Some shortbread, almost as good as mine, and several chocolate truffles with coffee.
It is clear from the outset that Chez Bruce is a conservative place to dine. Conservative décor, with old-fashioned half-curtains in the window. But also conservative, restrained, appropriate, professional service, not without warmth and charm. It has a Michelin star, which I wasn't aware of when we visited. Different from such restaurants depicted on Masterchef and similar TV programmes, where creativity goes beyond innovation into fussiness - often irritatingly - and sometimes sheer lunacy. Classic food presented in a classic way. There is a modern twist, and it's subtle, not showy. At lunchtime it would compete on price alone - let alone quality - with the better chains. The evening prices seem far from eye-watering, although, like anywhere, one can only afford up to the limit of one's disposable income.
I had been anxious before that I may be inappropriately dressed, especially on a day that was no longer winter but couldn't be sure it was summer either. In the event, I was being silly. Yes, there were Wandsworth Ladies Who Lunch in their acrylic cardigans, flowery skirts and silken hair. And there were two-bottle-men of a certain age who, if they weren't wearing red trousers, ought to have been. Then there were the well-dressed parents with their ill-fitting jeans-wearing slouchy student sons. Some women who were clearly very nice and for whom the adjective 'chav' is more a statement of fact than an insult. As usual, I eventually realised that 'neat and clean and basic good manners' is all that most businesses require from customers paying their wages.
We liked it so much, we have booked to return!