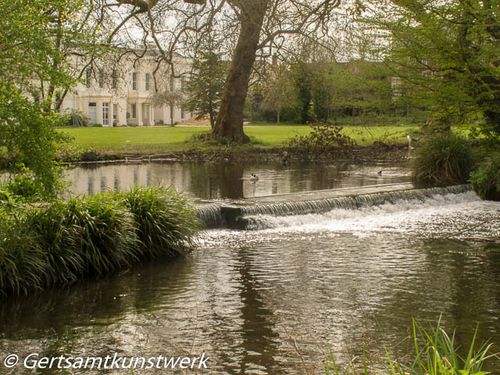 It's now a few years since I discovered Morden Hall Park, and that was by accident. Nevertheless, I should have discovered it much earlier. I had read about The Wandle Trail; I'd acquired a bicycle. I'd built up a decent level of fitness. 
It now seems familiar, and quite difficult to recreate the sensation. I had cycled along the River Wandle from Colliers Wood, along a lightly wooded path, through an area with signs pointing to a wetland, and emerged, in mid afternoon late summer sun into what seemed a different world. A world of delicate bridges that spanned tinkling chalk brooks that criss-crossed lawns where people lounged in the shade and children played innocently, where rays of light bounced from canopied trees to paths, and everyone was cloaked in joyful mood of repose and beautification.  
I've lost count of how many times I have visited since, sometimes to traverse, and sometimes to explore. I've never quite recaptured that initial magic feeling, but I still keep returning.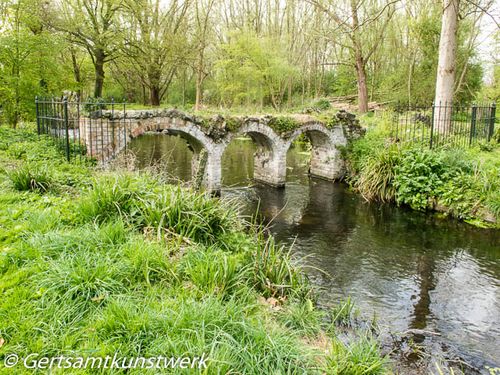 It's National Trust owned, and the terms of the legacy means they can't charge admission or even for parking. I've never seen it deserted, although occupancy varies as expected with the seasons and the weather, from weekdays to weekends, and depending on schooldays or school holidays. 
It covers fifty hectares, and includes a hall, but this is not open to the public. Apparently the lease is owned by Whitbread/Beefeater but doesn't operate. Beyond the formal gardens is parkland, some of it beside the Wandle. The Wandle winds through and feeds the Wetlands that are managed for nature conservancy.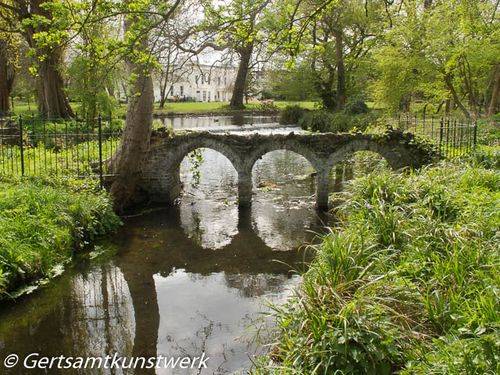 The photos in this post were taken on two visits, in April last year and late February this, both on weekdays outside the school holidays. On both occasions it was possible to wander, not quite alone, but without a sense of being crowded. As with almost everywhere I visit, most people stay close to the central area - especially the Rose Garden - or around the Garden centre and café. Few people venture outside the carefully delineated safe space. This is great, because it leaves the parkland and Wetlands almost deserted. Such a missed opportunity. So many parents of small children keen to get them in the open air and physically active. Not wrong in itself, but a sole focus on the body and ts achievements just encourages a self-absorbed narcissism. Whereas, kids who are encouraged to walk observantly in a place like the Wetlands can begin to see how different species are interdependent, for example how birds rely on a certain type of habitat. Or see the natural wastage of trees coupled with how humans manage the space. Obsessionally sportsing tends to lead to obsessional self-absorption and disregard for others. 
I have to say, I have quite strong views about how the National Trust make their managed land more attractive to children. Morden Hall isn't the worst example - more to come in future blogposts. 
In defence of the National Trust their 50  Things to do before you're 11 ¾ is inspired and doesn't need to be limited by age. But other activities seemed geared at encouraging children to charge around, using but ignoring the environment. Easter Egg hunts are a trivial but widespread example of this. I passed through the park this week, on a partial ramble of the Wandle Trail, and noticed that a few interpretation boards have been erected, to explain 'nature'. Well meant, but surely of little interest or use to anybody over the age of 7 or so. Words about toadspawn and Canada Goose Eggs, but no pictures of a Canada Goose. It seems an ideal place to put pictures of waterfowl and woodland birds, and the various trees that grow. It isn't difficult - because I've seen them elsewhere - to have boards that appeal to fairly small children and to non-expert adults. Perhaps something about the old and recent history of the River, about the waterwheel and the industry it supported.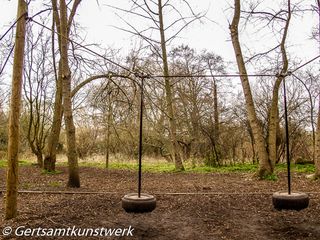 It's nice that there's an adventure playground - I didn't take pictures of the equipment children were playing on. It as only when I exited that I saw a sign that adults were only allowed when accompanied by children. Still, it's a bit like the signs that say 'keep dogs on leads in Wetlands to protect the birds' - no reason to pay any attention.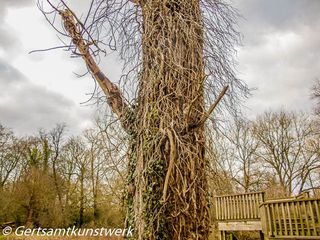 It's only when you venture from the manicured safe areas that you notice things. A tree uprooted, its roots standing vertical, taller than a human, as leaves (its own? anther plant's?) wind around the dying wood.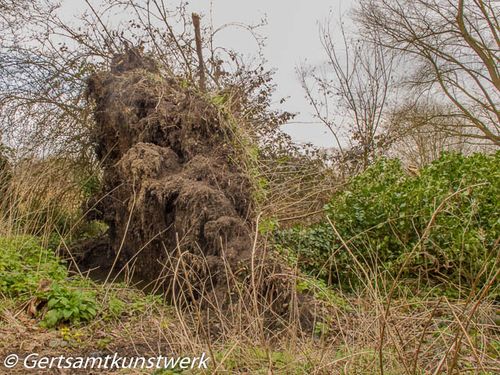 Sometimes it's nice to sit on the lawn for a few minutes. Sometimes, it may be a convenient place to pause when you're walking or cycling the Trail. Sometimes, it's better than nothing - a few weeks ago, in Richmond Park, I saw two parties sit down within feet of the carpark. One was a family of a tiny baby and toddler and all the equipment and panoply that accompanies them; the other was a couple including a young man who was struggling to 'walk' on his crutches. But it's amazing what you can see if you venture just a few hundred metres within the confines of an urban park.