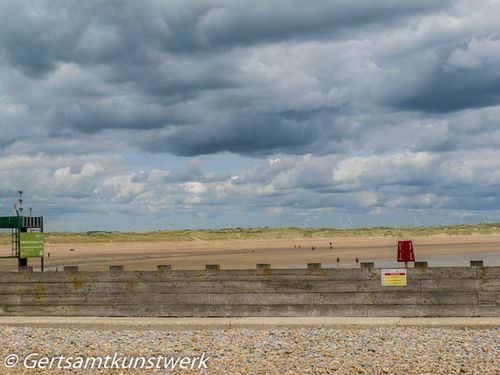 I was inspired for this walk by an AA book of walks in South East England, which, coincidentally, I bought in Rye a few years ago - photos in my Sussex photo album. The walk is available on line. I would rate it as 'mixed' - although advertised as a circular, it's essentially there and back, although on parallel paths. 
There's a decent café in the harbour, but without a coffee machine - but capable of making a good strong mug of tea. The history of Rye is slightly odd, with the town originally being on the coast - one of the Cinque ports - but violent storms in the 13th century changed the course of the River Rother and cut the town off from the sea. Hence Rye Harbour, little more than a hamlet, albeit one well geared up for tourists, being some distance from the bustling town of Rye.
As soon as we set out we encountered the rule of '100 metres from the car park'. Seemingly hordes of people, many of them acting passively-aggressively and/or attention seeking. "Oh look, we've friends visiting for the weekend and look at us we're going for A WALK. We're better than you and we're going to string ourselves out across the width of the path". And within minutes they had nearly all vanished into thin air. Corporate lawyer types, couldn't have got as far as the beach, but would probably spend the week boasting about their country walk.

We walked down to the beach on a path constructed across salt marshes and shingle. This part of East Sussex has much in common with England's only desert, Dungeness, just along the coast in Kent. A wide panorama of views, although perhaps not to everybody's taste.


As the path reached the shoreline, to our left was the broad golden expanse of Camber Sands, and to our left a shingly beach.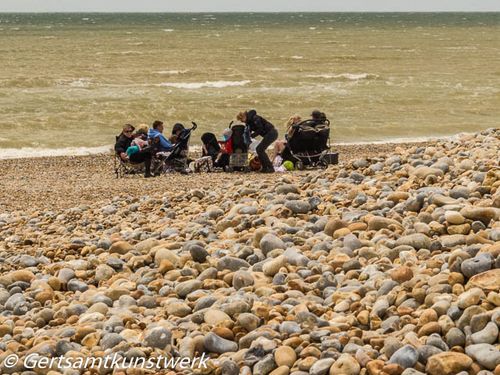 We turned right, and from then on encountered very few people indeed until we were within about 100 metres of the village of Winchelsea Beach. The walk was through a Nature reserve, with some occasional interpretation boards. It was quite strange, because for huge stretches we couldn't see the sea, because of a wall of shingle that had been built up, presumably for Coastal Protection.
The Nature Reserve includes Turnery Pool and several other expanses of water, ideal for bird watching. Indeed we went into the bird watching hide. I reflected that bird spotting or identification will never be one of my strengths. I'm not knocking people who pursue a hobby with almost negative impact on others. As part of the generation brought up on Ladybird, Observers and I Spy books, there's a vague part of me that feels I should have more knowledge about birds. But the idea of sitting for hours would bore me, and I'm really not a ticker of lists with an objective of completeness. 
We passed the abandoned lifeboat station and read about the Mary Stanford disaster. The whole of the 17-man crew of the Mary Stanford Lifeboat were drowned, practically the whole male fishing population of the village of Rye Harbour. Ironically, the ship they had set out to rescue had been rescued by another vessel, but the RNLB Mary Stanford crew didn't see the 'stand down' signal.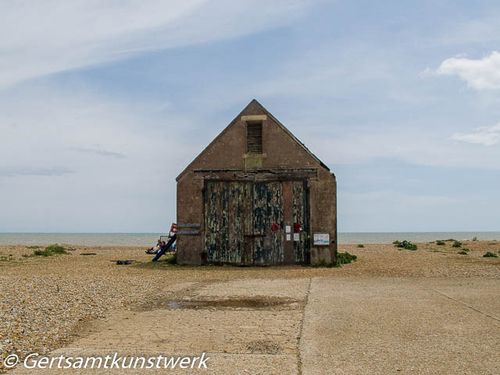 As we approached Winchelsea, people, especially dog walkers, became more prominent. One silly woman in her 60s in a red anorak. The dog bounded over to me, sniffing and invading my personal space, which I didn't like. She came out with that trite meaningless "He won't hurt you." I was quite angry when I told her that dog walkers say that too often - I simply don't want a dog bothering me. I suspected she was one of those who barely allowed her overweight dog any sort of walk, confirmed only a few minutes when we saw her walking in the other direction, barely half a mile.
Another woman walked slowly with a small yappy dog. I hesitate to criticise one individual, because I don't know her personal circumstances. She might have been ill for a long time, and this excursion, taking a friend's dog for a walk, might have been a major achievement for her and a vital step on the road to recovery. Or not. It wasn't that she was overweight - who am I to talk - but she had no muscle tone and didn't really seem to know how to walk.
In contrast, we saw another woman with a black lab. She reminded me a little of a friend of mine, the woman, not the dog, lean and strong and pushing 60. The dog looked fit and muscular. They moved briskly through the marshland, effortlessly but swiftly, the dog not on a lead but clearly under control and not bothering passers-by.
As I said above, the route back was effectively a doubling back, albeit more inland. Thinking about it now, we should have gone into Winchelsea Village and found a pub, but AA walks don't mention this. I realise they're trying to discourage drink-driving, but you don't have to drink alcohol in a pub. If you do, there is a legal limit, and if you've still got two or three miles to walk, that should reduce the alcohol in your blood stream. 
I was mildly interested by a row of houses that looked out over the marshes and out to sea. They had an air of solitude whilst not being far from neighbours or civilisation.
My phone battery went flat before I had finished the walk, and I didn't notice, so couldn't replace it with the spare. But it doesn't require much imagination to extrapolate from this map what happened next.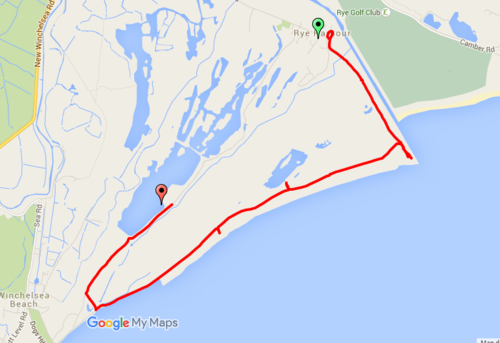 After we had eaten our packed lunch in the car park at Rye Harbour, we drove into Winchelsea. I actually really like this town, and the beach is amazing - pictures from January 2010
But you do feel that a proportion of the residents may have moved there because the name includes the word 'Chelsea'. Not the posh inner residential suburb but the football team. I noticed several union flags flying on homes, more than you normally see, and I suspected that it was a demonstration of 'nationalist' pride. Later in the day I read that the boatmen of Winchelsea had voted not to take part in the evacuation from Dunkirk, although, ironically, the town was used as a stand-in for Dunkirk for shooting a film in 1957. Patriotism is a funny thing, isn't it?
Tangentially I must relate an overheard conversation, 40ish mother, with 4 kids (perhaps not all hers) - 2 teenage girls and boys of 12 and 9. She mentioned that she had started with £200 and now only had £180 left. Charlie said she must have spent £30. Mum said that his Maths wasn't great. As an afterthought "It's a good thing you're so pretty!" His sister remarked that he's not even pretty. "Really, he hadn't got much going for him at this point!" Poor kid. Made me laugh, though.