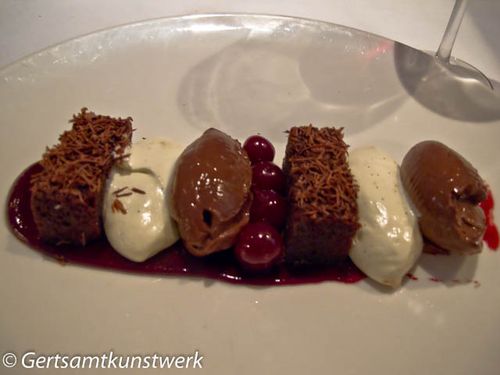 There is no denying that Trinity at Clapham is a superb restaurant. Adam Byatt is a really good chef. However, it is unlikely that we are ever going to return for a Sunday lunch there, and certainly not when Adam is travelling in the Far East.
We went just about a year ago. I really liked my food. I didn't note down the precise details of what I ate, fondly thinking that photographs alone would jog my memory.
I started with a delightful wild mushroom concoction.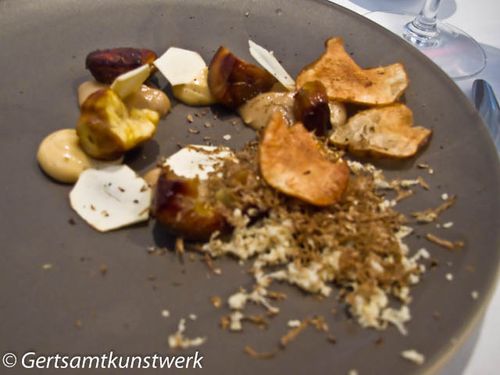 I say started but I had already demolished an amuse-bouche and quite a bit of their incomparable sourdough bread and home-churned butter made out of Jersey milk.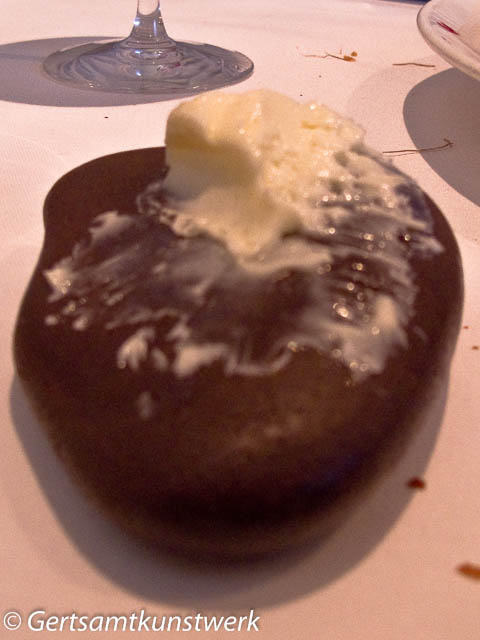 My main course was also a pleasure to the taste. I'm pretty sure this is hake, served with cockles,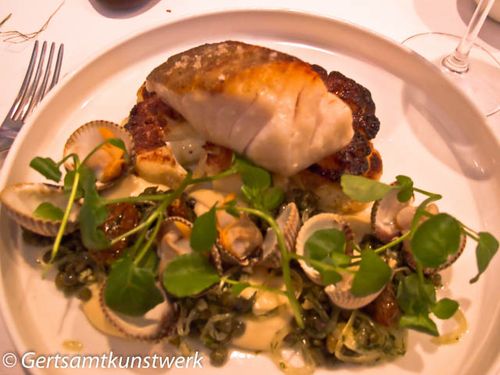 I finished with a deconstructed Black Forest Gateau, which was full of good strong tastes.
Jimmy didn't rate his roast beef. It was supposed to be an expensive cut, but he wasn't convinced. It was stringy to chew, and difficult to cut. He recognises that places generally serve beef pink, but this wasn't so much 'pink' as cold in the uncooked parts. He left half of it.
There was an unfortunate incident involving some other customers which I didn't think was the restaurant's fault. Somehow, some wine got spilled onto someone's lap and the blame was attributed to the waiter walking past. Admittedly I didn't see it happen, but I felt that it was a group of people who want to create a fault in order to bully the restaurant into giving them freebies. I also sensed the restaurant staff knew this, too, but their hands were tied. We were coming to the end our meal, and also sensed we would help them a lot if we could leave our table, so they could combine it with the next, empty one to re-seat the complaining guests.
But worst of all was the coming-together of the Clapham Yummy Mummies. They behaved as if they never went out, barking, braying and boasting in loud voices, as if they needed to impress. Who? Why? How - it takes more than that to impress me. And to cap it all, they had a baby with them, under a year old. The baby was sick. And we had to endure the rest of our meal in an odour of baby sick. Maybe the Clapham mummies regularly spend £65 a head on dinner, but we don't, and we don't like to eat in the atmosphere of baby sick.
However, we did go back for the New Year's Eve tasting menu, and that was the right decision. There were several children at the early evening sitting, but they were children who had been brought up to appreciate a good restaurant, to sit up at table, and not run around, whose parents had the novel idea of conversing with the children, and not at them - exactly the sort of fellow diners you should expect at a fairly pricey quality restaurant.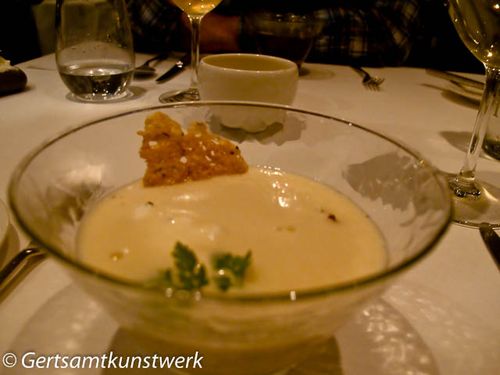 The food was exquisite, and very little to criticise. We did have to wait a while for our first course. We were offered amuse-bouches soon after arrival, and were also kept supplied with a plentiful supply of the above-mentioned sourdough bread, freshly baked, which, perhaps unsurprisingly, proved to be my downfall.
Before booking I had checked with the restaurant and it was no bother to accommodate my non-meat tastes into the set tasting menu. I think they also had a vegetarian alternative. We decided to go wild and accept their recommendation of a glass of matched wine with each course, although some of our fellow diners, perhaps sensibly, opted for a bottle or two to last the length of the meal. 
A tasting menu suits the restaurant perfectly. They know exactly how many to make of each dish and they can keep turning them out, almost like a production line. I think it works well for a busy evening like New Year's Eve. I started with a Roast white onion soup with truffle and curds, while Jimmy had Consommé of roast chicken and morels. My matching wine was Anjou Domain Rene Mosse Blanc from the Loire. I liked how they brought the bowls to the table pre-filled with solid and elegantly poured the soup round it. I'm a sucker for eating-as-theatre!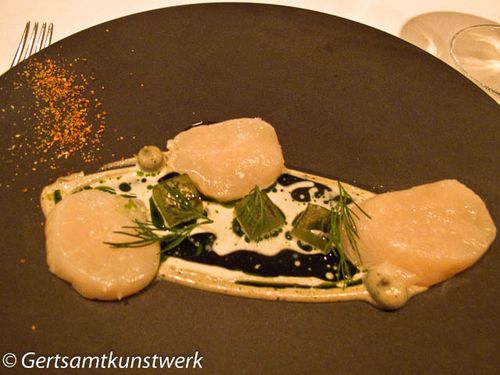 We both had Orkney Scallop Ceviche, with Rosehip Pickle and Charred Cucumber. We both judged this to be the star of the show. We both love scallops anyway, and these were a class apart. We teamed this with an Argentinian:  Alamos Torrontes.
The next course was also identical for meat-eaters and non-meat eaters alike. The accompanying wine was a South African Chardonnay, Hamilton Russell. I'm not a great Chardonnay fan because so much mediocre stuff is sold for the mass market. However, this was very quaffable and went well with the Gnocchi Parisienne, Cauliflower, Truffle and Parmesan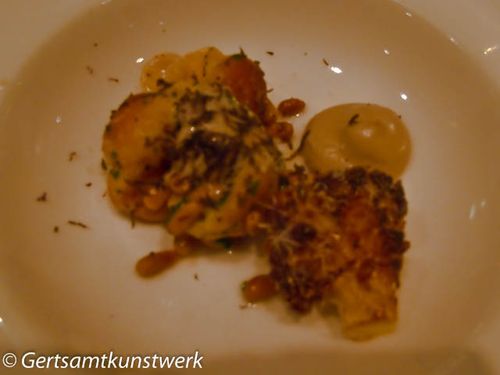 Not at all a good photo but I don't like to use flash in restaurants so am dependent on ambient lighting. If I'm in a hurry to take the photo - usually one shot and then eat, especially if it's a hot course - I might move. And I was probably halfway drunk by this point.
I followed with Seabass, Pumpkin, Chanterelles matched with another decent Chardonnay - Toques et Clochers "Haute-Vallée" from Limoux. Jimmy had Salt-crusted partridge, artichoke and roast chestnuts.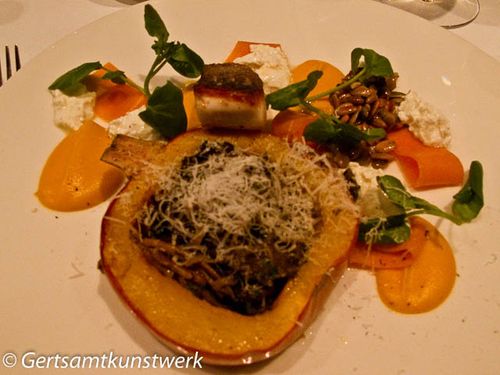 This was probably my least favourite course. Everything tasted fresh and was cooked very well, but I didn't think the overall combination particularly worked.
We were approaching the home straight, with Black Forest, served with a Moscatel  - Lustau Emilín.
The finale to the meal was Truffle baked Vacherin Mont d'or, with Savagnin, Domaine Daniel Dugois from Arbois. I am one of these people who usually takes an awful long time to realise that I am full and so carries on eating. But by this point I knew I was full and didn't get to fully appreciate the Vacherin. It almost hurt to put it in my mouth, which was a pity. I was well stuffed!
I'd do the tasting menu again, with the matched wines, as long as I didn't have to get up the enxt morning. But I would definitely eat a lot less ovenfresh sourdough bread.
Previous blogpost on Trinity
Some other people's blogposts (some more pretentious than others)
Trinity Clapham – British cooking done right! - Motley Spicer
Trinity, Clapham Common - Last Friday Night
Trinity, Clapham - TwelvePointFivePercent
Second Restaurant review – Trinity, Clapham. Michelin star or not??? (I'll be the judge) - Alexsfood