I made this in honour of National Pie Week in early March. I have been told by a Self-Appointed Pie Expert that dishes can only qualify to be pies if they have pastry on the bottom and sides as well as the top. Wikipedia suggests that what I made was a Cobbler, which I find a bit odd, because a cobbler has something more resembling scone than pastry to top it. And, of course, when you say fish pie people tend to assume you're doing a mashed potato topping. It's enough to make a simple blogger sigh.
I sent my manservant out to Brixton market to procure the goods, the fish and seafood ingredients. And I set to spend a great deal of time in 'prep'.
Actually, a very simple dish to cook, especially if you use shop-bought puff pastry. Life being way too short to actually home-make puff pastry.
I soon got squeamish as I peeled the raw prawns. Then I didn't even bother taking a photo of the haddock fillets, smoked or fresh, I was that hard/cynical.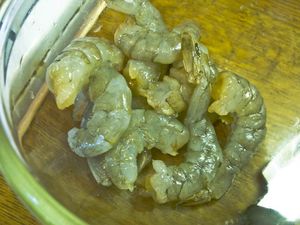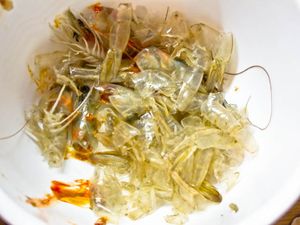 But I thought all the effort I put into chopping the parsley and spring onion merited a photo. Even though I did wonder whether I'd chopped too much parsley and it would taste only of that and of nothing else.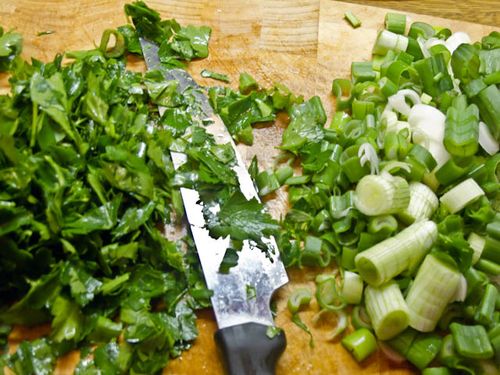 The next stage was to make a Béchamel Sauce, starting with a Roux. Thankfully, the recipe didn't phrase it that way, because if it had, I would have panicked, remembering my old O-Level Home Economics teacher (yeah, that's what it was called back then, because 'Cookery' was far too trivial to teach at a Grammar School. Fools.). She impressed upon us how difficult it was to make the classic French sauces, pessimistically assuring us that they were bound to be lumpy. Perhaps thinking lumpy schoolgirls were not worthy to approach the Holy Grail of French classic sauces, which are taken way too seriously for what they are.
So, melt some butter and stir in some flour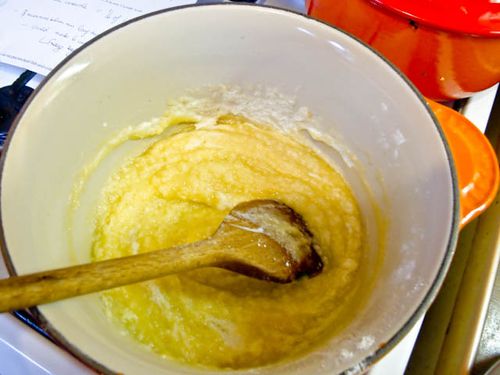 Then stir in some cream and some cider, add the fish and the greens, and le voilà
Bung it all in a cooking utensil - in this case a small silicon loaf-tin, for the freezer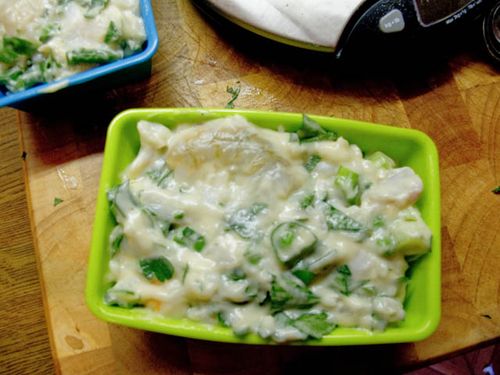 Stick some pastry on it, cook it in the oven, and take it out to see your cooking utensil transformed (No, not really. Obviously, I didn't cook the ones that were going in the freezer.)
And, hey, a picture of a pie, which is a pretty rubbish thing to photograph, what with one pastry-covered pie looking a lot like another pastry-covered pie.
And you have to take my word that they taste very very nice. One to make again, for certain.
Thanks to Delicious for the recipe