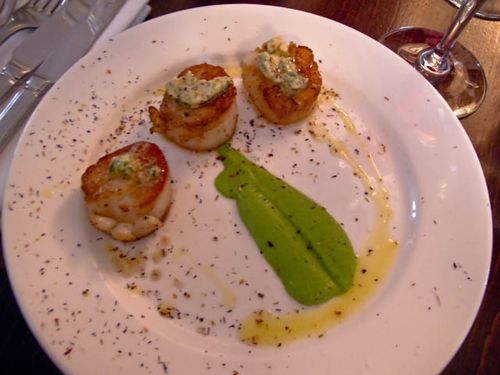 We first went to The Exhibition Rooms on Westow Hill soon after it opened. We don't go as often as we might, because it's awkward to get to, but, consistently, it delivers well cooked and well-presented food, with an emphasis on seasonal and English. It seemed like a breath of fresh air when it arrived, but it does seem a bit dated now, maybe four years after opening. 
I think they need to re-think their website. Jimmy is always more enthusiastic about visiting than I am. I am never clear whether they have the current menu on the site and there are usually errors and broken links. For example, as I write, they are currently listing their desserts as Buttered new potatoes, Mixed leaf & herb salad etc; they have a few admittedly pleasant photos of their décor but are surprisingly coy about their food. I suppose they're busy enough so don't need to worry about their website, but it looks tired and lacking in attention to detail.
In actual fact, when I do go there, I am pleasantly surprised by the quality of the food. It's not perfect; for example, on this visit, Jimmy got a roast and the accompanying vegetables weren't worth the effort, and there have been a couple of other minor things of that nature. There appears to be a general criticism of the lack of vegetarian choice - I eat fish but not meat - and often, I feel I could happily eat three or four starters and choose a main by process of elimination.
On this occasion, I started with Caramelised scallops, having being assured that the crisp pancetta was not an integral part of the dish and could easily be omitted. This was served with pea and mint puree,  and hazlenut butter. Very nicely cooked, juicy and succulent. I notice on the photo, and the same goes for the pudding that there was an inelegance in executing what was supposed to be elegant presentation. However, I didn't even notice when it was presented to me, and this probably shows that the camera captures in a sixth of a second what the eye edits out
My main course was Tranche of Halibut in a warm salad of new potatoes & marjoram, confit lemon and salsa verde and fennel seeds. Again, I couldn't fault it, although, conversely, I have to take their word that it was lemon and salsa verde and fennel seeds. The portions are hearty, and generally well-presented. Jimmy used to complain about the portions being too small, but he seems to have changed his tune. I think he's realised that they're well balanced; I think he's also been to more poncey restaurants where the portion size leaves much to be desired.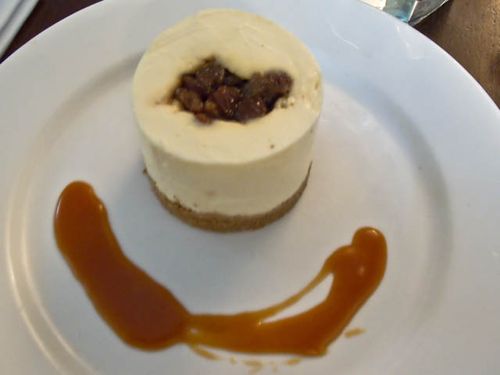 My dessert was rum and raisin cheesecake, which actually tasted better than it looked. When I was eating, I didn't even notice the heavy handedness with the toffee sauce - even though my hand clearly shook when I took this snap! The cheesy bit might look a bit artificial, I can assure you it isn't.
Overall, I would give high marks to the Exhibition Rooms. I love the light and airy decor, and I think they make the best use of their space: plenty of tables, but I've never felt that the people at the next table are too close. Unfortunately, on this occasion there was a multi-generational family where pudding was accompanied by running round and under their table, but that seems to be de rigeur almost wherever you go for Sunday lunch, so I can't blame the restaurant. 
I will undoubtedly go back on more occasions, but they need to be aware that there are an awful lot of very good eating places that have emerged in the southern half of Lambeth, and there is no longer the need to go to Crystal Palace to eat. They also need to ensure they keep an eye on trends, because I suspect that they already appear way behind to expert foodies.