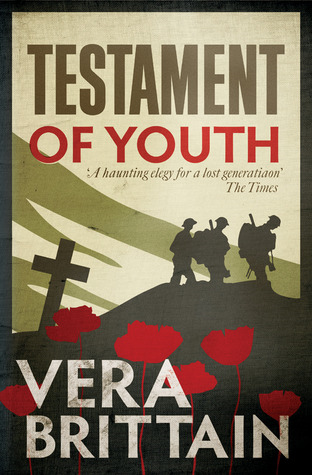 No book - or other creative work by someone else has ever 'changed my life'. However, this book has twice had a deep influence on me. I first read it at the age of 13, having seen the second half of the serialisation on the TV. I started reading it again at Christmas 2014, in acknowledgement of the centenary of the First World War. 
It wasn't the first book for adults that I read, but it was the first book that was so difficult to read - and satisfactory because of that. As an aside, I will admit to skipping most of the poetry. WW1 inspired a lot of poetry, but, in my opinion, very little can match even mediocre prose. But this is typical of me. Although I like some poems, I'm not a fan of Poetry, and rarely find poems that move me as much as prose.
The basic synopsis is well known. Vera's father was self-made and clearly comfortably off - she and her brother both went to boarding school. When War was declared, her brother and his friends, being dutiful public school boys, signed up for military service. She deferred her studies at Oxford and signed up for the Voluntary Aid Detachment (VAD), unpaid nursing assistants. She served in London, at a hospital opened in a school building, as an extension of King's College Hospital, and in France and Greece. Her brother, his friend and her fiancé Roland and other good friends were killed in military service
The meat of the novel lies in her vivid eye witness accounts of this service. Although she never saw fighting conditions first hand, she saw the aftermath and impact in the military hospitals, and she was deeply affected by the deaths of so many men of her exact generation. She also had battles on the Home Front - for example, being summoned home from her war work by parents failing to cope with the departure of servants, which did strike me as being extraordinarily selfish.
Several things permeate this book, most of all melancholy and depression. Nothing I have read or seen since conveys so powerfully the lack of hope, the futility. And afterwards, her disinclination to celebrate the Armistice, and when she eventually went to University, her conflict with younger students who wanted to forget all about the War. It was interesting reading about her and Winifred Holtby. They shared a flat together in Fitzrovia, which, I suspect would not have been allowed before the War. Vera toured around speaking on behalf of the League of Nations society. I find this startling.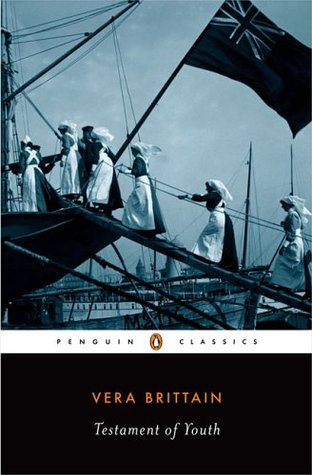 I can see why someone like Vera would see such a desperate need for peace, and at the time, the League of Nations was seen as the greatest hope. But even though I have been an activist in the past - and acknowledging my benefit of hindsight - I don't see how earnest meetings in Village Halls could have made the slightest difference to what transpired in the Thirties (this was published in 1933).
She and Winifred visited Germany in the aftermath of War and Reconstruction, and I would have liked to read more about this (I have subsequently read Patrick Leigh Fermor's A Time of Gifts, a very readable account of his travels through Netherlands, Germany and Austria and in 1934.
I realised reading this last year that Vera's writing style had deeply influenced my own teenage diaries. I was less influenced by her fight for Higher Education. She was born in 1893. My Great Aunts were born in 1888 and 1894 and studied at Newnham College Cambridge and fulfilled all the requirements to graduate, except one. Cambridge forbade women to graduate until 1948, whereas Nottingham admitted women on the same basis as men right from its start in 1881 as a University College of London University. Vera Brittain was part of the campaign for Oxford to award women degrees, in 1920.
I went to a girls' school in the 1980s that was very keen on preparing pupils for University, or, as it was then, Polytechnics and colleges of higher education. It was implicit that by going to University you were giving yourself an advantage in the job market. Many of my school contemporaries are now successful in the professions and business. It was only because of obituaries three years ago that I discovered that one classmate had become a Professor. Like the few University friends who undertook postgraduate studies, the focus was on applied science.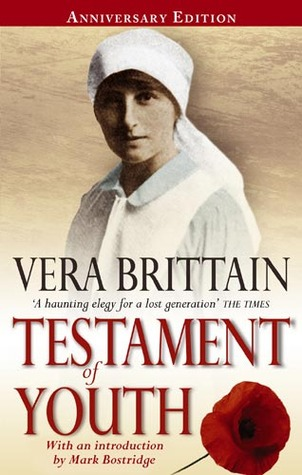 Vera was different. Her aim of going to University was to enter the Academy. As it happened, by being a writer she applied her skills. But I have to confess to being puzzled by this desire to perpetuate academia, as if it were an end in itself. I'm not phrasing this well, because I know numerous people who teach in schools, and some that teach in Higher Education, and those institutions and young people would fail without them. And many people carry out research with more freedom and effectiveness in Universities than they would in industry. Perhaps it's my prejudice against English Literature (the subject she studied in 1914/15, switching to History after the War). I should also acknowledge that Vera's struggles even to be admitted to University and for women like her to be awarded degrees, is not something that my generation experienced directly. But I've seen this in other books - the desire to go to University in order to spend your life at University, when, even then, there was a whole world out there to discover - as Vera did.
I don't think that the 1979 BBC2 serialisation has ever been repeated. I am still waiting for the 2014 film to appear on TV (It's available to 'buy and keep' from Sky but not to rent, let alone to watch 'free' as part of my expensive package).