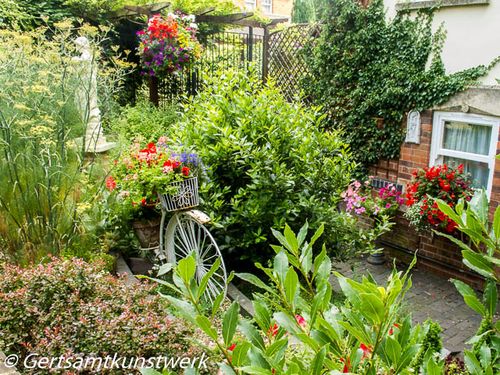 Long before we went away to Northumberland I booked intermediate stays for the journey. On the way up, this was partly to manage the Tour de France Grand Depart, conscious that you don't really want to arrive in your holiday let at the dead of night. I thought that if I booked a stopover on the way back we could amble through middle England rather than watch it fly past the car window. In the event the weather wasn't with us - we got caught just south of Sheffield in a near-visibility rain storm and were relieved to arrive in Newark.
I immediately fell in love with The Grange Hotel and its tranquillity, a welcome contrast from the oppressive still air. A small party ate afternoon tea in a small dining room, and in the garden two or three couples lingered in discreet corners. Within moments this garden was added to my small list of happy places. I'm sorry that my photos didn't do it greater justice.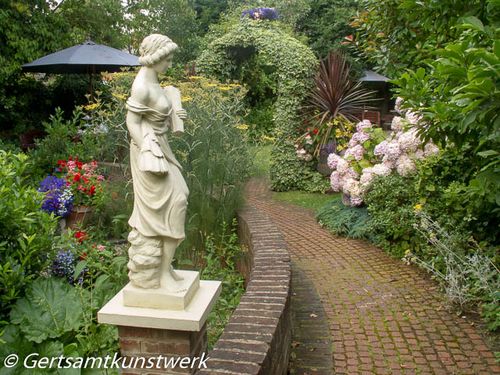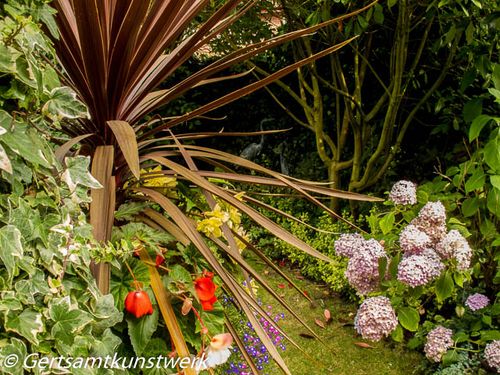 The photos don't properly show how the garden is divided into 'rooms' and bordered by thick hedges which muffled the inevitable traffic noise from the nearby London Road. The hotel is family owned and run, and love and hard work has gone into the garden. The space was well used: near the house were flowerbeds overflowing with expansive plants. Further away were spacious lawns with elegant statues, and tables and gazebos where you could sit and relax without being cheek-by-jowl with other guests.
We walked down into town. Despite three years in Nottingham I had never been to Newark. Some friends cycled there once but I was already committed to going to see Mansfield Town play Bristol City. I was looking forward to wandering round the  historic town of Newark and perhaps along the Trent. I liked everything I saw in the town but the weather was increasing in humidity and - I'll repeat myself here - oppression. We could feel it was about to turn and hurried through the Market Square (around which the commercial centre of the town is built). As the raindrops started people were beginning to hurry. We had not got far up London Road when the rain became heavier and heavier and we were soaking. Nowhere really to shelter, it made sense to try and get back to the hotel. Amazingly and randomly, a woman stopped her car and offered us a lift, so I shall always remember Newark for the kindness of strangers. 
I took some rain photos from the bedroom window.
In the evening we ate in their Cutlers Restaurant, quite a strange experience. The food was of a high standard, and I liked the restaurant decor, reflecting its theme with tasteful displays of vintage cutlery. Service was fine, the same chap who had checked us in and served our tea earlier.Their website says it is award winning and invites people to book for private parties and the usual calendar events. But the only people eating there were hotel guests. If I lived locally, I would be happy to eat there from time to time. I can't imagine there being so many restaurants in a fairly small town that offered such good food at reasonable prices. Perhaps they regarded it as an extra offer to B&B guests, rather than being a restaurant per se with all the additional hassle. Yet, it was too good to be just for the convenience of hotel guests!


The plan had been to spend the sunday pootling down through Eastern England, but the day was oppressively hot with heavy rain forecast. Indeed, when we got home, Jimmy immediately watered the garden and went down the pub, only to be 'trapped' in the pub by a Biblical downpour which was soon trending on Twitter. He wasn't amused when I pointed out he needn't have watered the garden!
I'm sorry I didn't see more of Newark, because of the weather but I'll always remember fondly The Grange.