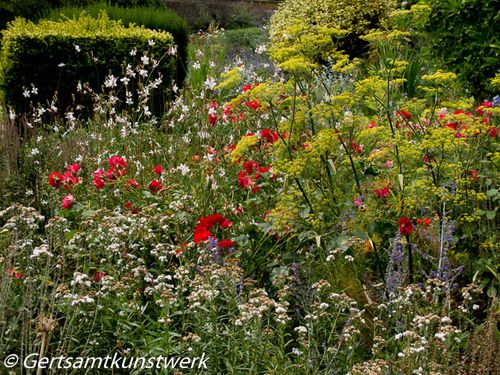 I have discovered several folders on my PC dating back a year and a half that I haven't yet got round to blogging.
Here is a collection of photos from Brockwell Park, taken mainly in August 2014 and a few in that November. I walk up to Brockwell Park fairly frequently, although perhaps not often enough considering how near it is. It's a wide open space in the heart of dense housing, and being on the top of a hill, on a good day it affords great views of central London. But it's not my nearest large open space, and, anyway, sometimes, when you go for a walk that's what you want to do, walk, and look and listen, not obsessively line up snapshot after snapshot.
I know that many people have a different take: if you go frequently to the same place, there is a fascination in monitoring how it changes through the seasons and over the years. But I don't have that eye for detail, and, ultimately, I don't have the curiosity or interest.
There are two main aspects to Brockwell PArk (apart from its built facilities - pitches and courts, playgrounds, greenhouses, cafés, BMX pitch, model railway - I've never been on). The panoramic views, and the walled garden.
I think that the park used to be too manicured, too municipal. But in recent years, there has been a concerted effort to diversify the terrain. For some reason I have no pictures of the wildflower slope by the lido, but I have been pleased to see great pastures of grass allowed to grow and not cut over-frequently. In the past decade more managed spaces leave dead and fallen trees, rather than carting them away.
The ponds have been re-done; I've always liked them for their apparent wildness, although, like much 'wildness' it benefits from being managed.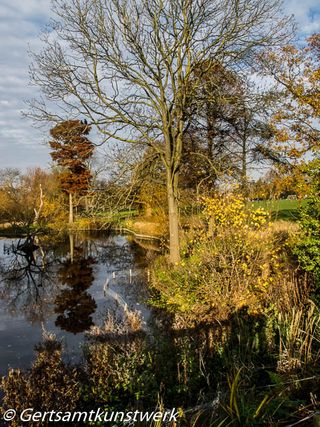 There's a weird little model village that just sits outside the walled garden. Apparently it dates from the 1940s, and I suppose it serves some momentary fascination for toddlers, but, other than providing backdrop for photoshopped signs satirising Foxton's Estate Agent, it has limited appeal.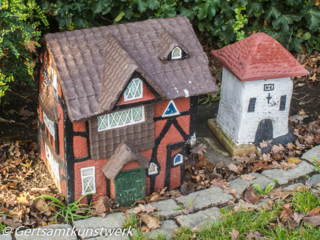 I have an inbuilt hatred of what, years ago, I sneeringly called 'municipal borders'. It doesn't surprise me subsequently to find other people using that or similar phrases and sharing my disdain for the regimented uninspired planting. Some vestiges do remain in Brockwell Park.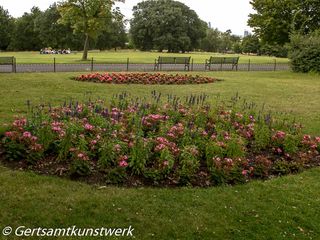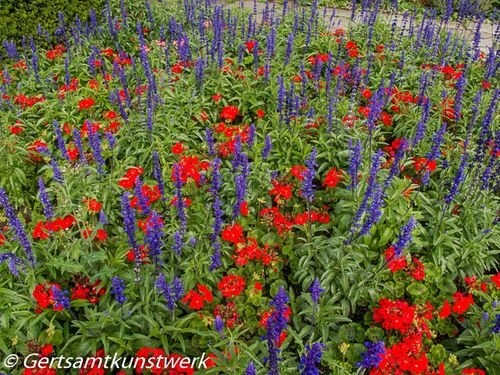 The Walled Garden is legendary, especially among locals. Many people, especially flat dwellers without a garden of their own treasure its seclusion and quiet. Or, at least, people hope for this. Unfortunately, there always seem to be one set of parents who sincerely thinks it's the perfect space for their child to run around screaming. The park covers 50 hectares; apart from during events such as Lambeth Country Show and Fireworks, I have never seen it so crowded that you can't carve out a sizeable patch of grass for yourself, as many people do. But for whatever reason, a tiny minority think they trample on the rights of adults who wish to read or contemplate, or admire the flowers. Yes, I know that children benefit from exercise and use of space, but they also need to learn about how different spaces are used for different purposes and require different behaviour. I wouldn't go into a children's playground, sit down with my cider and cigarettes and start photographing the children playing. And walled gardens aren't for screeching and running.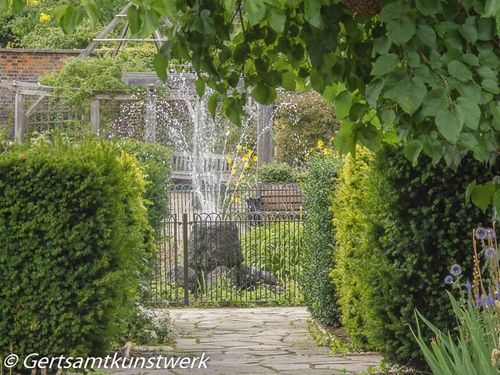 I used to feel that the walled garden was worthy but dull, too many roses with dead heads and so one. It was done up about 3 or 4 years ago, and it seems that it has been taken over by a Community Group. I can't say I'm comfortable with volunteers replacing paid staff. On the other hand, given the swingeing cuts councils are forced to make, that lead inevitably to job cuts in parks and gardens, volunteer labour has to be welcomed. And I presume the volunteers get something tangible out of it - exercise, wellbeing and a chance to garden they might not have in flats or short term lets. And the garden looks superb as a result.
Part of the pleasure of going to parks is the walk there. Always good to have a nosy around neighbouring roads, see how the area is changing. And to spot interesting features en route.
 And the stained glass in the local Methodist Church. Actually, not the best stained glass in the area, but in urban areas it's quite difficult to get into churches, understandably.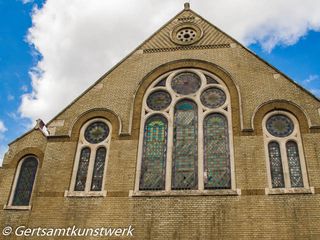 Brockwell Park photo album