Last year, I interrupted my long-planned Olympic leave to travel to Durham at short notice for a work visit. The usual hotel in the city centre was unavailable. I suspect that that was due to football happening at St James's Park Newcastle at the time. Several teams involved, and their entourages and fans, demand more hotel accommodation than a normal run-of-the-mill League match. Instead I booked in a place called The Honest Lawyer, in a village called Croxdale just outside the city. One colleague was sniffy, pointing out that it was a motel. I had stayed in a Best Western in Bournemouth a few weeks earlier, which served exceptional food, so I thought I would try this. 
I arrived on a glorious summer's afternoon, which became a glorious summer's evening. In such conditions, a motel was a bonus; a conventional hotel would have felt claustrophobic. Instead, just outside my bedroom window was this view
The room was ideal for a short stay. I lost count of the number of power sockets in the room. So many hotel rooms have too few. It especially annoys me when I can't put my phone on charge and keep it on the bedside table. The hotel had free Wi-fi, a sine qua non for me these days. 
And dinner was very good. It wasn't as fine as the dining in Bournemouth but that would be difficult to match. But I would certainly go back again - although the city centre hotel is more convenient for the office. 
I started with an Arnold Bennett omelette. I had never previously eaten one, and had only vaguely heard of them via a TV programme where some model pretended to cook, to universal derision. It is named after Arnold Bennett, an author who hailed from the Potteries. 
While he was staying at the Savoy Hotel in London, writing Imperial Palace, the chefs perfected an omelette incorporating smoked haddock, Parmesan cheese and cream. He insisted on it being served wherever he travelled and the Savoy serve it daily to this day.
Recipe from Delia and Recipe from Nigel. Delia describes it as a flat but fluffy open-faced omelette made with smoked finnan haddock.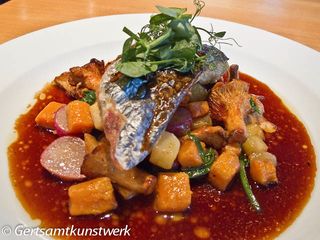 My main course was  Oven-roasted stone bass with girelles, sweet potato & radishes. I hadn't previously heard of stone bass, and am not sure whether it's actually related to sea bass. apparently it's also known as Atlantic wreck fish, and there seem to be plenty enough recipes on line featuring it. It was tasty, and I'd certainly eat there again, although it wasn't outstanding.
Having had such a pleasant evening meal, I was disappointed in the breakfast. I've had worse, but I wouldn't recommend this one. That having been said, when I realised it was going to be a long wait to get my small cup refilled from the wandering jug of coffee, one of the staff did sneak me a latte from behind the bar rather than the weak tasteless probably instant 'filter' coffee that was on general offer.
And, I'm afraid, having stayed at the Best Western in Sheffield, which produced a long list of trivial faults, which added to up to quite substantial dissatisfaction, I'll be giving Best Western a miss for a long time.