I'd read positively of Brazas, and decided that it was worth trying. It's sort of quite close to where I live, but I just never go up Tulse Hill, never have any reason to. Once  upon a time, it used to be the Two Woodcocks, which I've never been in. I like the way that the interior is recognisable as having been a pub, and yet modernised. Accusations of gentrification, of course, because this is Brixton, and Brixtonians are never happier than moaning about Gentrification, which results from Yuppie Flats.
It's a good, local restaurant, and one we intend to go to again, and fairly soon. It was probably not wise going here just a week after going to Trinity. They're aiming at different markets. We went to Trinity for my birthday; we went to Brazas for a pleasant Saturday night out. We paid three times as much at Trinity.
One thing that attracted me on the website was a clear distinction between meat, fish and veggie dishes. It's like they take veggie seriously, not just tack something on grudgingly because they feel they have to. They also had a Specials board, offering a 2 mains for £15 deal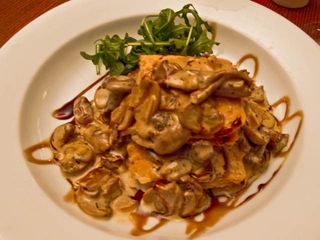 I started with Wild Mushroom Strogonoff in puff pastry sheets; Jimmy had Chargrilled Chorizo w black honey syrup & toasted bread. I'm sorry I didn't photograph that, because it was very eye-catching, even to me, although I wouldn't have eaten it! And their website Gallery is not good. They'd be better off without one - it makes it look like a cold unwelcoming place, which it isn't, and there are no photos of the food.
There was no sophistication in how the stroganoff was presented, but it was very tasty. The puff pastry sheets were noteworthy - a nice crumbly texture - and the Stroganoff was comforting. The right consistency, creamy but not greasy.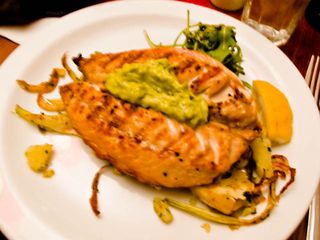 For mains, I had Chargrilled Whole Filleted Mackerel, crushed potato & fennel w gremolata. I Googled gremolata on my phone, having never previously encountered it. The presentation was rustic, unfussy, good home cooking. The photos don't really do it justice, partly because I didn't use the flash, and partly because their presentation doesn't do the food's flavour, preparation and cooking any favours. It's a moot point, I guess, because too much focus on plating turns it into poncey food, which is less comforting. Jimmy had the chargrilled piri piri chcicken and new potatoes, which he really liked, although he could have done without the sad salad - undressed green bits and only four halves of cherry tomato worth rescuing.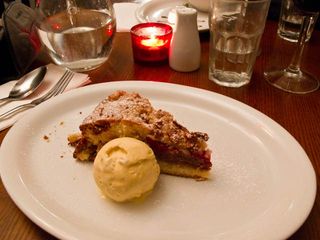 I finished with Blueberry, Raspberry and Amaretto Cake w vanilla ice cream, which again didn't really look all that, but tasted  delicious as it melted softly on my tongue. I also had some booze, so I tweeted 
Like the Flying Dutchman is doomed to sail the oceans forever, I feel my future lies in roaming round Brixton eating almond cake
I guess at the time I thought it was poetic!
So, to conclude, a good quality local restaurant that I couldn't really fault. Friendly staff, relaxing atmosphere, well-made lovely tasting food. Good value for money.