On my bookshelf I disovered a little book called Discovering Offbeat Walks in London. Eight different walks of attractions that are omitted from the standard tours or are inaccessible from an open-topped bus. The book has its flaws, but it's pocket-sized and has clear directions, and having done two of the walks, I can say they are not too strenuous for someone like me.
We arrived at Green Park underground at quarter to one, and finished our walk at half three, having stopped en route for coffee and beer.
We did this walk in mid-January. Saturday afternoon is always busy in London, and a gloriously sunny, if cold, afternoon in midwinter is probably going to busier than most. The Tube was busy and, at the end, Oxford Street was heaving, but, in between, we walked along streets quieter than a typical country village.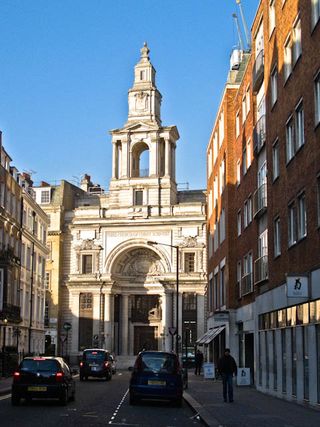 We strolled along Piccadilly until Jimmy decided that - going against the book's instructions - we should walk down Half Moon Street to take a closer look at the Third Church of Christ Scientist. We had shunned Starbucks and Pret as purveyors of crap coffee, and were about to go in Cafe Nero, but we spotted an independent Lebanese cafe. We always prefer independents to chains, given the choice, and we had good coffee at Beiteddine Express. Jimmy had some snacks, too, which he said tasted good, and even I was impressed that the kebab spit clearly contained proper slices of proper meat.
We passed the bookshop where Nancy Mitford had worked, before entering Shepherd Market. I had been there 21 years ago with a then boyfriend, but, surprisingly, have never been back. I think I shall return sooner than 2033! Some almost laughably chi-chi shops. One, sadly not open, had a sale on, and was selling stuff like decorative twigs. The jewellers were real, a diamond ring for a five figure sum casually displyed in the wondow, its many facets glinting in the low bright winter sun. The toy soldier shop attracted the eye, all superbly crafted, and not a price tag in sight.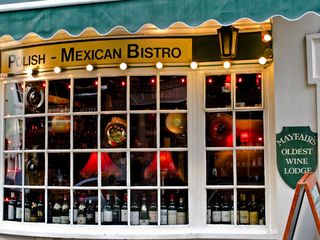 We looked at several restaurants - but it was too early to eat. None of them stood out, except, perhaps the Polish-Mexican brasserie, but I made a mental note of them collectively, as a possible alternative to the perennial Covent Garden. All of them looked priced at Central-London-reasonable ie more expensive and less exciting than trendy South London, but not 'Mayfair'! There are four pubs: we randomly chose the Market Tavern, which was good, notwithstanding me being served ale in a 'Lady's glass' without being asked!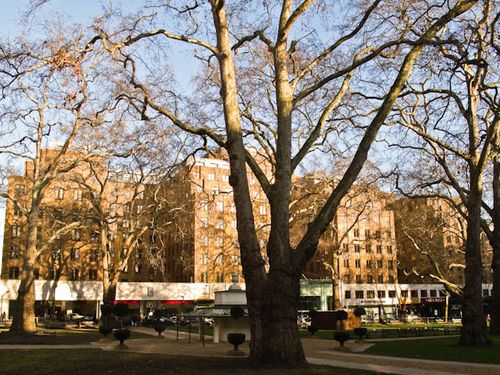 We walked via Charles Street to Berkeley Square, listening out carefully, in vain, for a nightingale! It's a strange place - a largish square with old townhouses on one side and fairly ghastly post-war commercial premises on the other, and famous London plane trees in the middle.
From there, onto Farm Street and a look around the Jesuit Church. Now, I'm not into religion, but I do like walking round them as a tourist, taking (non-flash) photos where it doesn't affect other people. I also feel that, as I use them as a tourist attraction, I should put some money, my "admission fee" in the box (they always have boxes).
Also on Farm St is an attractive looking pub, The Punchbowl, where we paused for another drink. While in there I read a review where someone mentioned they had spotted Guy Ritchie. I had to rack my brain to remember who he was and very certain I wouldn't recognise him if I did see him. It wasn't until later that I learnt that he actually owned it, as had his ex-wife Madonna before their divorce.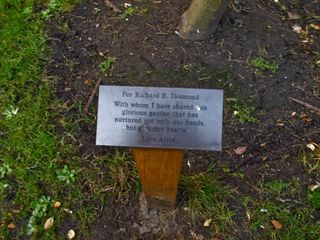 .
  After there, we diverted slightly from our route to admire Mount St. Gardens, which are more than a pocket park, although probably not a destination in themselves. A pleasant little garden, and I was moved by the plaque I found planted there.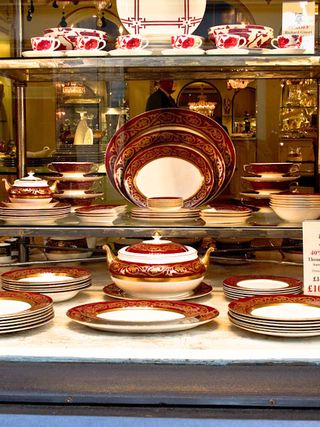 Onwards into South Audley Street, which is definitely worth a stroll along, even if just to window-shop and laugh
We spend some time looking in the windows of Thomas Goode, which claims to be the largest china and glassware shop in the world. I do like a nice dinner service, and acquiring one would seem to be one of the few reasons to get married. Perhaps the only reason...! I also appreciate that tastes differ, and also that to build up a proper dinner service eg Wedgewood from a shop such as John Lewis is going to run close to four figures, and yet people who are super rich can spend thousands like I spend tens. Even so, I could not get excited about the £7000 reduction on a set proudly displayed in the window and looking like it wouldn't be out of place in a tired unmodernised suburban curry house. I can't see the need for those crescent-shaped plates, and I wonder why it lacks coffee cups. 
We proceeded down the road, which just got sillier and sillier: a table display featuring...twigs. I said to Jimmy, mark my words, twigs are the next big thing, fashion-wise. Perhpas summing up my disdain for the utter futile superficilaity of 'fashion' per se*. But, after all the tat I saw, I think that possibly the most egregious was this toilet. Obviously designed exclusively with the (straight) male in mind, it shouted out bad taste. If I had the misfortune to be invited into the house of someone with this toilet, I would run for the hills, wondering exactly what sort of pervert was so keen to pee so close to a woman's breasts...or my mind would wander to other more unsavoury possibilities.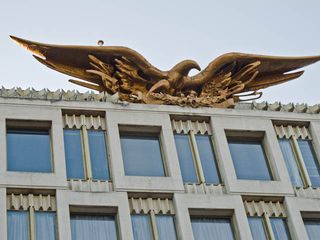 We finished off by strolling down to Grosvenor Square and looking at the US Embassy. A more boring London square you could not imagine, so we passed through swiftly. Although not before posing with the most unusued, dust-covered phone!  We headed in the direction of a visible road with obvious bus routes - which turned out to be Oxford Street - and ended the afternoon in the forgettable indifferent Marlborough Head pub for a swift drink. A bus ride took us to Covent Garden and an early dinner in one of our favourite chain restaurants.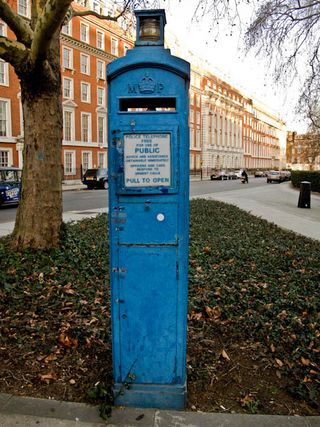 * I'm not anti manufacturing, or proper design, and acknowledge their role in job creation, exports etc, and I would be a hypocrite to condemn people for buying Nice Things, but I've never worked out who decides what is 'fashionable' at any given time, how they are elected, to whom they are accountable, and why people make themselves miserable with the thought of not being 'in fashion', rather than trusting their own eye and having what seems nice, for its own sake.
More photos from this day and many others in my London photo album