More fool me for reading the Daily Fail at lunchtime, but I could not resist this one:

Church leader's fury at Ann Summers 'horny' XXXmas campaign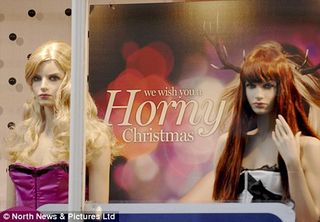 A church leader has blasted Ann Summers's advertising slogans in the run-up to Christmas, branding them 'offensive to Christians'.
The Ann Summers store on Grainger Street, Newcastle, uses the mottos: 'Have a horny Christmas' and 'Merry XXXmas' to advertise its sex toys and underwear.
The Very Rev Chris Dalliston, Dean of Newcastle, said the commercialisation of Christmas should not come at the expense of its true meaning.
Splendid, can't resist a good nutter and a prize idiot.
I mean, where to start! 

This self-appointed 'leader', elected by no-one and accountable to no-one takes it upon himself to express views that many people may find offensive. He has as much as right to do that as Ann Summers has to say 'We wish you a horny Christmas' (illustrated by antlers in place of horns!). And they have as much right as him.
He points out that it would be offensive to Christians because of the 'commercialisation of Christmas'. Oh yeah? So why isn't he attacking Tesco, Marks and Spencer, Toys R Us or John Lewis, all of whom are commercialising Christmas just as much.
Indeed, if he was so concerned about the insidious nature of commercialisation, why not raise questions about exploitation of labour, often child labour in developing countries, or about the carbon cost of transporting all the Christmas tat from its Third World Factories?
Because he actually couldn't give a toss about 'commercialisation'. Why should he, when his salary - considerably above average for the region - is paid by the Church of England which gets its income from property holdings such as Gateshead's Metro Shopping Centre?
It's sex he's offended by. Not that that is actually about sex, unless you want it to be. If he said that it might cause a child to ask awkward questions of its parent, he might have a point - if the child was sufficiently interested in reading and asking questions, and had never watched TV, or listened to adults talking;  and had parents who were capable neither of saying "Shaddap brat we're shopping" "Oh I don't know!" or "Oh, look they're antlers, just like Rudolph's, not horns"
But no, he's freaking out at the thought of adults having sex purely for pleasure, at any time of the year, not just Christmas. It might offend Baby Jesus, after all where he did come from but sex...okay, bad example there, but...
And this crashing idiot of above average salary (paid for by the shoppers of neighbouring Gateshead) but below average IQ rolls out the same old boring cliché about the true meaning of Christmas. He says:
it is about having awareness of the spiritual significance of Christmas as a celebration of Christ's birth.
Way too stupid to have a clue how his Christian Church stole the Pagan festival of Saturnalia the Winter Solstice orgy. So, in actual fact, it is Saturnalia that Ann Summers is commercialising, not his festival.

I love it when these stories of local stupidity get in the national press so that everybody can see just how stupid they are!
The name of the tosser again - Chris Dalliston: obviously at the back of the queue when his god was distributing the brains.