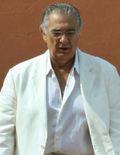 Cartagena está lista para el concierto del tenor Plácido Domingo el sábado
So many logistics for a concert. Meanwhile he played in the hotel pool with Alvaro jr, and baby Plácido.
More details - Feliz Placido Domingo en Cartagena
Report here from Press conference with link to photo gallery.

Cantando 'La Múcura', los niños del barrio Nelson Mandela recibieron a Plácido Domingo
He sang Besame Mucho with the kids. He also received the keys to the city of Cartagena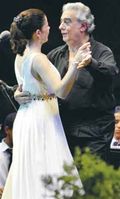 Cartagena se gozó el concierto de Plácido Domingo

Plácido Domingo deleita en Cartagena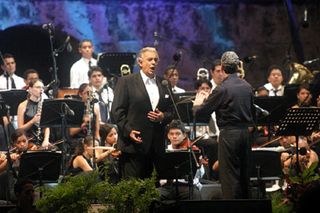 Plácido Domingo deleitó a los cartageneros

Plácido Domingo le regaló una gran noche a Cartagena

Plácido Domingo, el famoso tenor español que tiene un acento neutro y que ha dado muestras en Cartagena de ser una persona atenta y afable y un caballero a carta cabal, a pesar de sus charreteras...
The orchestra comprised of players between 13 and 16.

Una noche sublime con Plácido Domingo
He's now in Lima.
Precisamente, el tenor se mostró emocionado cuando vio una fotografía de sus padres en el Teatro Segura, lugar que visitó junto a Castañeda tras la ceremonia en la Municipalidad de Lima.
"Es muy emocionante ver este teatro que acogió a mis padres con tantísimo cariño. Dos de mis hijos están aquí conmigo, y es como si estuviéramos presentes las tres generaciones", afirmó el tenor...


Plácido Domingo fue nombrado Doctor Honoris Causa
from the Universidad San Martín de Porres
(with video)
.
Another
video
in which he is critical of reality shows -
"Este es un concurso que se hace a base de micrófonos, no es una voz real. Vamos a ver  (qué sucede cuando) esa voz va a (cantar) a un escenario, si va a tener la posibilidad de cantar sin micrófono"

With all due respect, though, unlike his mate Katherine Jenkins, the pitiful Susan Boyle has never described herself as an 'opera singer' and the lamentable Paul Potts has actually performed in operas, albeit with 'pay to perform' companies, unlike the plastic wannabe Jenkins.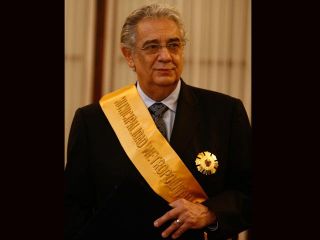 Also, he received a medal from the city of Lima -
photo gallery
(not quite sure why he's on a building site...!) - also
video

:
-
Plácido Domingo se emociona al ver foto de sus padres en el Teatro Segura.
His concert will be on Wednesday evening.
Recibirán a Plácido Domingo con arroz con leche
Plácido Domingo es un adicto confeso al gazpacho (una sopa fría) con paella y al criollísimo arroz con leche
I'll have the gazpacho and paella, but pass on the rice pudding!