This was a couple of weeks ago now, and I have few excuses for not getting this done earlier. It's a shame I've left it so long because, inevitably, some of the magic has dissolved into warm fuzzy memories.
The Fairy Queen, by Henry Purcell, my second localest composer* is not strictly speaking an opera, but a series of masques linked with dialogue. I reviewed a DVD a couple of years ago and won't repeat all that, focusing instead on the actual performance I attended.
It was an import from Glyndebourne. I had read some great reviews of the production and orchestra and some broadly positive reviews of the singing. I am Facebook friends with a couple of the singers, and it was amusing to read a few comments from Ed Lyon.
Glyndebourne operas are only semi-staged at the Albert Hall, but even so, are good fun. I have never been to Glyndebourne, and, although I would love to go for the opera, I would be very anxious about the dressing up, and I don't think I would be entirely comfortable with the picnic thing unless I was with someone who would be happy to fit in with my catering plans.
It was a long evening, from 6.30 to 10.30, with only a twenty minute break. It would have been nice to have a decent supper interval, rather than just grabbing a sandwich on the bus, but then, of course, that would have meant leaving work even earlier.
There was a large cast, not only of singers, but also of dancers and actors, and the Orchestra of the Age of the Enlightenment, conducted (from harpsichord) by the wonderful William Christie. I suspected that the actors were miked, and later read that this was indeed the case, but I didn't find the microphones over-intrusive. Obviously, most of the actors were unknown to me, and while I think that they worked well as an ensemble, obviously it wasn't star-studded. For me, two were outstanding, Desmond Barrit as the Drunken Poet/Bottom and Sally Dexter as Tatiana. Both of them seemed to grasp the size of the hall and projected larger-than-life characters. Verging on camp, but quite fitting for a particularly silly work.
I thought the production was wonderful. It is difficult to remember every aspect of it. I know I certainly enjoyed most of the dancing, even though I now don't recall especially stand-out moments. Apart from the rutting rabbits, of course - can you imagine six, or was it eight, human size Easter Bunnies gambolling onto stage and proceeding to enact a ballet straight out of the Karma Sutra. There was considerable laughter from the audience, even though, apparently, the BBC (Proms organisers) have received complaints.
The introduction of the Mechanics was quite a hoot. They came on dressed as cleaning ladies, and proceeded to do their cleaning, with hoover and all, in a parody ballet. Of course it's been done before, in La fille du regiment at Covent Garden and elsewhere, but it's still entertaining.
One of the highlights was Andrew Foster-Williams' entrance as Hymen (I'm afraid whenever I encounter the Greek god, I always snigger at the rude word). He fought his way along the front row of one of the blocks of the stalls, inducing visible embarrassment in some audience members. He entered the area occupied by the orchestra, tried to involve the percussion section in a discussion, rearranged the music of some string players, and then picked a fight with William Christie at the keyboard, who had to throw a few punches to defend himself.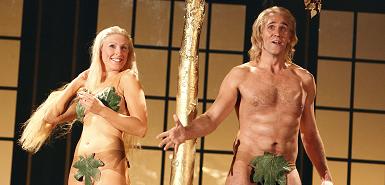 Another highlight came towards the end, with a duet by a Chinese Man and Chinese Woman, actually Ed Lyon and one of the Glyndebourne chorus women, wearing nothing but a fig-leaf each. Although the shock to me were the blonde wigs! This was a prelude to them eating the apple in the Garden of Eden and hastily putting on beach wear.
The OAE were splendid throughout, and a fine pace was set by Mr Christie. Obviously, lots of recitative, and no outstanding orchestral moments, but fine playing, and, to my surprise, more percussion than I would have expected from the 17th century. Nice period instruments, including theorbo as well as many of the instruments familiar from modern orchestras**.
But I chose this Prom overwhelmingly for the singing, and the singing lived up to my high expectations, indeed better. A predominantly young cast, with Carolyn Sampson being the most experienced singer, probably the only one who is a 'household name' in opera households. I was also excited at the prospect of Lucy Crowe and Ed Lyon (my FB friends), whom I heard and adored in Agrippina and La Callisto respectively. Also Lucy is exquisite in duet,  As Steals the Morn, the title track of Mark Padmore's Handel CD.
A new voice to me was Andrew Foster-Williams, although I have been reading good things of him for a while. And he certainly showed why such good things have been written about him. A pleasant baritone voice, good tone and legato, excellent pitch and expressive, which coupled with good acting make for an all round excellent artist. Perhaps not one to set my knees trembling, but definitely one I am keen to hear again.
Lucy Crowe was gorgeous. I love her voice. It has a splendid combination of a crystal clear top and a rich velvety lower range, something that I find rare in sopranos (also in tenors). On stage she is fascinating. She was not especially active in this, but by standing there, collected and composed, she exuded a calm serenity. I think she is on the verge of a very significant career.
I was so pleased with Ed Lyon. I fell in love with his voice on account of a phrase or a tone in La Callisto, and other than a performance downloaded from (I think) German TV, I haven't heard him since. But I am even more convinced that I love his voice. There is something unique in his voice, a steely edge, which provides quite a contrast with what is essentially a fairly light tenor. He has a cheerful bouncy stage persona, moves well round stage, looks good in the nearly buff, and is generally easy on the eye, (but, unfortunately, sings for the other choir!).
Of course my favourite was Carolyn Sampson. It is over a year since I last heard her live, since when she has had a baby. So I wasn't entirely sure what to expect. She was gorgeous, and her Plaint was truly outstanding, the biggest highlight of the night. I was totally transfixed on her, through the binoculars, and it was one of those wonderful occasions when, even though you are in a massive hall with 6000 other people, you are totally lost in the music.
She does not do a great deal of opera, especially not staged, indeed the only live opera I had previously heard her in was Semele, although I have recordings of her in Tamerlano (Handel) and Elena e Paride (Gluck). I don't know why, it seems a shame, because she has such a natural yet sultry air and knows perfectly how to hold the audience in her hand. Oh, and that voice! I know some people prefer sopranos who scream and squawk their way up the scale, but I prefer the approach of Carolyn (and Lucy), gliding as free as air and seemingly effortless.
So, all in all, even though I found some of the actory bits a bit long and fidget-making, I came away with a warm glow inside and a smiley face on the outside, tripping lightly on an effortless journey home, delighted at a wonderful and memorable evening's entertainment.

* he's my local at work, I peer down the road he was born when I have an occasional ciggie, but my local to where I live is Streatham boy Arnold Bax (and local to where I was born is, I think Peter Maxwell-Davies)

** sorry, I know that sounds stupid, considering I probably encounter - outside the ROH - more period orchestras than modern ones, but I'm still stuck in the mindset of when I learnt the instruments of the orchestra in 1970-something, when neither the Observer's Book of Music nor the Halle chose to enlighten me about such wonders as the theorbo.
PS I found the photo in The Times and thought I would nick it whileI could...! Unfortunately, they don't credit the photographer, so neither can I.