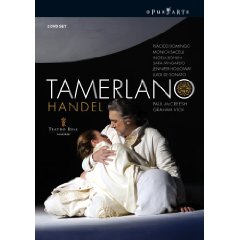 Handel: Tamerlano [DVD] [2008]
   and reviewed in The Times
Approaching the twilight of his career with just a whisper of concession to age Plácido Domingo marks his 126th career role with a surprising foray into the Baroque. But what a role. Bajazet ...is one of the first great tenor roles, in an opera containing some of Handel's most exquisite, poignant music.
It requires serious vocal agility, and few singers would entertain it in their late sixties, let alone one whose repertoire is more usually the great lyric/dramatic roles, but then Domingo.. is not just any old tenor.
At 68, the great singer/actor's voice still juts above the crowd — burnished, velvety and hugely expressive, if less so than in previous years. His heroic, flawed Bajazet dominates, although his Baroque style is idiosyncratic to say the least, and his first aria, Forte e lieto, somewhat wayward. If his technique doesn't always match the cast's Baroque specialists, his dramatic weight is ideal for Handel's wonderfully dramatic, unusually dark masterpiece.
Having seen it live and at the cinema, this DVD is a must have for me, and I am already getting Ticket Acquisition Stress Syndrome - and hoping, probably unrealistically, that the Royal Opera House might have an online booking system that's fit for purpose in 2010. 
The expected delivery date is 3 - 4 March which seems a long time to wait for a DVD that's out on the 2nd. I shall of course go immediately to the end and see if I can spot myself in the crowd!