By which I mean, the purpose of going to Valencia was to see Iphigénie en Tauride. But, if you're going to arrive on a Friday afternoon and leave on Tuesday morning, it would probably be a bit silly to do nothing else...
I deliberately booked a hotel that seemed to be near the opera house, or the Palau de les Arts Reina Sofia as it's properly known. If I was going again to the opera house, I would book a hotel in the city centre.
I booked into Confortel Aqua 3, but we were upgraded at no extra cost to the Aqua 4 (the numbers denote the number of stars). I wouldn't hesitate to recommend the hotel in itself, particularly and especially if you have a car. I really couldn't fault it. Modern, clean, everything and more we paid for, and good value for money. Reading the various hotel criticism websites beforehand, there appeared to be three criticisms. One is that it isn't handy for the city or the beach. Two, that the bathroom doors are see-through glass, which is a bit weird privacy-wise for people room sharing with friends. And three, the perennial 'the staff had an attitude problem'. The first two I would agree with. The third, well, funny how one tends to find staff that mirror oneself, innit?
It's above a shopping centre which didn't seem to be the most happening shopping centre. Even on the Saturday, it was eerily quiet. Handy place to get a coffee and a few odds and ends, but not much else, really. But there is a taxi rank outside, upon which we depended.
The hotel was a reasonably short drive from the airport, which is small, compact and easy to navigate. We had a glorious Westerly view as the sun set over the City of Arts and Sciences. Jimmy decided he wanted to lay down for a couple of hours. After which we set off to walk to the area which the guidebook indicated included many restaurants. We walked and walked and walked. And then we walked some more. Eventually we came up alongside a building which I guessed (correctly) was the opera house although you would never have known if walking casually by.
Then we walked some more, before doing some more walking, and some more walking, before walking around the area which the guidebook said contained restaurants. I thought I had been clever buying the Lonely Planet 'Best of Valencia', the only Valencia guide in Waterstones. And indeed, for the large part I was clever. But its one major failing was its maps. If you go away for a long weekend, you don't want a big thick guidebook but you do want clear maps that mark every street significant enough to contain restaurants. You also want one that is a little more up-to-date than 2005 when staying near and visiting the City of Arts and Sciences.
Finally, we found a restaurant that was recommended in the book, Cinquante Cinq, which is I suppose typical of any Scottish restaurant in Valencia. It didn't actually look that prepossessing from outside.
Alasdair welcomed us, and explained that he had a large party arriving, but as long as we didn't mind ordering straight away, we would then be welcome to linger all night. He talked us through the menu and we ordered. I actually cannot remember now what I ordered, which is a shame. I think the starter  was served in a crab sauce, and I suspect that I had fish for the main course. For pudding I had a fruit soup which was conceptually very novel. It was an excellent meal, washed down with two very decent and delightfully affordable (even after the poor sterling-Euro exchange rate we suffered) reds as recommended by Alasdair. The large party did arrive. I had been fearing that they would be as  lively and raucous as any large parties I had been part of in restaurants leading up to Christmas, but my fears were unjustified. I would really strongly recommend this restaurant. One thing to say, though, and I didn't notice it at the time, just began to feel it twenty four hours later when I realised a pattern was emerging. The dishes didn't seem very heavy on vegetables, and although I didn't pore over the menu, I didn't really notice much opportunity for ordering veg. Alasdair was very attentive when needed but also knew when to leave us alone.
We caught a taxi back to our hotel, really pleased that, eventually, we had hit on a really good restaurant but a bit disappointed at how quiet it was around and about. We didn't really see any bars that looked as if they wanted to be noticed, and although we figured there were probably places open in the shopping centre, we decided to call it a night.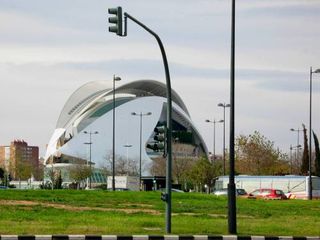 I had the bright idea on the Saturday morning that we would stroll along to the opera house and pick up my tickets, so there would be no last minute panic. Jimmy reckoned we should walk diagonally across and it wouldn't take us long to get there. After all, the opera house seemed so near from our hotel, yup, that photo was taken from outside our hotel. After yomping for twenty minutes across part-building site part-future landscaped garden, I said "Tonight, considering I am wearing my nice new silk dress from Monsoon should I walk in these old and scruffy but comfortable brown boots or should I wear my gorgeous blue suede shoes and get a taxi?" 'Get a taxi' was Jimmy's response. A bit more yomping eventually led us to a sign post for the Palau de les Arts, saying it was 10 mins away. I could barely control my excitement at this point...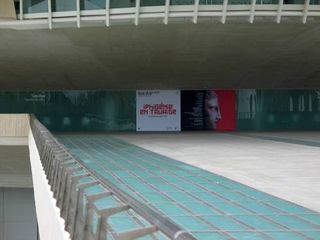 We were probably about ten minutes away but everything seemed roped- off and we were shooed away by Security. Eventually,  we found ourselves at the front of the house ...which was roped-off. I could see the ticket office. I was able even finally to confirm I was at the right place. But it was no-go. As most of the place remained roped-off before, during and after performances, I could only conclude that the concrete is already developing faults and they're scared stiff that if someone touches it, it might fall down.
We walked on in the direction we had been the previous night and after twenty minutes of not passing any food places, and feeling that the streets were eerily deserted, we eventually found a place that looked promising. Can't remember its name, don't need to. It was nicely decorated, well, nice, if bullfighting's your thing. We ordered some food and ate it. It was all right, I suppose, but we remembered how slightly miffed we had become in Madrid as every restaurant and Tapas Bar seemed to serve the same old same old uninspired dishes. We got a taxi back to near our hotel and wandered round the almost deserted shopping centre, before going for a lie-down in the hotel.
Jimmy met me from the opera house in the evening, and, as I instructed, he had brought my comfortable flat blue canvas shoes. We walked slowly back to the shopping centre and found a Tapas bar. I was well over-dressed, not that I cared. We had several glasses of wine, and some barely edible salt with food added, and found out that Barcelona had beaten Real Madrid live on the TV. I then returned to the hotel room and blogged about what a horrible city it was.
Sunday saw decisions being made. Well, after an incredibly long lazy lie-in in our very comfortable and extraordinarily quiet hotel room. We agreed, we are not going to get anywhere in this godforsaken dump unless we accept it's taxis everywhere. I flicked through the guidebook and decided it would be best to head to round the cathedral. We agreed it was bound to be horrible but let's make the best of a bad job, the guidebook has a walking tour, even if it's really awful at least we will be walking around, and although it's cold (like, wear hat and gloves cold!), it is gloriously sunny. 
As we drove into the city centre we started saying,  hey, this isn't bad. This is nice, this is like Barcelona, only, like, nicer. This is a beautiful city. We spent the remainder of the afternoon sort of following the Lonely Planet walking tour. I completely failed to follow its directions, but we did just about most of it, even if some of it was backwards and out of order. I took about forty photos, some of which are going to look pretty damn good when I finish editing the collection and post it here. 
 As darkness fell we decided it was time to eat. At any rate, it was time for our stomachs to eat, even if it was far too early for Spaniards to contemplate such a thing. We did try a Basque restaurant on the Calle de San Vicente Martir , which looked nice but wasn't open for dinner until a couple of hours later.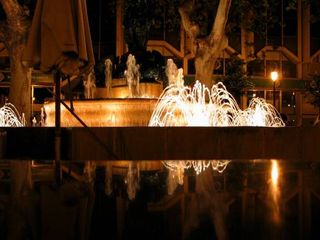 So we carried on strolling, and got rather distracted by photographing fountains. First a big one in the Plaza del Ayuntamiento, then a little one in a side-street off it. I was feeling quite chuffed with that photo, which looked passable even on the tiny screen on my camera. Jimmy pointed out a restaurant close by - so close by you can see one of its umbrellas reflected. We agreed it looked alright. It was open, they were willing to serve us. And, you know, it deserves a blog entry all of its own.
I came away with that feeling that it was the best meal I had ever had in my entire life. Of course, objectively, it probably wasn't.
But you know, when you've just had a really nice meal, you are not in the mood for looking back and making comparisons with meals long gone. The trouble is, I can't remember its name. I asked for - and received - a business card. Obviously, somewhere there is a receipt. I can't find them. Unless someone can drop its name here, I will have to wait at least a fortnight until the credit card bill arrives. It's next to this fountain (of the Three Graces? Muses?) in a small square to the (roughly) south east of the Plaza del Ayuntamiento, opposite the Banco di Sancto Spirito (how we laughed at that one, wonder if your money's safe there...). The thing is, it was a really nice restaurant. I took several photos, this is just one of the olives and tomatoes, served to accompany the bread (which in itself was noteworthy).
More anon...